Prepare to have your taste buds tantalized with this veggie-loaded twist with our 5 Minute Easy Spinach Pesto!.
Making homemade pesto has never been easier than with this 5-minute easy spinach pesto recipe! With just a few simple ingredients and a food processor, you can quickly whip up a delicious and nutritious pesto sauce that tastes great on pasta, salads, or sandwiches.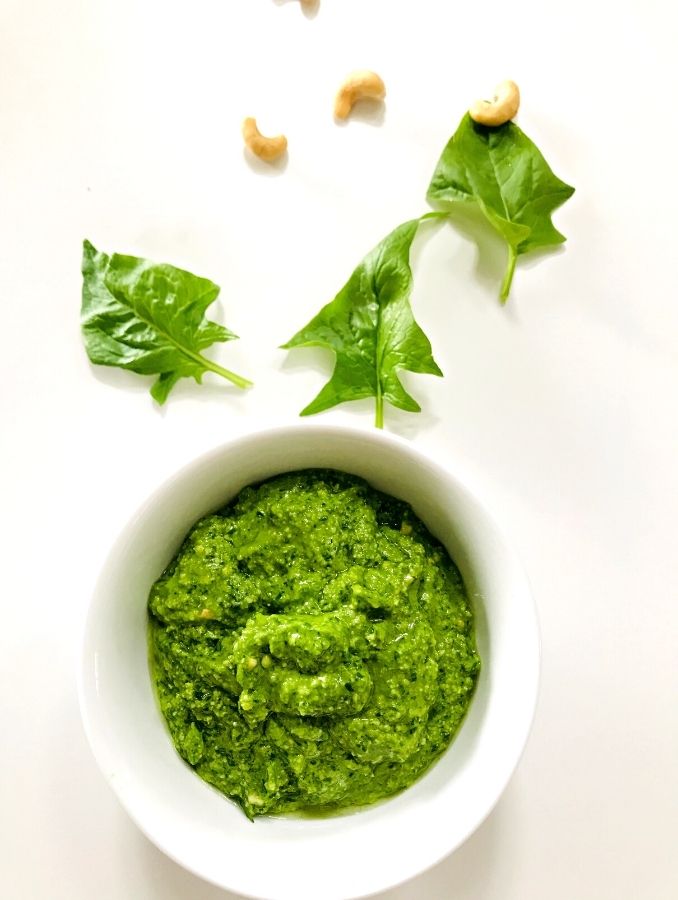 What Spinach Can I Use To Make Spinach Pesto?
The smaller leave varieties are the best.  They are sweeter and easy enough to blend. Generally the smaller pointed leaf spinach is called English spinach or arrow leafed spinach. There are so many variets of spinach it can be confusing.  Bagged baby spinach leaves from the supermarket work fine.
If you are new to spinach (and only remember the older type from years ago that look like giant elephant ears), than this article has 40 Different Types of Spinach and are also ones for growing in your garden.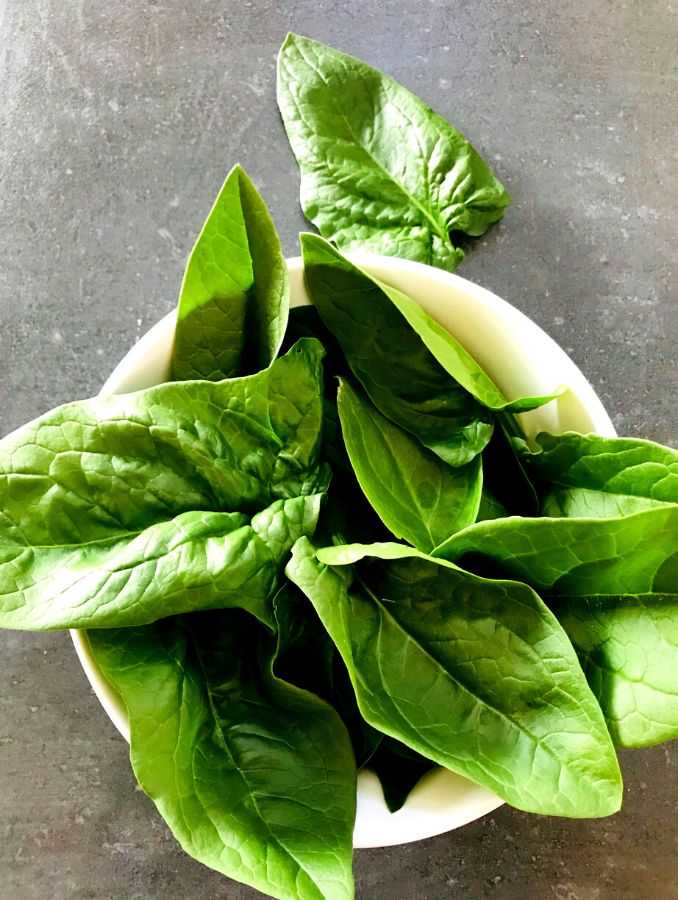 Ingredients you'll need.
Parmesan Cheese – finely grated. You can buy pre-grated or grate your own.  It just has to be nice and fine.
Cashews – Get creative with your pesto! While pine nuts are the traditional choice, don't be afraid to experiment with almonds, walnuts, pistachios, or even sunflower seeds. The possibilities are endless!
Olive Oil – mild or extra virgin.
Spinach – Baby leaf spinach makes this pesto perfect. (stay away from frozen spinach though).
Rice Wine vinegar – you can omit this ingredient if you like.  It just adds a little freshness and zing.
Garlic – this is usually in pesto and feel free to add a small clove in if you would like. (for this recipe we decided to leave it out).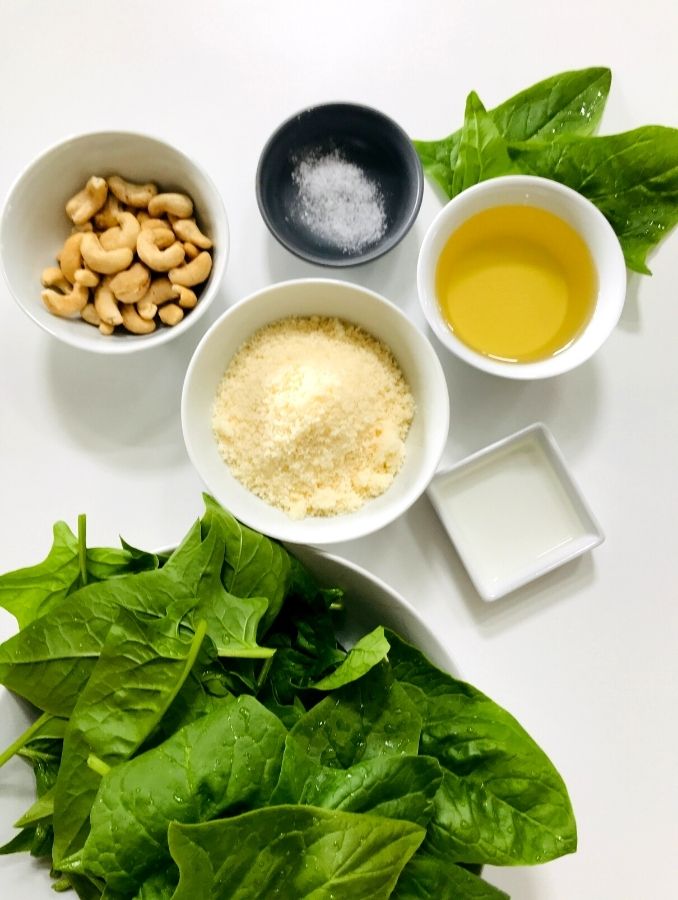 How to Make 5 Minute Easy Spinach Pesto Recipe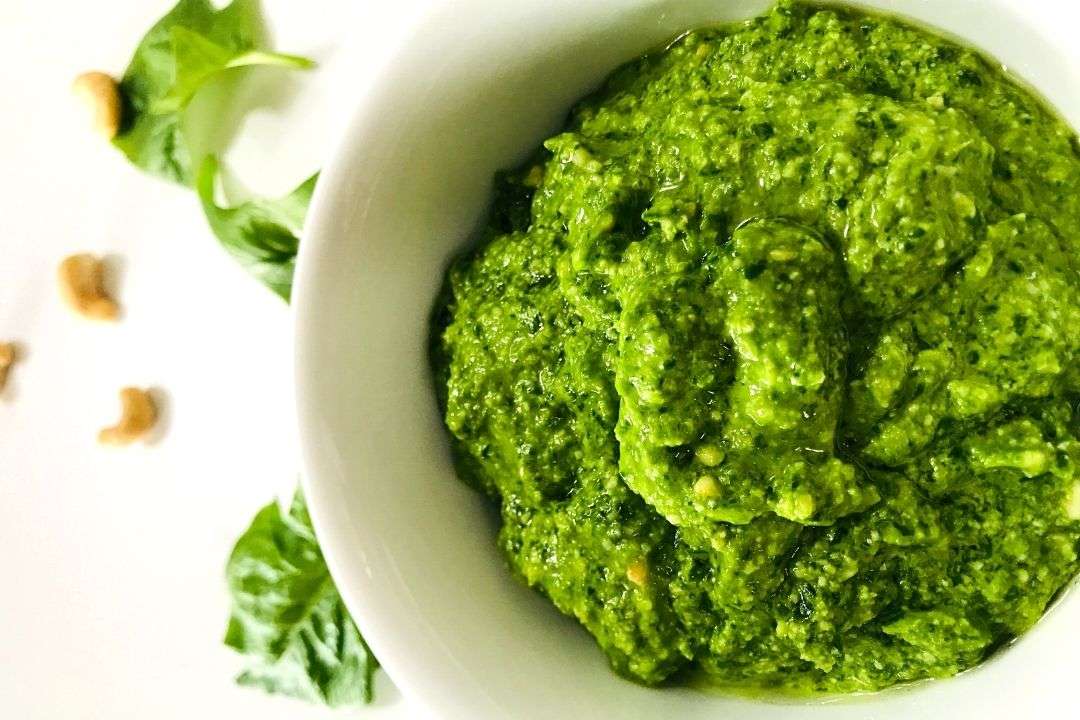 5 Minute Easy Spinach Pesto
Ingredients
INGREDIENTS
70

gms

parmesan

finely grated

50

gms

cashews

100

gms

olive oil

80

gms

fresh spinach leaves

1

tsp

rice wine vinegar

1/2

tsp

salt
Instructions
METHOD
Into a food processor pop in your grated parmesan, cashews, spinach, vinegar, salt and olive oil and blitz till fine consistency or as chunky as you like.

Serve straight away or pour into a clean screw top jar, top with a little more olive oil and store in the fridge till ready to use.
Recipe Notes
Pesto can be used tossed through pasta, drizzled over veggies, chicken or even as a dip. Let your imagination go for it. 
Nutrition Facts
5 Minute Easy Spinach Pesto
Amount Per Serving (6 g)
Calories 1454
Calories from Fat 1260
% Daily Value*
Fat 140g215%
Cholesterol 48mg16%
Sodium 2355mg102%
Potassium 842mg24%
Carbohydrates 20g7%
Protein 36g72%
Vitamin A 8048IU161%
Vitamin C 23mg28%
Calcium 929mg93%
Iron 7mg39%
* Percent Daily Values are based on a 2000 calorie diet.
Recipe Tips
Start off by using fresh spinach leaves, as they will give your pesto the most flavor. The small baby spinach is the nicest and sweetest.
Spinach keeps it colour really well in pesto. While basil leaves can bruise and turn brown really quickly and the pesto often needs to be mixed through before serving. If you really love basil you might want to try our Easy Basil Pesto recipe or our Chunky Cashew and Basil Dip. 
Variations
Think outside the box and experiment with different nuts like almonds, walnuts, pistachios, or even sunflower seeds. Embrace your imagination and unlock a realm of infinite possibilities!
Swap out the spinach (or normally basil) for rocket or a combination of parsley and coriander.  You can also you the tops – radish greens and kale leaves. Green herbs or a combination can make a really unique pesto.
Serving Suggestions for Spinach Pesto
The use for spinach (or any other pesto) is endless.
Spread – across bread or sour dough slices and eat as is.
Dips – Use as a healthier option for dips and on charcuterie boards.
Vegetables – Drizzled over vegetables adds flavour and gorgeous colour land texture.
Pasta – The easiest and quickest meal ever is to mix though freshly cooked warm pasta and sprinkle with a little more grated cheese.
Chicken and Fish – Rather yumm.
Eggs – Mix through some beaten eggs to create lovely scrambled eggs.