Try making these Honey Orange Chicken and Ham Kebabs – they're delicious, easy and with only 7 ingredients! This simple meal is sure to be a hit with just about anyone!
We've used this recipe for years and love the combination of sweet honey, zesty orange peel, garlic and a hint of Worcestershire sauce and olive oil are a perfect pairing with chicken and ham and an amazing flavour combination.
The best part about this recipe is that it can be grilled on the BBQ in around 10-15 minutes.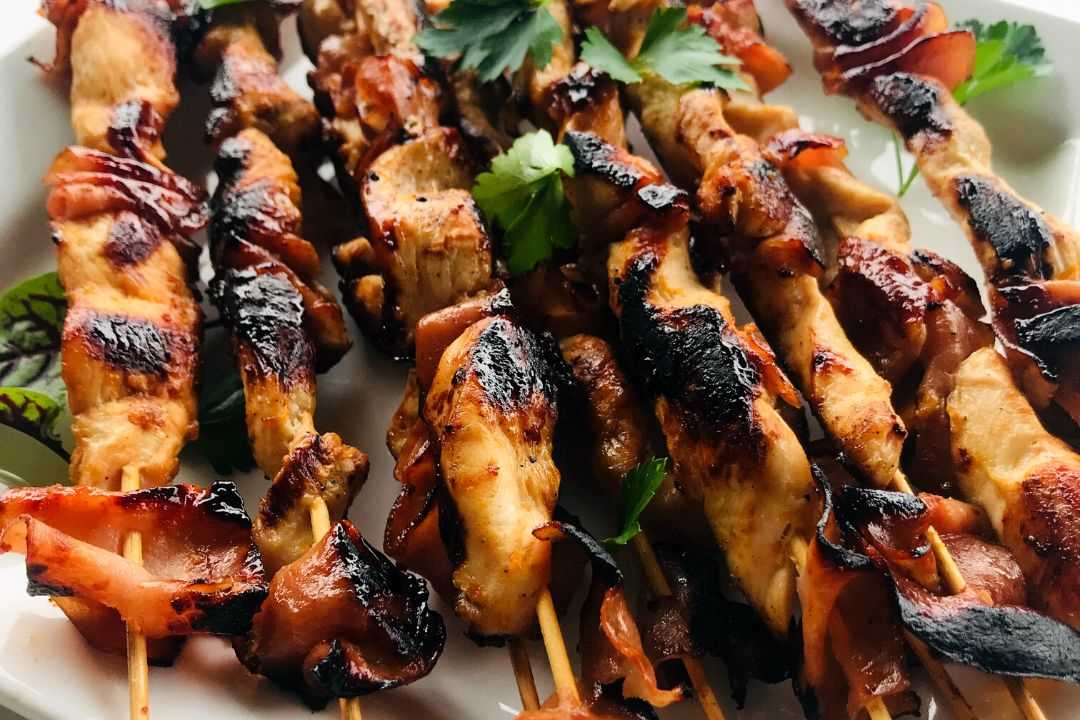 Ingredients for your Honey Orange Chicken and Ham Kebabs
All up there's only 7 ingredients in this recipe.  2 being the ham and chicken and the remaining 5 ingredients go into the marinade.  Such a simple and easy recipe that you can use when you have some leftover ham in the fridge and a lonely chicken breast too..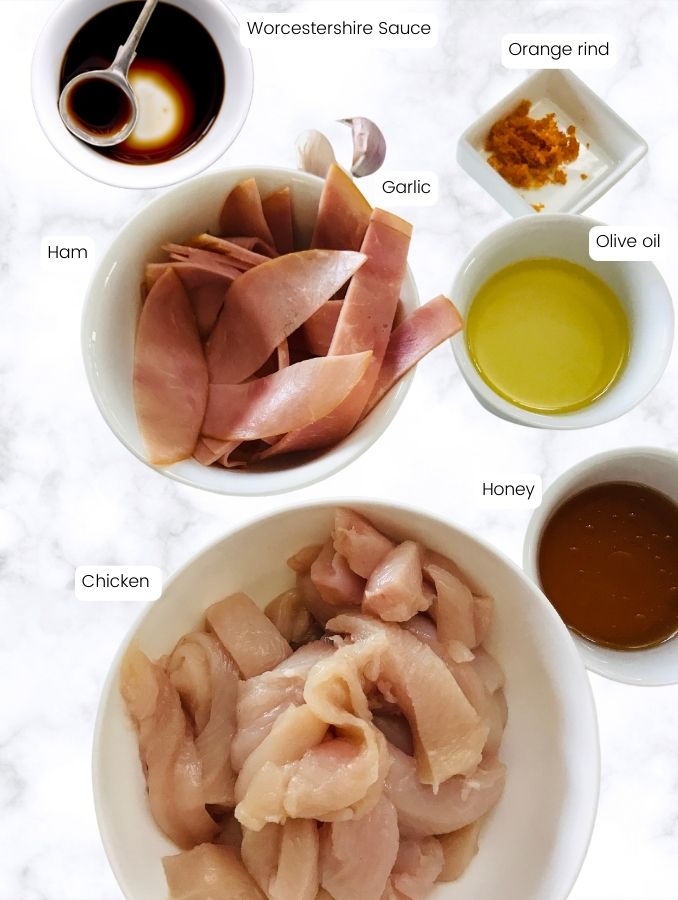 For the Marinade
Create a mouthwatering marinade by immersing your chicken in a delectable blend of honey, olive oil, garlic, and Worcestershire sauce coated with olive oil. Honestly the smell is so yumm!
Olive oil -we used light flavoured olive oil, though your can use extra virgin as well.
Honey – a third of a cup to add that stickiness
Worcestershire Sauce – this gives it that hint of vibrancy to lift the marinade to another level
Garlic – 2 cloves crushed will do it or one or more according to your taste
Orange rind – the zest of one orange will add a freshness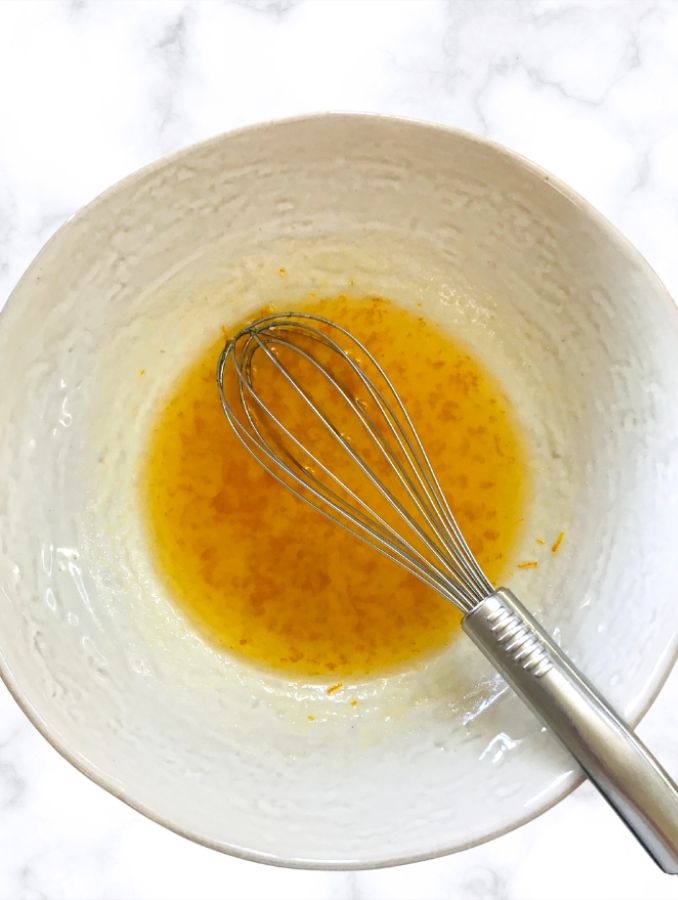 Ingredients for Kebabs
Chicken – this recipe we used chicken breast but generally thigh fillets are used for kebabs.  Cut as closely as possible to the same size if you can to ensure even cooking.
Ham – honey ham works really well but any ham is fine.  If you can get a slightly thicker slice it does make it easier to place on the kebab skewer.
Skewers – wooden work well and you can soak them for 30 minutes prior to threading with the chicken and ham to ensure they don't burn on the BBQ.
How Big Should The Chicken Be Chopped?
You can either cut your chicken into strips or cubes.  We chose strips for this recipe to allow the Chicken and Ham Kebabs to cook that bit quicker.
If you decide to cut your chicken into cubes it will be a juicier kebab especially if you are using thigh fillets. Remember, the bigger the cubes, the juicier the chicken but the longer to cook!  Try by chopping them into 4cm or 1 ¼-inch chunks.
Overcooking alert! Chop the chicken evenly for even cooking.
How Long Should I Marinate My Honey Orange Ham and Chicken Kebabs?
The chicken kabob marinade is best if allowed to tenderize for at least 2-4 hours in the fridge. Cut up your chicken and ham and pop into marinade before threading onto your skewers.  The marinade will soak in so much more doing it this way.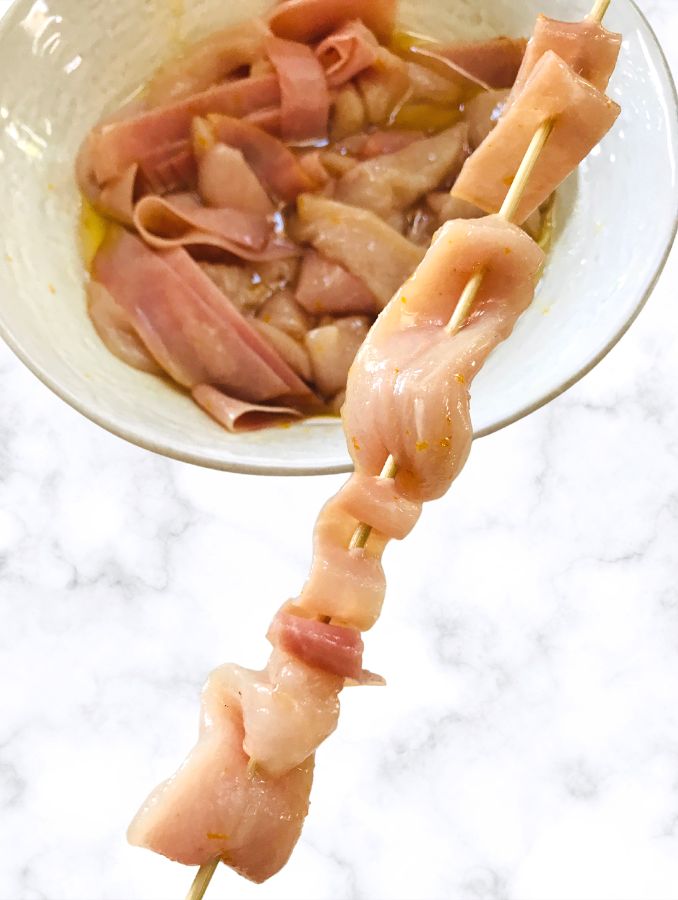 What is the recommended cooking time for BBQ chicken kababs?
Grill chicken kebabs for around 10-12 minutes.  If you've decided to cut your chicken in a chunkier sized shape, then check to see if the kebabs are cooked closer to the skewer.  The kebabs may look very cooked on the outside because the honey in the marinade can turn dark well before the chicken is done.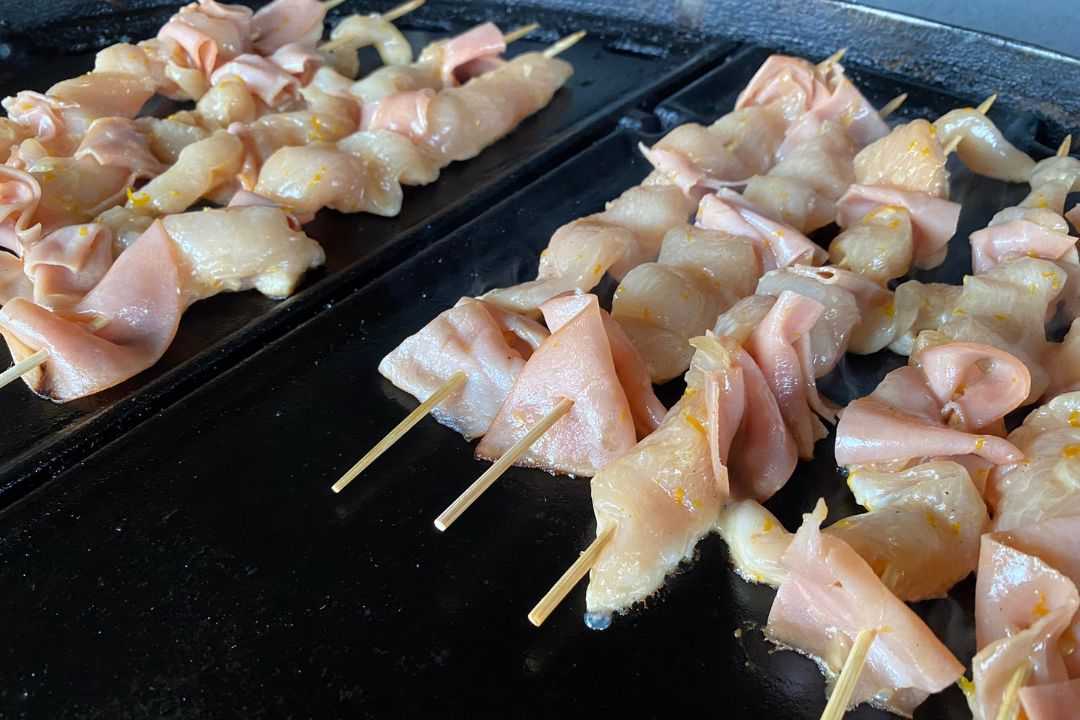 How Much Spacing Should I Leave On The Kebabs?
Ahh this is the question.  Some of us think the thicker the kebab the better but sometimes it can take so long to cook that the outside becomes cooked while the inside is still on the rawish side.
The chicken will generally shrink a little while cooking. When threading the chicken and ham onto the skewers we like to space them closely but without jamming them together. These Honey Orange Chicken and Ham Kebabs lend to cooking that bit easier because when threaded alternately (chicken then ham), it gives the skewers a little bit of breathing space to allow for a bit more even cooking.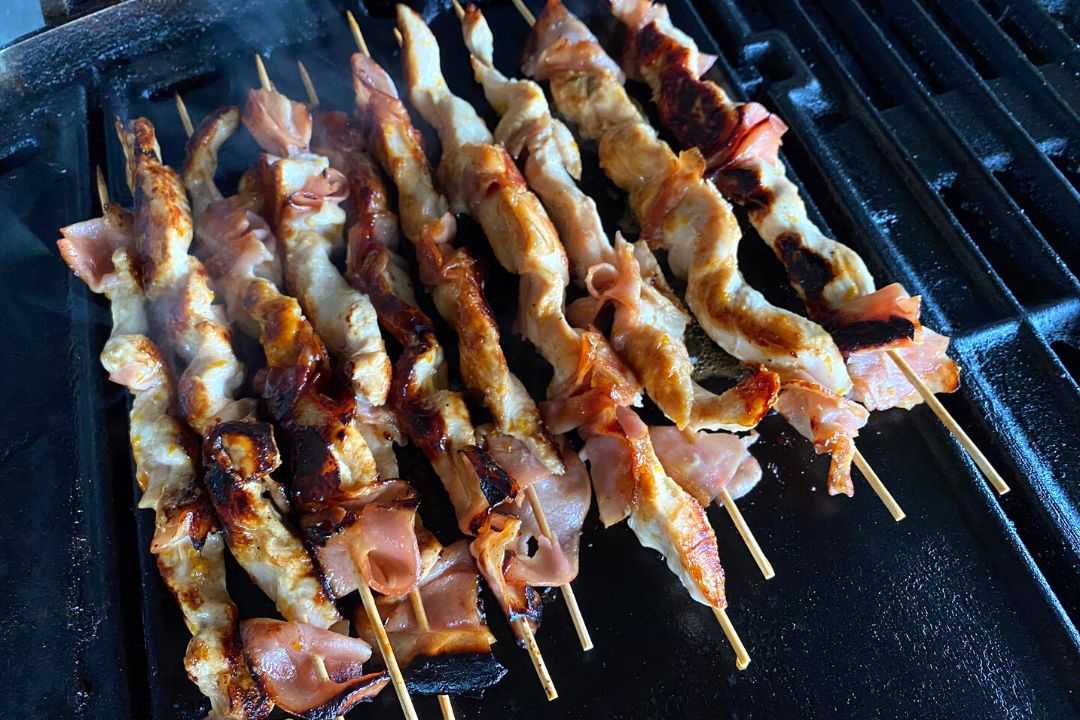 Honey Orange Chicken and Ham Kebabs
Course:
barbeque, Dinner, Lunch
Keyword:
Chicken and ham kebabs, Chicken sticks
Ingredients
INGREDIENTS
1

large

chicken breast or chicken thigh fillets

4

slices

ham

⅓

cup

honey

⅓

cup

olive oil

1

tabs

Worchester sauce

1

tabs

orange rind

2

cloves garlic

kebab sticks
Instructions
METHOD
Mix the honey, olive oil, Worcestershire sauce, orange rind and crushed garlic together in a bow. A whisk might make this easier to combine.

Cut chicken into thin strips about 8 cm long and 2 cm wide. *see note below

Cut the ham into strips big enough to thread onto a skewer.

Place ham and chicken in the marinade for a few hours in the fridge.

Thread the chicken and ham alternately onto kebab sticks and cook on a barbecue grill for around 10-15 mins depending on the thickness of the chicken. Keep turning few times to make sure all gets nicely cooked, browned without burning the honey marinade.
Recipe Notes
You can cut your chicken into chunks if you prefer.  Chunks can take a tad longer to cook right through.  Check to make sure that the chicken is cooked and not pink in the middle.
We opted for thin strips to make this a quick meal.
Nutrition Facts
Honey Orange Chicken and Ham Kebabs
Amount Per Serving
Calories 380
Calories from Fat 216
% Daily Value*
Fat 24g37%
Cholesterol 54mg18%
Sodium 403mg18%
Potassium 313mg9%
Carbohydrates 24g8%
Protein 18g36%
Vitamin A 18IU0%
Vitamin C 2mg2%
Calcium 10mg1%
Iron 1mg6%
* Percent Daily Values are based on a 2000 calorie diet.
Is it Necessary To Soak the Skewers?
To be on the safe side it's important to pre-soak your bamboo skewers for around 30minutes prior to threading your chicken and ham onto them.
You can try metal skewers as an alternative as well.
Looking for the perfect pairing for your delicious chicken kebabs? We've got the answer!
Chicken kebabs go well with a variety of tasty side dishes.
Rice or Cauliflower Rice Salad
Couscous
Roasted or grilled vegetables
Greek salad or one of the 6 Healthy Salads and Dressings
Crispy Smashed Potatoes or you might like our Quick Air Fryer Potato Wedges
Corn on the Cob
Storing Leftovers – if you have any left!
Keep those delicious leftovers fresh by storing them in an airtight container in the fridge for a maximum of three days!
Heat on stove or in microwave until warm though we oven eat them cold.  Strip them off the skewer and mix in with a salad. This combo is super yumm!
Behind the Scenes
Taking photos for our recipes can be a make it or break it kind of thing.  Light is everything so this photo shoot for our Honey Orange Chicken Kebabs went alfresco.  Greg did the photography and yes… all on his iPhone.  The colour was perfect considering it was so late in the afternoon.  Well done loveee!