Love super salty yum potatoes? Well then you are going to love these awesome and easy to make crispy smashed potatoes recipe, soft and fluffy on the inside and super crunchy on the outside.
With only 3 ingredients it's a no brainer,-quick to make snack or side dish that everyone is going to love.
Potatoes – smaller roundish ones make it easier to cook and squash. I like to use the baby washed red and white skinned potatoes. If you are a little confused about the types of potatoes and when to use them then I think this article will give you a heads up.
Olive oil – adds a golden colour but you can also combined a little melted butter with the olive oil to give it even more of a nutty crispy crunch. Coconut oil works well too.
Salt – you've just got to have salt with roasted potatoes. Salt flakes are beautiful but salt in general is just fine.
For more of a colourful version feel free to add herbs and spices of your choice. Paprika, onion flakes, thyme and garlic salt is gorgeous too.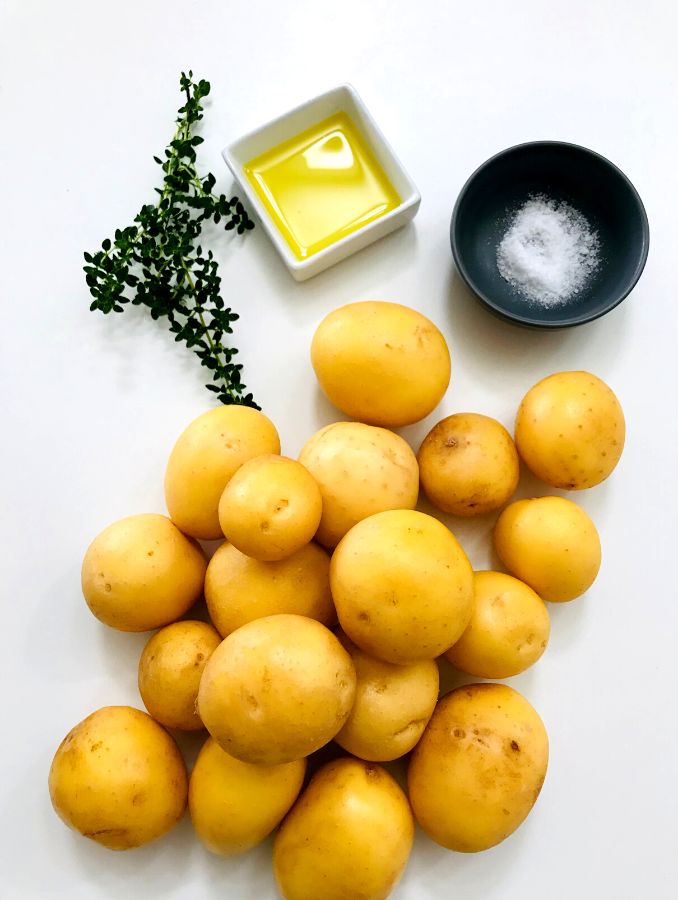 Why You'll Love This Crispy Smashed Potato Recipe
There's no peeling, slicing or dicing required. These potatoes will only need a little amount of effort for big results. If you buy pre-washed potatoes then it's even easier. Pop into a pot of water and cook till tender. Squash, drizzle with olive oil and salt and bake.  Easy peasey!!
How Do You Make Crispy Smashed Potatoes?
For an ultra crispy version, the secret is to boil the potatoes first.(give them a wash and a scrub to make sure all the dirt is removed or purchase pre washed potatoes). Pop them into a pot with some salt and bring to the boil. Simmer and cook till they become tender. In saying that try not to overcooked so they don't start to fall apart.
Now it's time to start the smashing the potatoes. It's easy to use the bottom of a glass as it seems to squash the potatoes into a more even and flatter surface.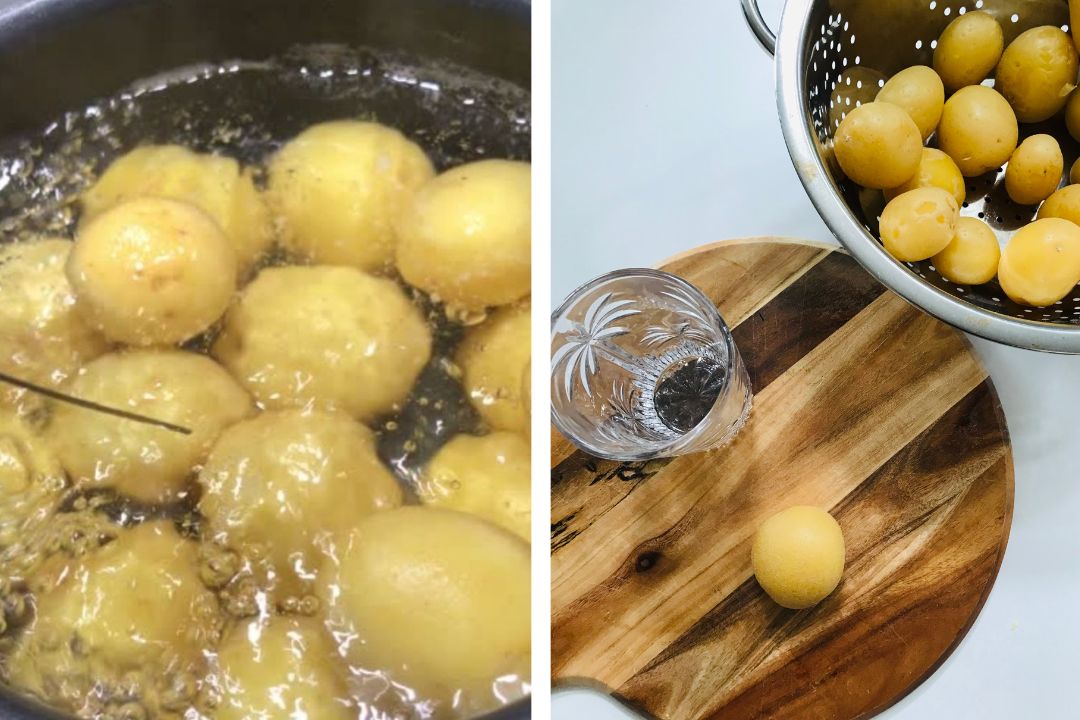 If the potatoes fall apart, just cup them back to a roundish shape.  They'll still crunch up and bake fine. Let the steam dry for a little bit. This allows moisture to evaporate and create the perfect texture for a crunchy crust when you bake them.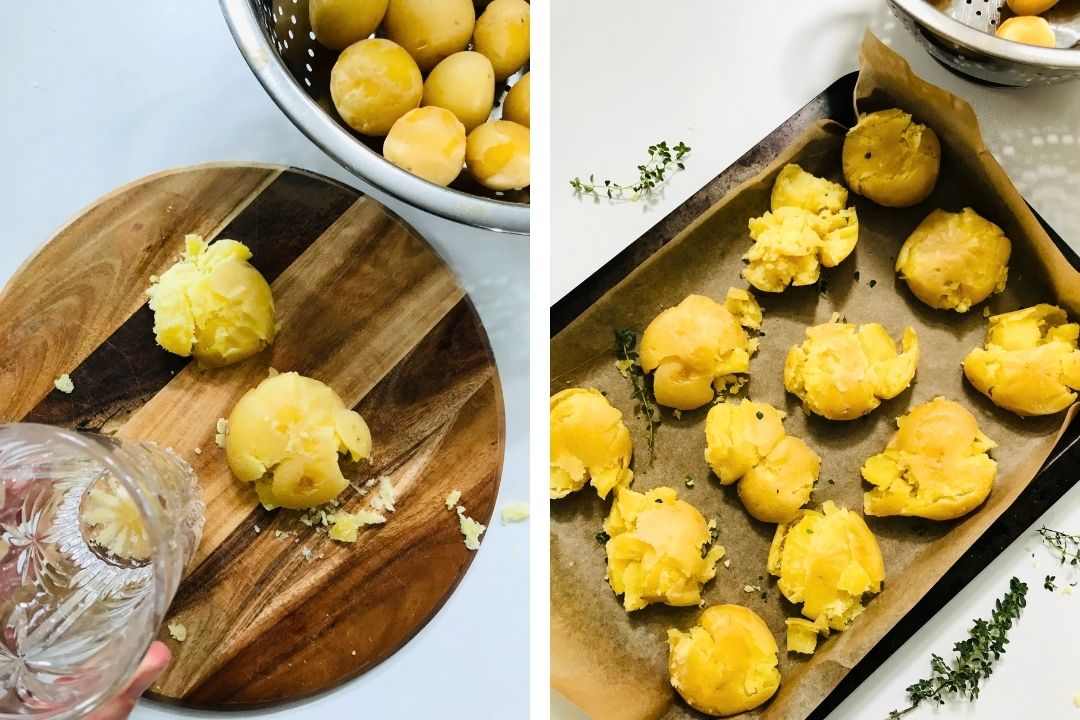 Pop them onto an oven tray lined with baking paper and a little olive oil first.  Then pop in your smashed potatoes trying not to overcrowd them.
Apply your olive oil on top and sprinkle with some gorgeous salt or salt flakes.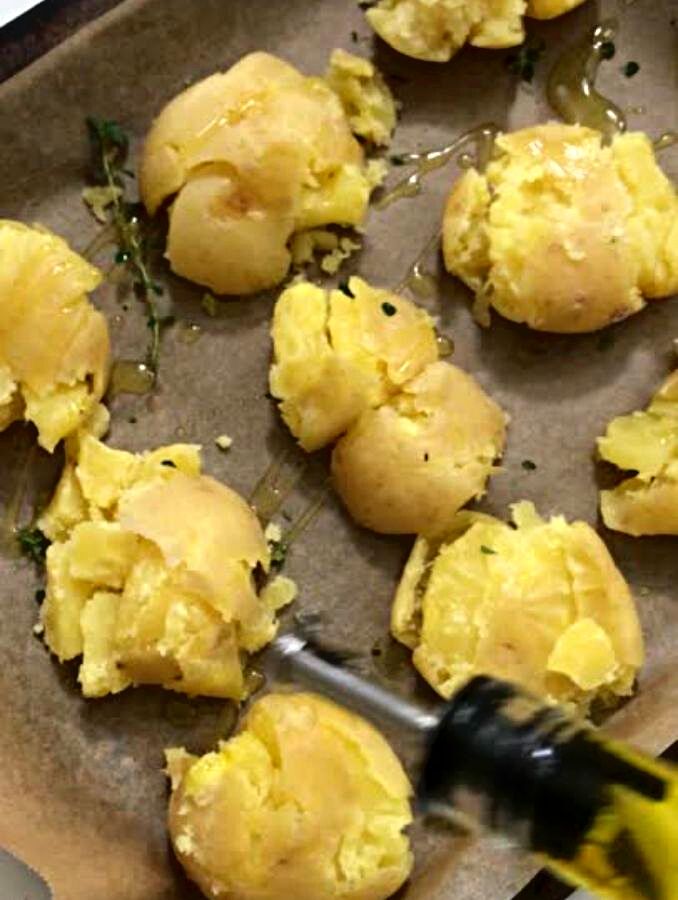 Cook in a hot oven say 200 degrees Celsius for 15 minutes and then turn over and cook for another 15 minutes or longer if you would like them super duper crunchy.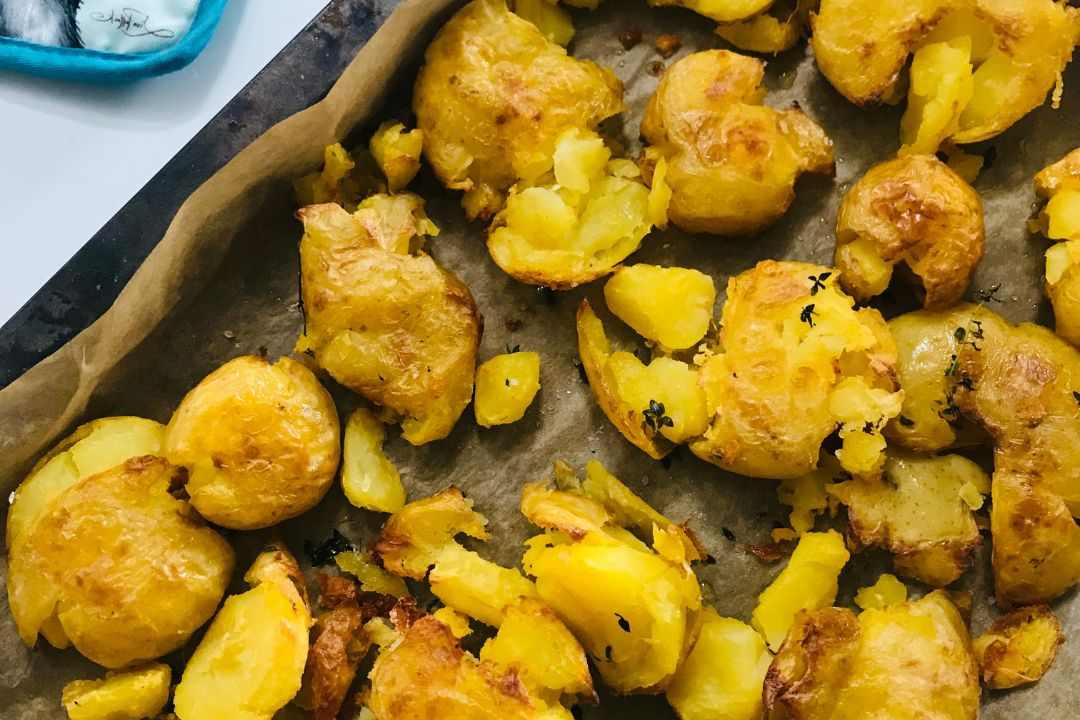 How To Make Crispy Smashed Potatoes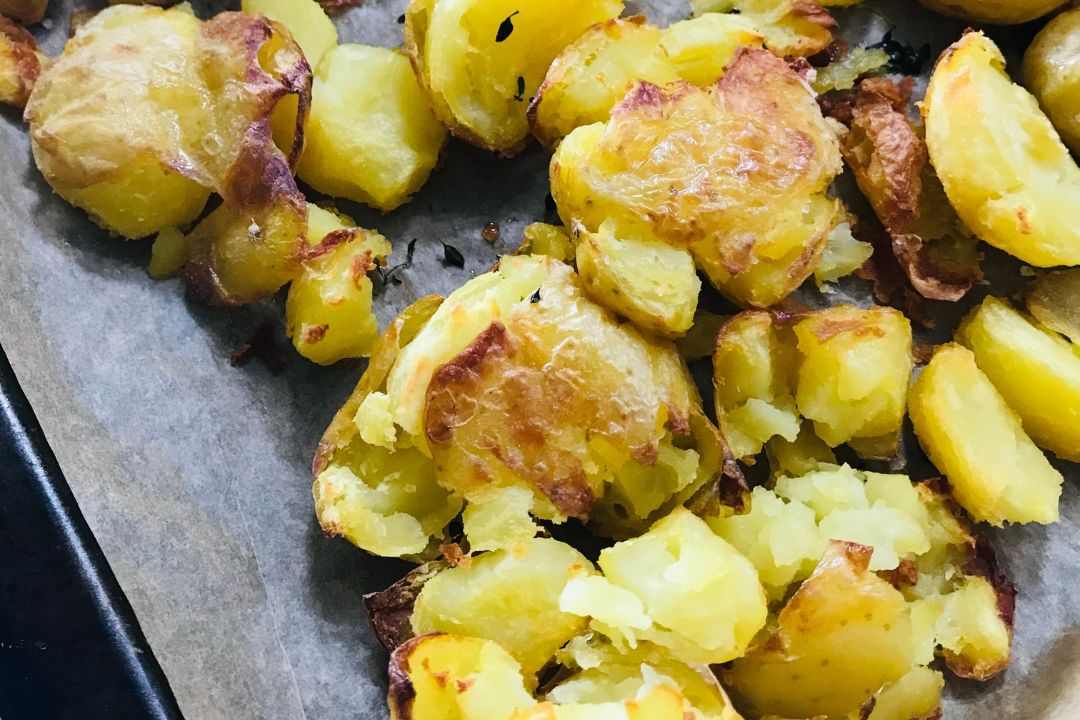 Crispy Smashed Potatoes
The best potatoes that are fluffy on the inside and super crunchy on the outside
Cuisine:
American, Australian
Keyword:
crunchy smashed potatoes, smashed potatoes
Ingredients
700

gms

potatoes

baby new potatoes

1

tsp

salt

for boiling

¼

cup

olive oil

1

tab

salt

for sprinkling
Instructions
Pop the potatoes into a pot of water, season with a little salt and bring to the boil. Turn down the heat to a simmer.

When just about cooked, drain.

Squash down the potatoes to about half with the bottom of a strong glass or cup.

Place onto an oiled tray lined with baking paper, drizzle with olive oil, sprinkle with salt and a little thyme or parsley if you like.

Bake in a hot oven, 200 degrees Celsius for 15 minutes and then flip and pop back into the oven for another 10 to 15 minutes or until they are super crunchy and golden.
What to Serve with Crispy Smashed Potatoes
Well just about anything. Smashed Potatoes are great with meat dishes and of course your favourite fried chicken. Though just as good on their own as a snack with some yummy sauces and dips.
You might also like to try some other alternatives like:
Side dish at your next BBQ with some sour cream and sweet chili sauce.
Alongside a juicy piece of salmon and Green Goddess Salad.
With salads for a vegetarian option with some Homemade Ranch Dressing.
Try drizzling some basil pesto or tzatziki dressing.
Why Aren't My Potatoes Crispy and Crunchy?
Your oven isn't hot enough.
The potatoes have still too much water on them.  Allow to dry a little after boiling to remove the steam.
Not enough oil.  It's a great idea to apply oil to the baking paper before you put the potatoes onto the tray and then drizzle with more oil.  Combining coconut oil and olive oil can give a higher crispiness but may give you that coconut flavour.
The potatoes haven't been squashed quite enough.  When they are squashed the overall surface is larger and gives a much higher crunch value.
More Potato Dishes
If you are in a big hurry you might like to try our Quick Air Fryer Potato Wedges recipe.
Want to try even more healthy food options?
Grab our Free 40 Vegan Recipes Cook book and download today.