You'll love this Easy Date and Almond Loaf for a delicious treat or lunchbox idea.   It's so simple to make and is an old recipe that we love, and re-tweaked by adding nutty almond meal and sweet dates. Serve it hot or cold and enjoy with or without butter. It's lush just on it's own.
Easy Date and Almond Loaf
This easy date and almond loaf never lasts long in our house so that's why I always have a stash of Pitted Dates on hand. They are one of those ingredients we in the pantry, and need I say a grabbable snack if you want to have a sweet treat too along with packets of almonds and also almond meal.
It's one of those recipes you can quickly make when you have unexpected guests arriving.
They make a great go ingredient for a healthier option compared with your regular style baked recipes.  Especially if you want to health-ify them a bit!
Ingredients Needed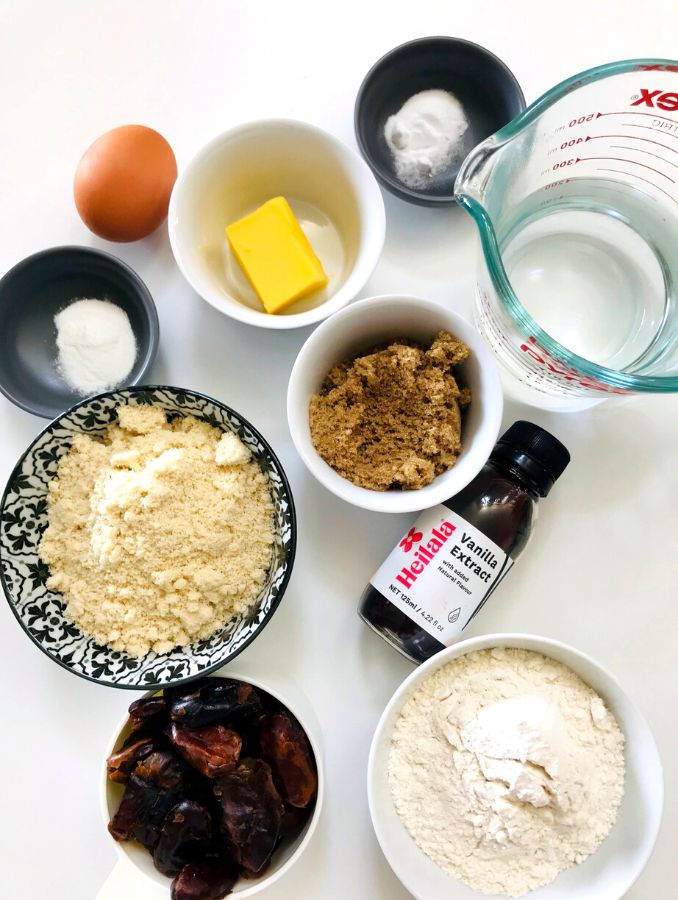 Dry Ingredients
Almond flour – Almond flour is a type of flour made from ground almonds, typically blanched almonds with the skin removed. It has a mild nutty flavor and is a suitable substitute for wheat-based flours in baking.
Self raising flour – just enough to give the loaf a lovely lift.  Feel free to use wholemal self raising flour if you prefer.
Pitted packaged dates – for this recipe we've chosen the packaged variety and easily found in supermarkets.
Baking Powder – half a teaspoon for a lift
Bicarb soda – Adding bicarbonate of soda to the dates helps it to rise and also aids in breaking down the dates to evenly distribute them throughout the mixture to prevent sinking.
Brown Sugar – soft and light and only half a cup
Wet Ingredients
Egg – 1 for this recipe
Vanilla essence – popped in with the dates while they're soaking.
Butter – a big tablespoon or around 40gms.  It's not a lot but does the job and helps reduce the fat content.
Boiling Water – to soak those dates in and make them nice and soft.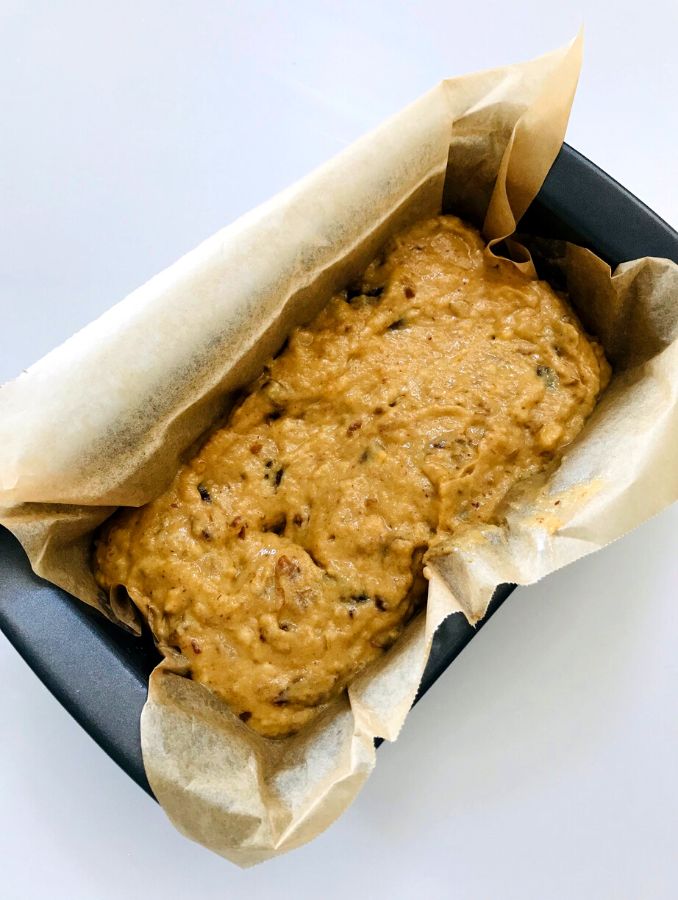 Preparing the Loaf Tin
Use a 20 cm x 10 cm loaf tin. You can use either tin or silicone. I never assume a stick free tin always works….well it hasn't always for me!
Grease the tin with a spray of cooking oil and line with baking/parchment paper to make it super easy to remove.
How To Cook the Best Date and Almond Loaf
Soak your dates, vanilla and bicarb with boiling water. Dot this first even before you are ready to make your loaf.  I've done it while making dinner to have ready and cooled to make later.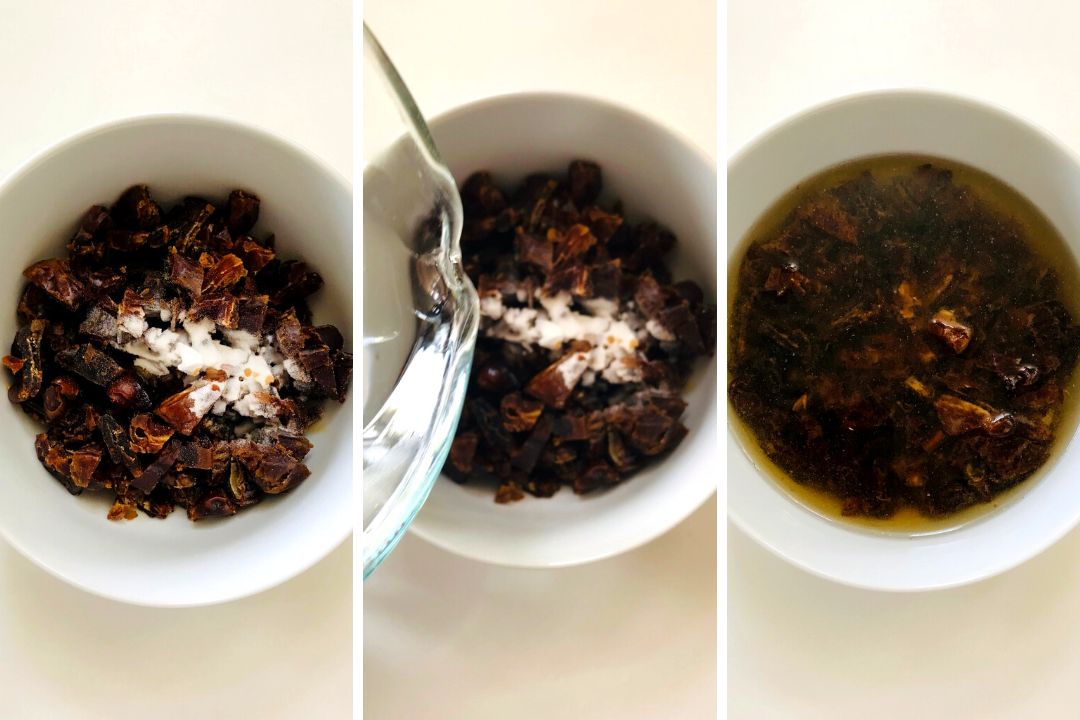 Add all the dry ingredients into a bowl, mix well  and set aside. Cream the butter and sugar.  A hand held mixer is great for this but if you do a quick mix that's fine too.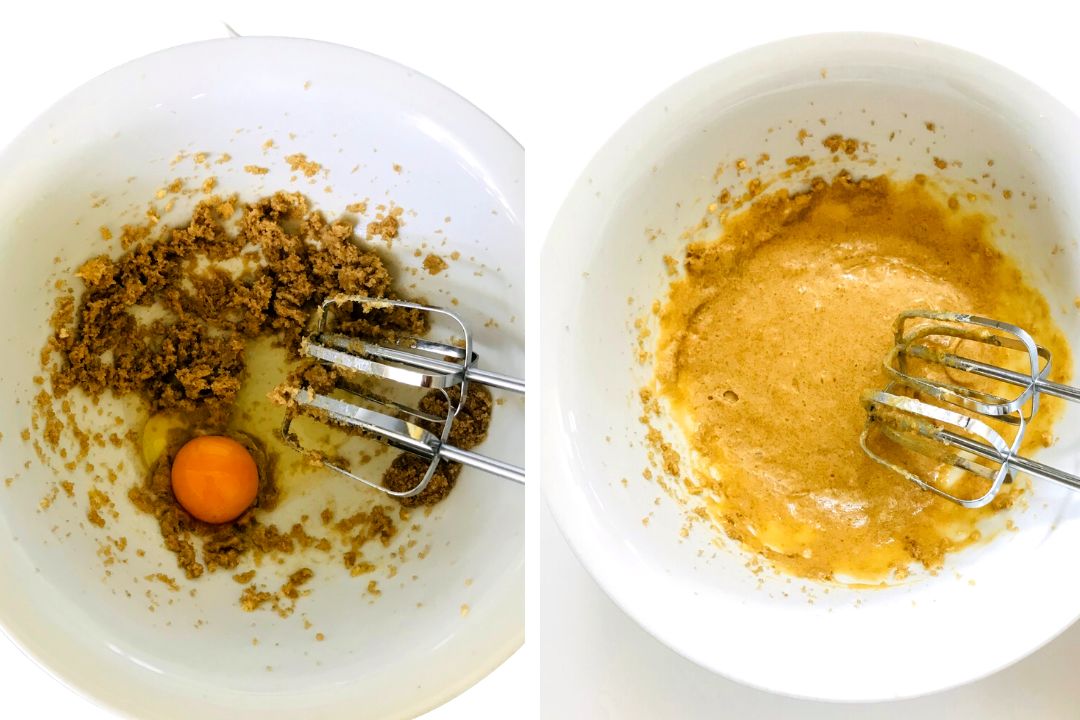 Add the cooled date mix to the creamed butter and sugar and mix well with a wooden spoon and then add your dry ingredients.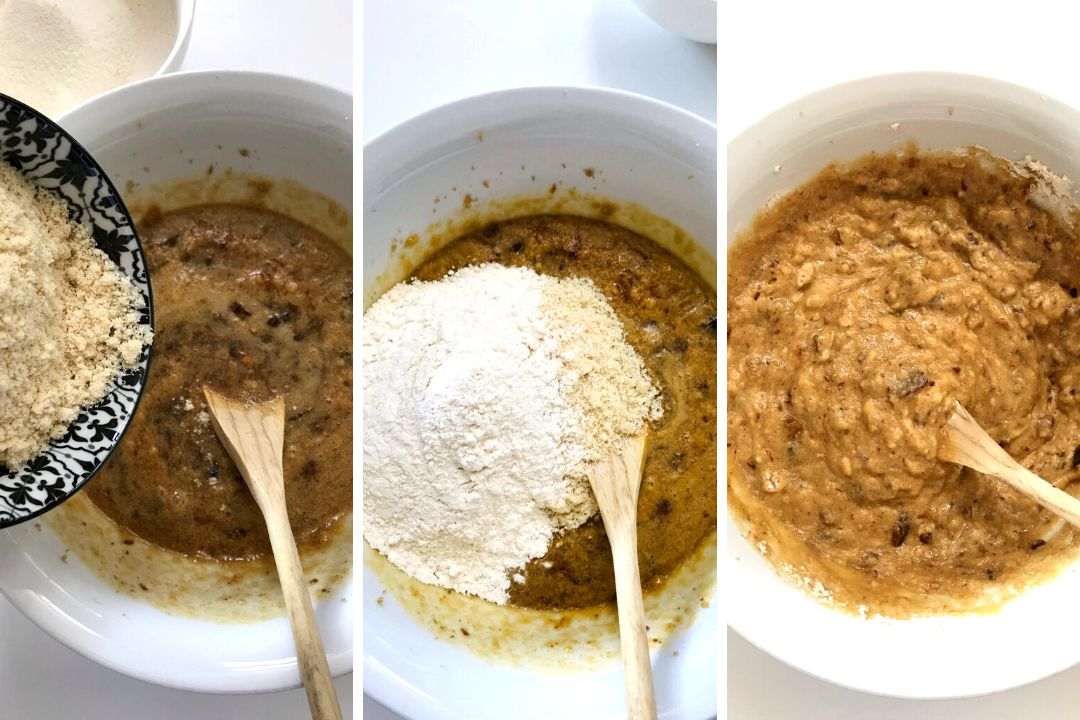 Pour into your prepped loaf tin and cook for 35*40 mins Celsius or until brown and a skewer comes out clean.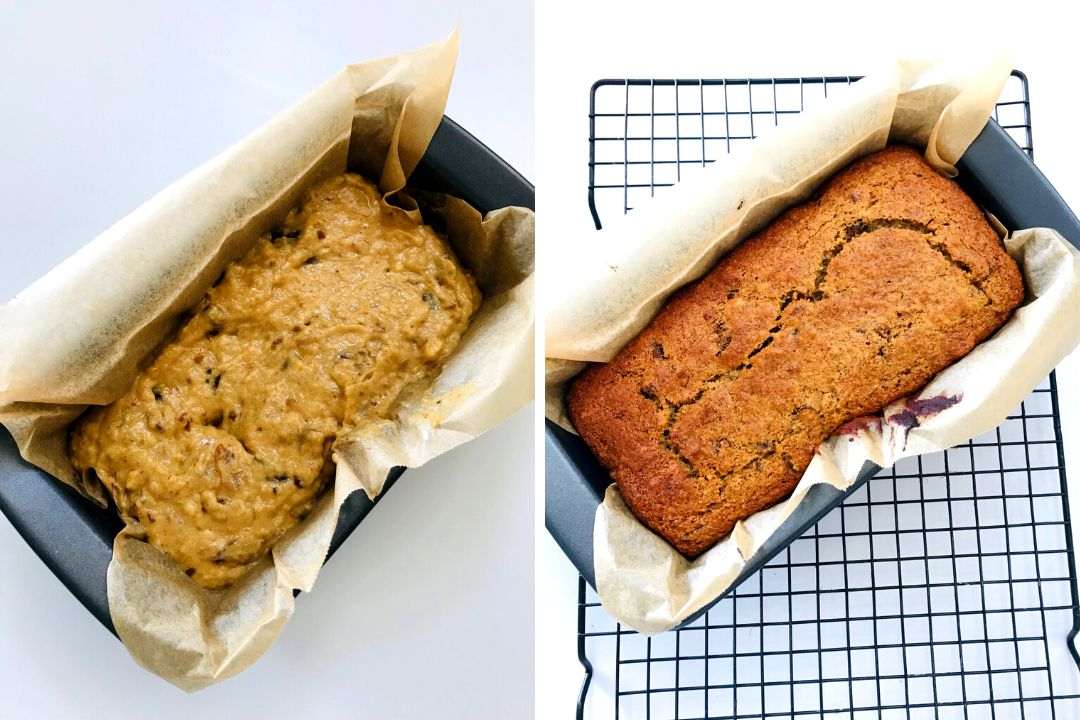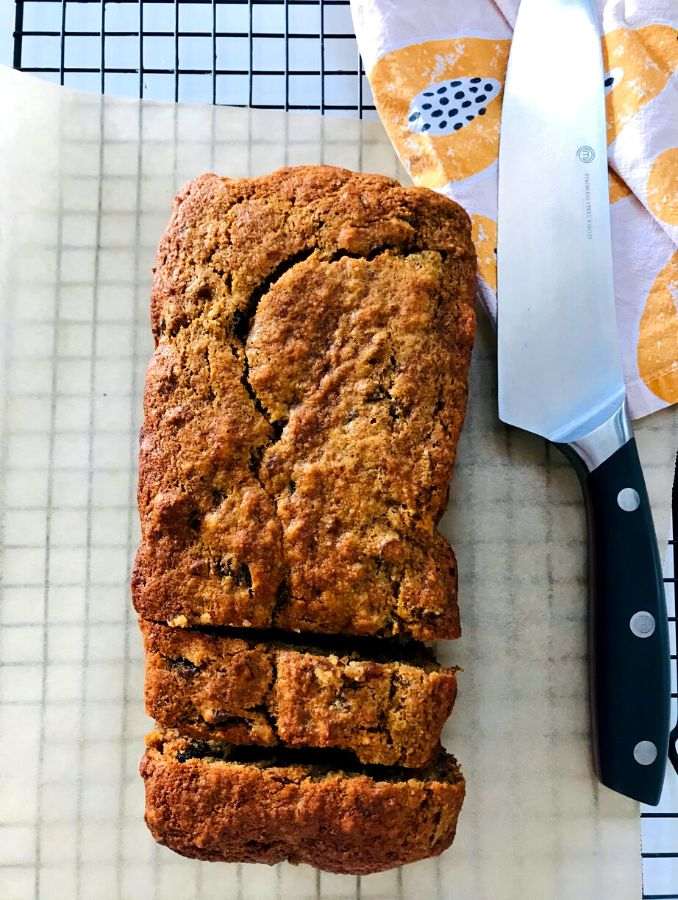 Easy Date and Almond Loaf
This Easy Date and Almond Loaf is super moist and made with the nuttiness of almond meal and pantry packaged dates.
Course:
Cakes, loaf, Lunchbox Ideas
Keyword:
date and almond loaf, date loaf
Ingredients
Ingredients
1

cup

packaged pitted dates

1

cup

boiling water

1

tsp

vanilla extract

½

tsp

bicarb soda

3/4

cup

almond meal

3/4

cup

self raising flour

1/2

cup

soft brown sugar

½

tsp

baking powder

1

egg

40

gms

butter
Instructions
Instructions
Pre-heat the oven at 180 degrees Celsius and prepare your loaf tin.

Chop the dates and place into a heat proof bowl along with the bicarb soda and vanilla. Cover with 1 cup boiling water and set aside and allow to cool.

Cream the butter and sugar together, add the egg and beat a little bit till combined.

Add the cooled date mixture (important that it's cooled) to the butter mix and combine along with the almond meal, flour and baking powder with a wooden spoon.

Pour into your prepared loaf tin and cook for around 35 to 40 minutes until slightly brown on top and a toothpick comes out clean.

Rest for 10 minutes and transfer onto a wire rack to cool. Or eat while warm.
Nutrition Facts
Easy Date and Almond Loaf
Amount Per Serving
Calories 167
Calories from Fat 54
% Daily Value*
Fat 6g9%
Cholesterol 21mg7%
Sodium 87mg4%
Potassium 70mg2%
Carbohydrates 25g8%
Protein 4g8%
Vitamin A 38IU1%
Calcium 56mg6%
Iron 1mg6%
* Percent Daily Values are based on a 2000 calorie diet.
How to Store your Date and Almond Loaf
To keep your delectable date and almond loaf as fresh as the day it was baked, give it the VIP treatment by storing it in a snug and cozy airtight container. It will help keep your cake moist and irresistible by getting rid of moisture and humidity.
Alternatively store in a glass cake dome.  Keeps really well though avoid sunlight hitting it directly.
Tips for Making Date Loaf
To soften dates, chop them finely and use boiling water to soak for around 20 minutes. Hot water from the tap doesn't quite do the job.
You don't need to get the muscle out to mix this batter. Just nice and gently does it.
Baking your date and almond loaf  perfectly is all about the timing to avoid it becoming  tough and dry. If it's getting nice and brown on top and you really think it's done before the cooking time is finished, you can check and see.  When your skewer comes out clean then she's a done deal.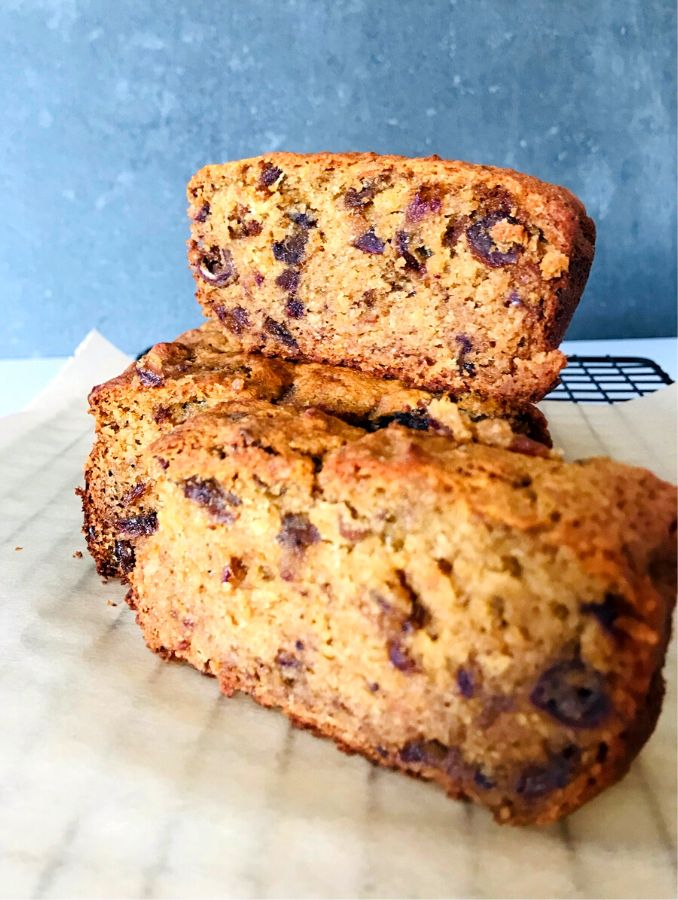 Frequently Asked Questions
Can I use wholemal self raising flour instead of white?
Yes for sure. It makes it more like a bread than a cake and a little bit heavier texture.
Can chocolate chips be added?
Chocolate chips make this recipe more luxe but will add more sugar to the recipe.
Can Almond Meal be used instead of almond flour?
The answer is yes.  The difference is that almond meal is made from grinding almonds with the skin on into a flour like consistency. It will just be a little darker in colour and slightly courser.
Can walnuts be added ?
Yes the more the merrier.  Always check to see how long you've had the nuts in your pantry to make sure they're still a lovely and fresh and haven't gone bitter.
Can this loaf be frozen?
Yes. Be sure to wrap in cling film and pop into a zip lock bag to ensure freshness when needed.  It will probably last a couple of months in the freezer.
Are Medjool dates ok to swap out for this recipe?
Medjool dates are so much more softer, bigger and juicer and the ratio is different compared with packaged dates.  I  haven't tried this with fresh dates as yet but will be on my to do list.
Are pitted dates healthy?
Fresh is always best in my opinion but this is one of those pull something out of your hat recipes where you can have the ingredients on hand at home in your pantry.  So pitted dates do make it easier.
More Healthy Date and Loaf Recipes You'll Love
If you love dates as much as I do then you might like to try our Apricot and Date Balls recipe. Or another of our fave is the Choc Chip Zucchini Loaf.