Looking for a delicious and refreshing dip to dollop onto your meals?  Well you need look no further as this easy tzatziki recipe is the perfect addition to any dish, whether it be a main course or a side.
With just a few simple ingredients, you can create an authentic taste of Greece  with this  creamy and tangy dip that will impress your family and friends.
We've only recently started making tzatziki at home as we always would buy it pre-made version from the supermarket.
Now we know how easy it is to make, (plus it tastes so fresh when you create it from scratch) we won't be doing that anymore.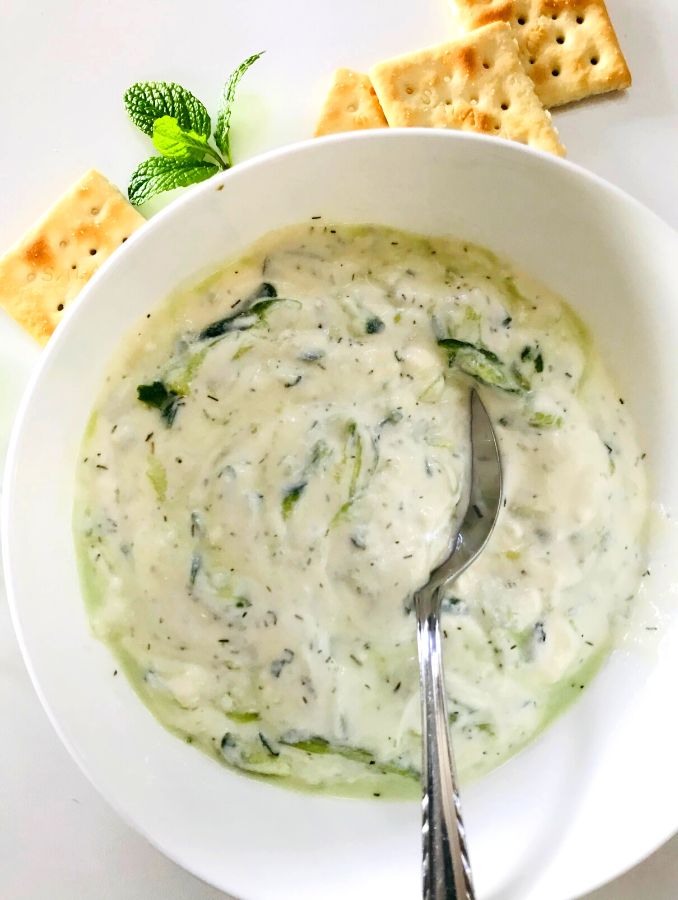 What is Tzatziki?
This  is traditional Greek dip and is a refreshing, tangy combination of flavors.  Made with creamy Greek yoghurt, crisp cucumber, zesty lemon juice, a touch of garlic, and delightful fresh herbs like dill and mint. Yumm.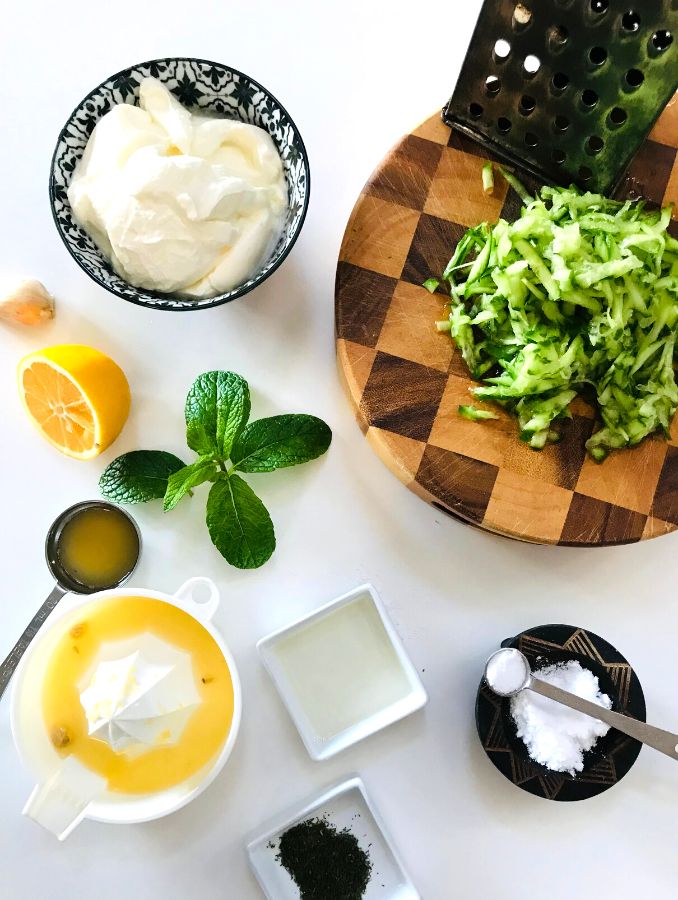 Ingredients
Cucumber – we used Lebanese for this recipe and grated on the traditional box grater
Greek yogurt – Thick and creamy – the tangy-ier the better in our opinion. We like Farmers Union Greek Yogurt.  For a less tangy yogurt you could try Jalna Natural Greek Yogurt.
Lemon juice – freshly juiced to give it a zing
Olive oil – just a splosh but you can omit this if you like
Garlic – one clove crushed
Herbs –  dill fresh or dried and mint which fresh is nicest for this recipe
Salt – just a tiny pinch to taste
Fresh herbs v's dried
Fresh herbs do make this easy tzatziki recipe that little bit more fresh and zesty.  Though we did use fresh mint and dried dill on this occasion as fresh dill is often a little trickier to come by.
What yogurt do you use for tzatziki?
The magic behind tzatziki lies in its luxurious, creamy, and tangy base – all thanks to the star ingredient: yogurt! So….which yogurt is best for tzatziki?
With all the yoghurts available here are some things to consider when choosing your yoghurt.
1. Greek Yogurt: Greek yogurt is by far the most popular choice for tzatziki because of its thick and creamy texture. It's adds a velvety consistency to the sauce.
2. Plain yogurt is a good choice for a lighter and more refreshing tzatziki. It's not as strong as Greek yogurt and is more liquidy. It still provides a creamy base for tzatziki, but with a lighter texture.
Non-dairy yogurt can replace traditional yogurt in tzatziki for vegans or those on a dairy-free diet. Options like almond milk, coconut milk, or soy milk yogurt offer a creamy texture and can be seasoned to match the taste of tzatziki.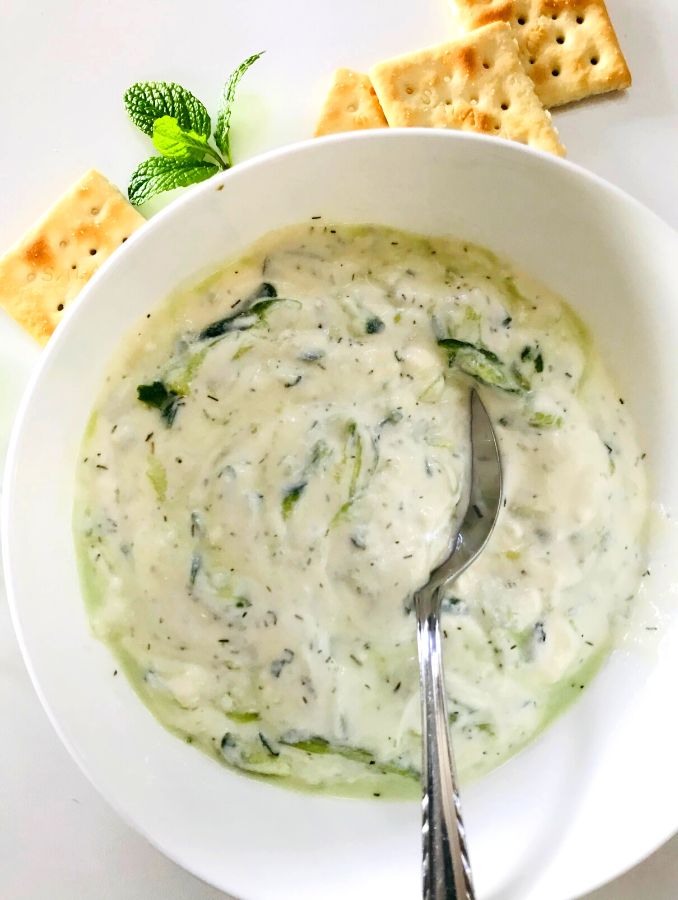 Easy Tzatziki Recipe
this easy tzatziki recipe is the perfect addition to any dish, whether it be a main course, sides, roasted veggies or on a hot lamb roll. Or use as a dip on your charcuterie. board.
Course:
Appetizer, Dressing
Keyword:
tzatziki dip recipe
Ingredients
½

cup

cucumber

grated

1

cup

Greek yoghurt

1

tbs

lemon juice

1

tbs

chopped fresh dill

or 1 teaspoon dried dill

1

clove

garlic

crushed

2

sprigs

mint

fresh finely chopped

pinch

salt

½

tbs

olive oil

optional
Instructions
Grate your cucumber and set aside. You can squeeze the cumber to remove excess water or add in as is. (see note*).

In a bowl mix together the rest of the ingredients and then add your grated cucumber. Pop into a bowl and chill until ready to use.
Recipe Notes
 For a thicker consistency after grating the cucumber you can squeeze the excess juice out or mix into the yogurt as is. 
Nutrition Facts
Easy Tzatziki Recipe
Amount Per Serving
Calories 65
Calories from Fat 18
% Daily Value*
Fat 2g3%
Cholesterol 2mg1%
Sodium 18mg1%
Potassium 84mg2%
Carbohydrates 8g3%
Protein 5g10%
Vitamin A 41IU1%
Vitamin C 2mg2%
Calcium 6mg1%
Iron 0.1mg1%
* Percent Daily Values are based on a 2000 calorie diet.
Tips and Tricks
For the perfect tzatziki, always go for the creamy, tangy plain yogurt and leave the sweet stuff behind!
Full-fat yogurt is recommended for tzatziki, but low-fat or non-fat options can also work.
The choice of yogurt for tzatziki depends on your preference. Greek yogurt, plain yogurt, or non-dairy yogurt (Cocobella Coconut Yogurt) can all make a tasty tzatziki sauce.
Get your yogurt and get ready to enjoy this much loved Greek concoction.
Do you peel cucumber to make this easy tzatziki recipe?
No you don't have to peel your cucumbers.  The best kind to use are those with thin skin like Lebanese, Persian and English or Telegraph.
Just be sure to give them a wash before you grate to remove any unwanted dirt.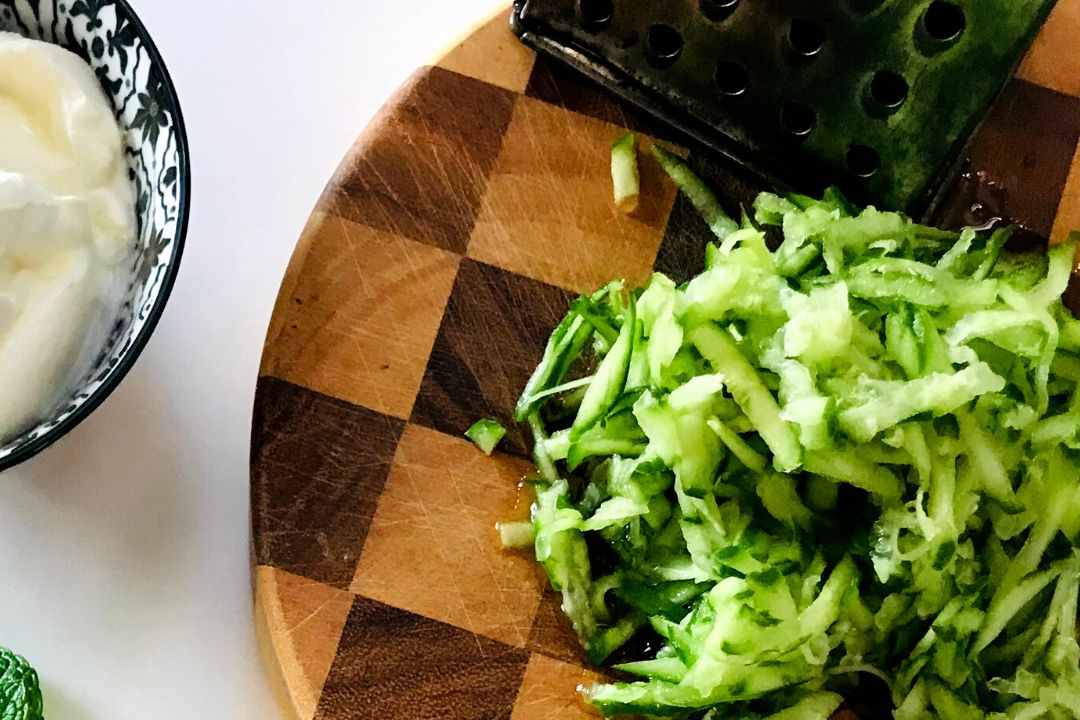 Uses for Tzatziki
Toasted pita – (crunchy air fryer tortilla chips recipe)
Falafels – you may like to try our Easy Zucchini Falafel Recipe
As a dip on an appetizer plate with crunchy fresh veggies like carrot, celery, radish, olives and roasted tomatoes and peppers or dolloped onto seed crackers.
With slow cooked lamb
On kebabs and gyros
Dolloped on roasted veggies
As a salad dressing
Storing Leftovers
Tzatziki sauce is best fresh. Don't let that delicious sauce go to waste! Keep it fresh by transferring it to an airtight container and popping it in the fridge. It will last in the fridge about 2 days.