You can never go wrong with this delicious and easy zucchini falafel recipe. Packed with flavor these zucchini falafels are crispy on the outside and gorgeously green on the inside.
Zucchini falafel are the perfect bite-sized and they'll be your new go-to appetizer. While Falafel is traditionally made with ground chickpeas adding the zucchini  gives it not only colour but keeps this mix lovely fluffy and soft.
So you maybe asking What are Falafels?
Falafels are simple but a delicious food enjoyed by many and usually are fried (or baked) balls or patties made from ground chickpeas.
Where Do Falafels Come From?
Falafels originated in Egypt, and are now popular in many Middle Eastern and Mediterranean countries and well just about everywhere.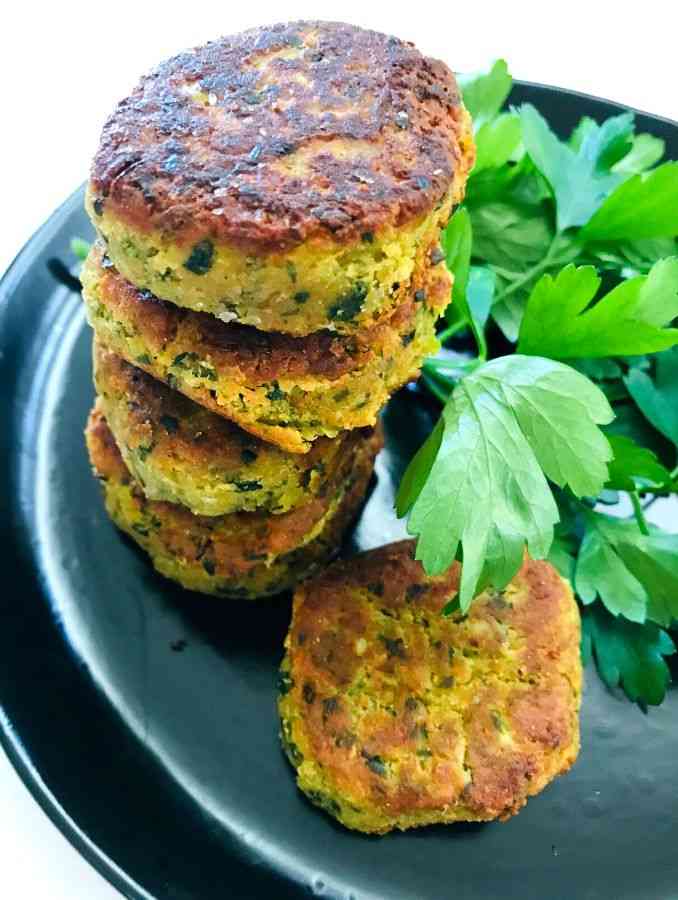 Latest Video
Can Vegans Enjoy Falafels?
Yes! Traditional falafels are vegan, as they're made with a combination of traditional falafel ingredients beans or legumes, spices, and herbs. Whether you're vegan, vegetarian or not, these Zucchini Falafels are perfect for anyone.
Whether  you like to tuck into them on their own or pop them on a plate full of salad drizzled with  tzatziki sauce or your fave sweet chili relish and crunchy salad or pickles. Or serve the following day in a flat or pita bread with salad and lovely sauce.
What Ingredients Do You Need To Make This Easy Zucchini Falafel Recipe?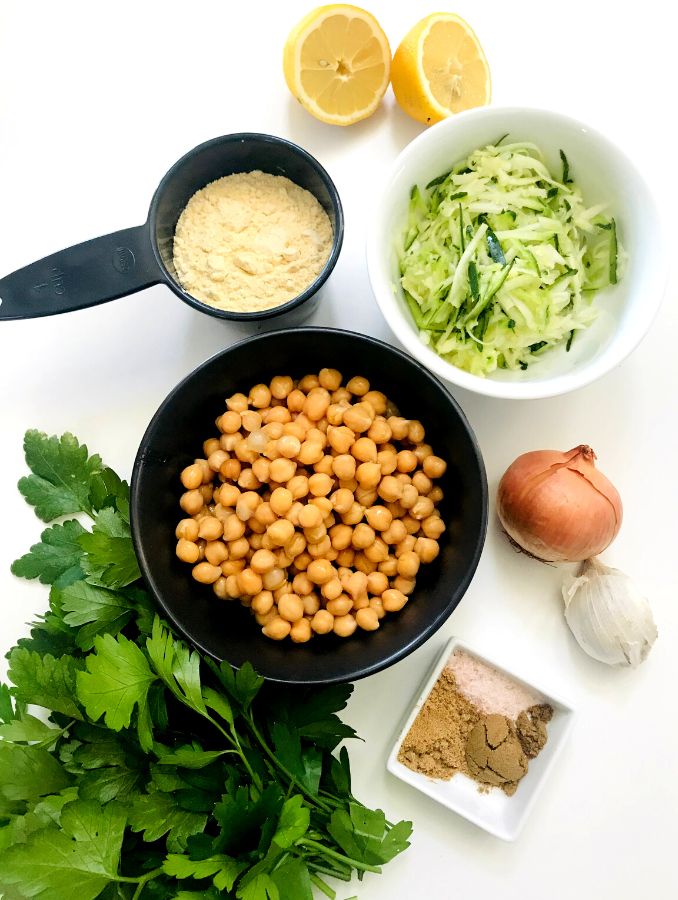 Chick peas – we used the canned precooked variety.  This speeds up the recipe and most of us generally have a can of them on hand. Canned chickpeas are not only convenient but a way to add more healthy plant-based foods to your diet. So stock up your pantry with this delicious and nutritious food from a can.
Zucchinis – a medium sized zucchini,  grated easy enough with a box grater
Chickpea flour – or also known as besan flour and is made from grinding up chickpeas. If you live in the USA it's also called garbanzo or gram flour. It's gluten free  and this recipe uses 3/4 of a cup.
Parsley – gives these little crunch balls that gorgeously green colour
Onion – brown, white or red
Garlic – adds just that bit of flavour
Spices – salt, cumin and coriander to give it that authentic taste
Lemon juice –  adds a lovely lift and combines it all nicely to keep in the moisture
Making Zucchini Falafels
Firstly chop finely the onion and garlic and parsley either by hand or in a food processor and pop into a bowl.
Pulse the canned chick peas, add to the bowl along with the rest of the ingredients.
Shape into falafel shapes or small patties.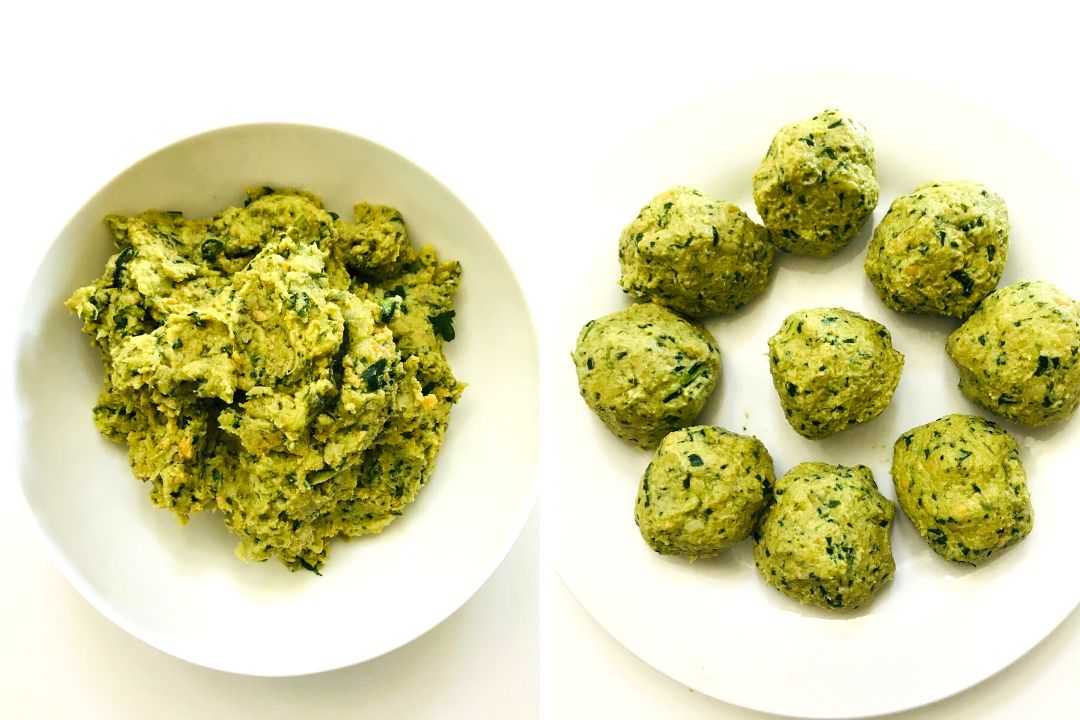 Shallow fry in a pan or bake them in the oven. If popping into the oven spray a little oil onto the tray and on top of the falafels to give a nice crispy coating. If you are baking your falafels place them on an lightly oiled tray and spray with some more olive oil to ensure they get nice and brown.
Oven temp is around 200 C or 400 F  for around 25 minutes if baking.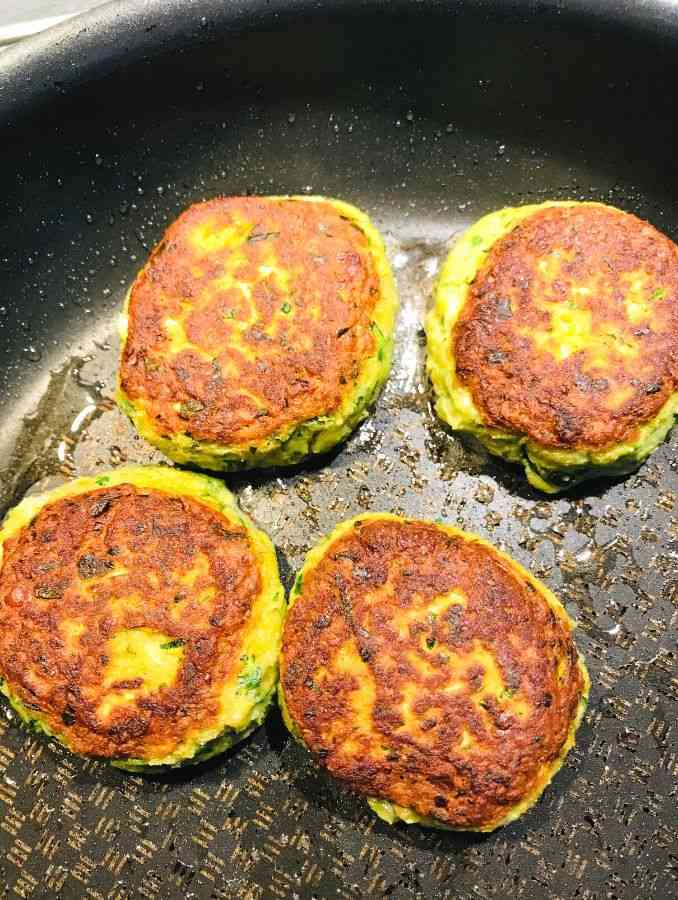 Easy Zucchini Falafel Recipe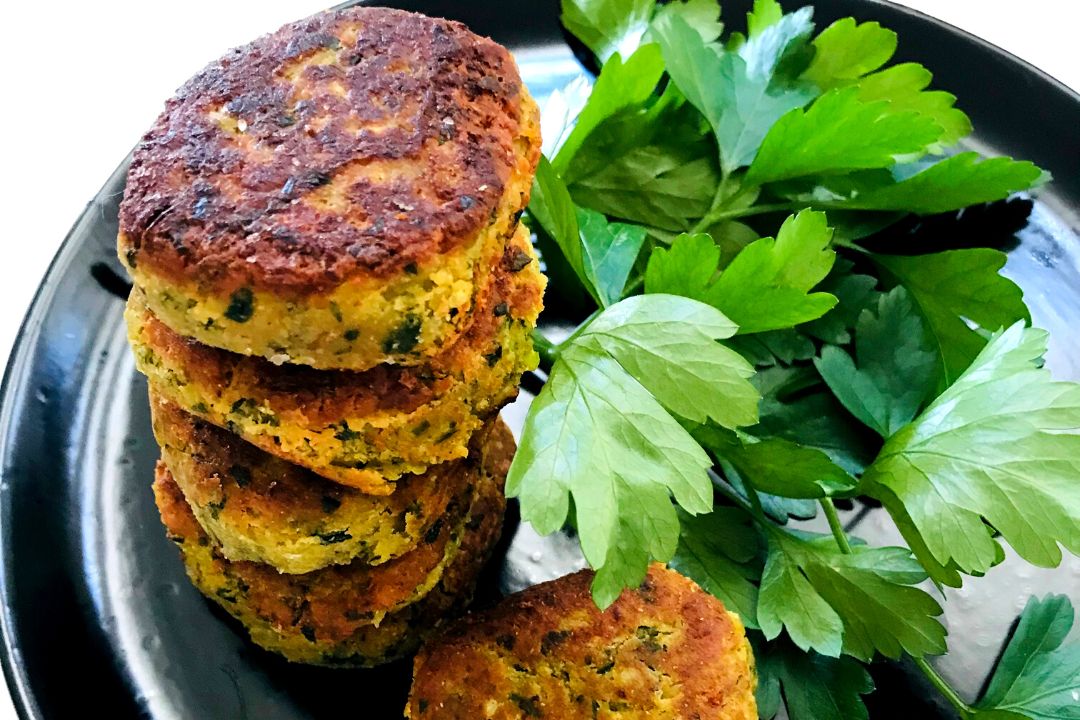 Easy Zucchini Falafel Recipe
Course:
Dinner, Lunch, Lunchbox Ideas, Snack
Keyword:
Chickpea and Zucchini, Zucchini Falafel
Ingredients
1

can chickpeas

1

onion

1

garlic clove

1

large handful fresh parsley

1

zucchini

medium

3/4

cup

chickpea flour

1

tsp

salt

1

tso

cumin

1

tsp

coriander

1/2

juice of a lemon
Instructions
Chop the onion, parsley and garlic finely either by hand or in a food processor and pop into a bowl.

Drain the chick peas and pulse in the food processor. Add to the onion, parsley and garlic along with the rest of the ingredients and combine well.

Shape into falafel balls or small patties. Whatever you prefer. Pop into the fridge for 20 minutes if you like before frying so they keep nice and firm when you go to cook.

Shallow fry in a pan for about 3-4 mins on each side or when the outside is nice and crispy to your likening.

Or or bake in the oven place on a tray with oil and spray a little olive oil on top to make sure they get nicley browned.

Bake at 200 degrees Celsius for around 25 mins.
Nutrition Facts
Easy Zucchini Falafel Recipe
Amount Per Serving
Calories 57
Calories from Fat 9
% Daily Value*
Fat 1g2%
Sodium 301mg13%
Potassium 196mg6%
Carbohydrates 10g3%
Protein 3g6%
Vitamin A 68IU1%
Vitamin C 9mg11%
Calcium 18mg2%
Iron 1mg6%
* Percent Daily Values are based on a 2000 calorie diet.
What Are The Benefits Of Using Chickpeas?
Canned chickpeas are a great way to get your daily dose of fiber and protein. They're also a good source of iron and folate. These little balls are packed with so many health benefits, And they're low in calories and fat. Plus how convenient is it to open a can of chickpeas and just start cooking?
Love cooking with zucchini's? Then you'll probably enjoy our other zucchini recipes like Zucchini Slice recipe  Though zucchinis can also be used in baked loaves and cakes too.  This Choc Chip Zucchini Loaf is the best.
Love Vegan Cooking?
Then you'll love our free 40 Vegan Recipe Cook book ready for you to download ASAP. To grab your copy just hit the button below.👇