These Teriyaki Chicken Nori Rolls are the perfect little party snack! They're easy to make, and so delicious that your guests will be begging for more.
Plus, they're just as cute as can be.
If you want a quick weeknight dinner that doesn't cost too much well…..then this is a great meal idea for you. It's easy enough for anyone and honestly it's rather cheap and makes a large amount too.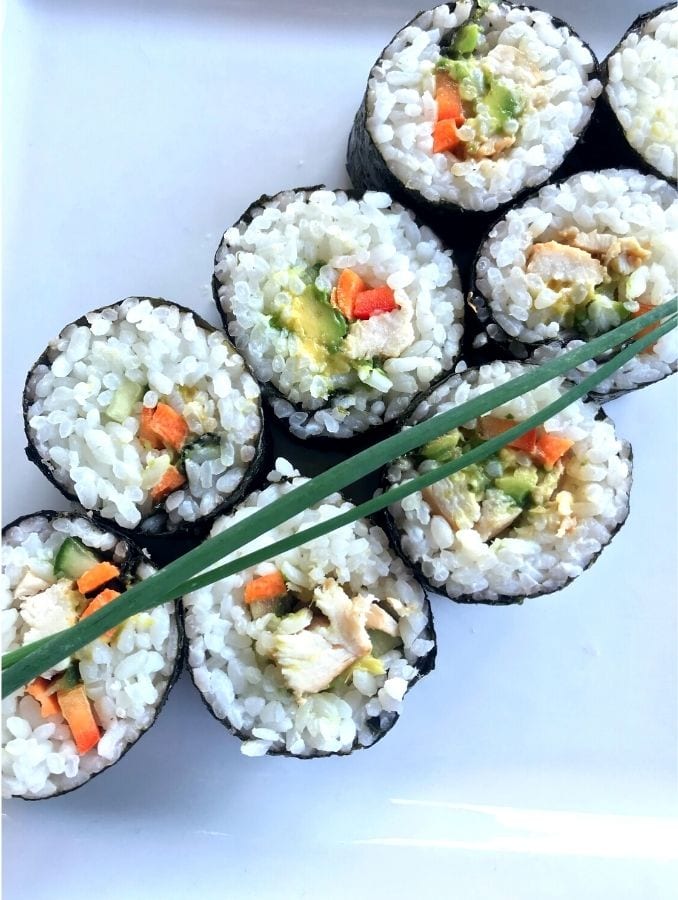 Why Make Nori Rolls?
They're are cheap, and you can pretty well make them with simple ingredients you'll have on hand at home. You don't need to be a chef to make your own delicious Nori rolls at home. All you need is a little bit of rice, some nori sheets, and your favorite fillings.
Teriyaki chicken is a fantastic filling for sushi rolls, as it is flavorful and easy to cook. Plus, it's a great way to save money.
Many people when hearing the word nori rolls may not be sure what they actually are and seem to think that you are talking about a dish with raw fish in it.
Nori rolls are also called hand made rolls or Shushi rolls and can have either chicken, prawns, rice and thinly sliced vegetables rolled into a seaweed wrapper. Then cut into slices and served with soy, mirin, wasabi or any sauce you desire to dip them in to.
Nori originally means edible seaweed. We probably know it in its wrap form which you can purchase form supermarkets as edible sheets of seaweed.
Ingredients- What do you need?
Sushi rice – you really need to use the Shushi style rice for this recipe.  It's super sticky and perfect for melding all the ingredients together to make the nori rolls stay really knitted together
Nori sheets –these are easily found in your local supermarket or Asian grocer.  They have that distinct seaweed smell and taste and so perfect for binding everything together.
Chicken breast fillet – soft and tender and cooks really quickly.  Easy to shred or slice thinly as well.
Teriyaki Sauce – The sweet and salty flavour bombe for this recipe.  You can find teriyaki easily at your local grocers.
Avocado – adds that creamy soft texture.
Cucumber – light, watery and fresh.  Perfect for nori rolls.
Carrot – slices so ever finely but adds colour and texture to these little babies.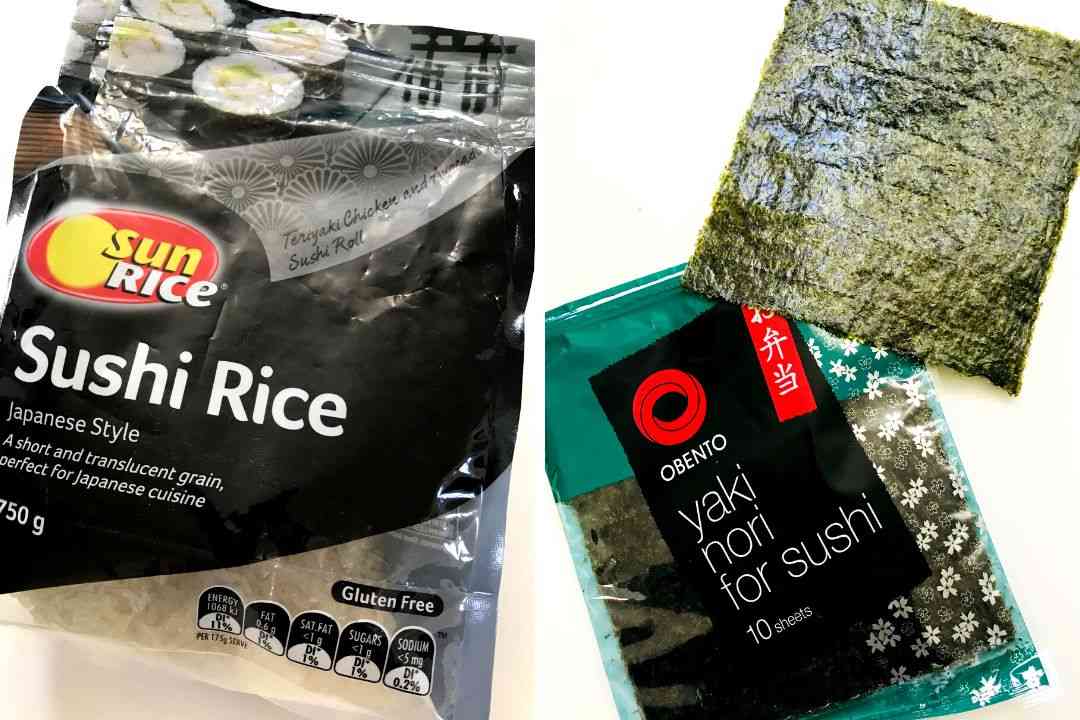 Filling Variations for Nori Rolls
Meats
Try other flavours like prawns in either cutlets or barbecued and teriyaki beef, chicken and even canned tuna mixed with mayonnaise. If you would like a crunchy filling feel free to coat your chicken or prawns in crumbs like panko to give it that extra texture.
If you have any leftover roast chicken this makes for a perfect filling for nori rolls. Or just as easy is to grab a pre-cooked roast chicken and shred, add  Teriyaki sauce it's going to add that VA VA Vroom flavour.
Vegetables
No matter what vegetables you have on hand, just make sure to slice them lengthways and thinly. You can change it up with red capsicums, green peppers, carrots, thinly sliced spring onions/shallots and avocado slices. Really the vegie component is endless.  It's totally up to you and your tastes.
Sauces
You can add sauce to your Nori rolls before rolling.  Sometimes it's nice to keep the rolls fairly simple and allow your guest to dip into bowls of sauces while eating.  We love mirin, soy, some teriyaki glaze, wasabi or really whatever sauce you love.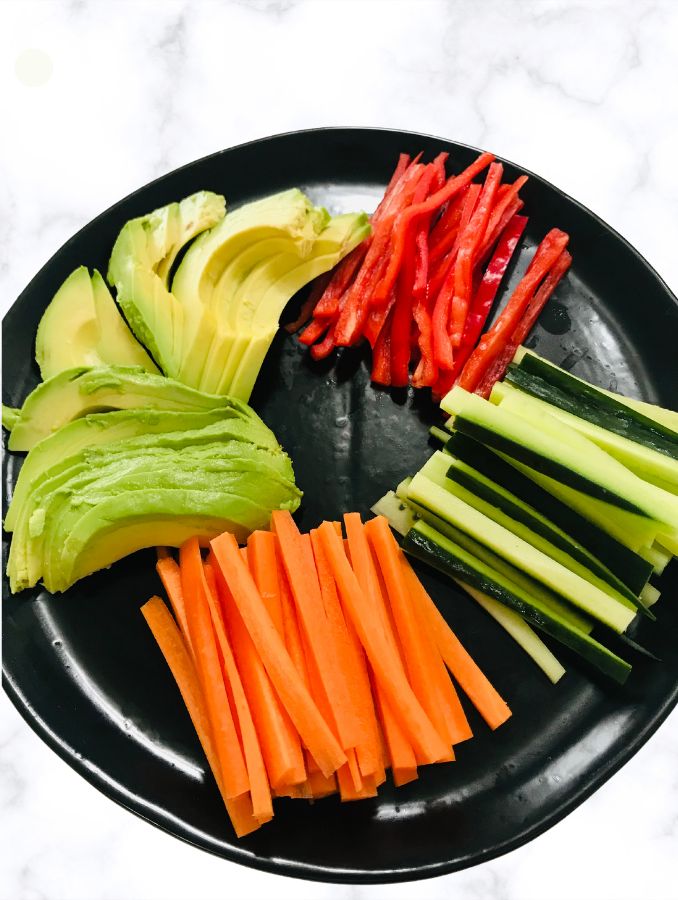 How Do You Make The Teriyaki Chicken for Nori rolls?
Firstly you cook your chicken in Teriyaki sauce.  We used a chicken breast fillet for this recipe. You can either marinate your chicken breast prior to making your Nori rolls or cook the chicken and drizzle the teriyaki marinade over the meat in the frypan.
Grab a bottle of teriyaki marinade. Any teriyaki marinade that you like!  We love the Master Chef Teriyaki Marinade and can be found in your local supermarket.
Place the chicken into a pan and gently cook over medium heat. Try not too overcook as the chicken may dry out.
After cooking, slice nice and thin ready get ready to assemble.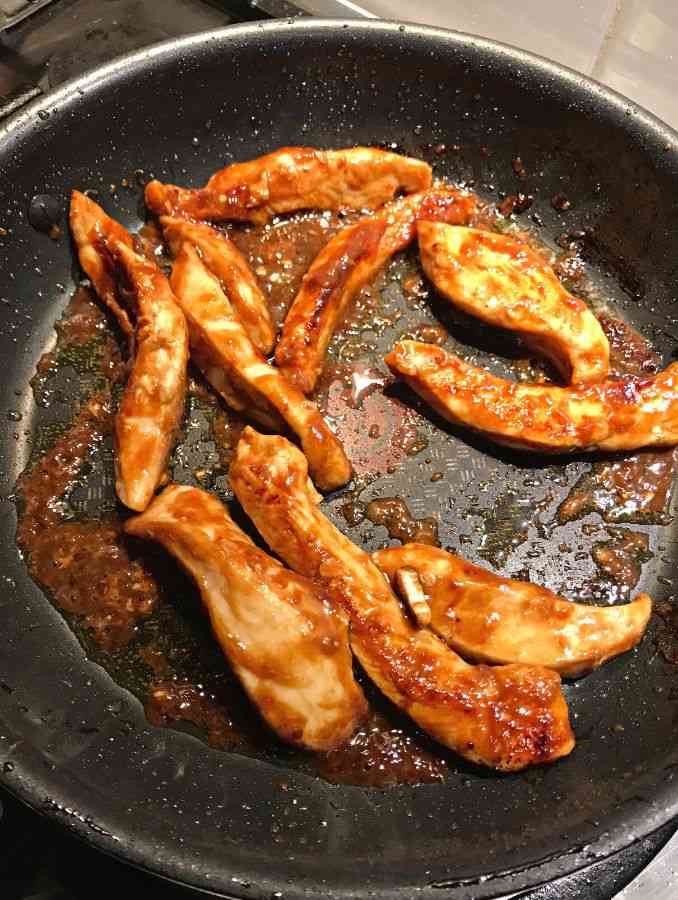 Cooking Your Shushi Rice
Shushi rice is different from normal rice. The reason is that Shushi rice is very sticky (and can be a pain as it gets stuck on your hands) but is perfect for creating your nori rolls.  Cook your Shushi rice according to the packet instructions and allow to cool before assembling your nori rolls.
We cooked ours in the absorption method on the stovetop and it turned our perfect. Our rice was the Sunrise Shushi Rice from our local supermarket. The water ratio recommendation was 1 cup dry sushi rice to 1.5 cups of water
Rice to water ratio for sushi rice in a rice cooker
For our Kambrook rice cooker the water ratio was still the same. 1 cup of rice to 1.5 cups of water.  Though each rice cooker is different and with more modern units available than ours the water to rice ratio may be different.  But ours was pretty perfect.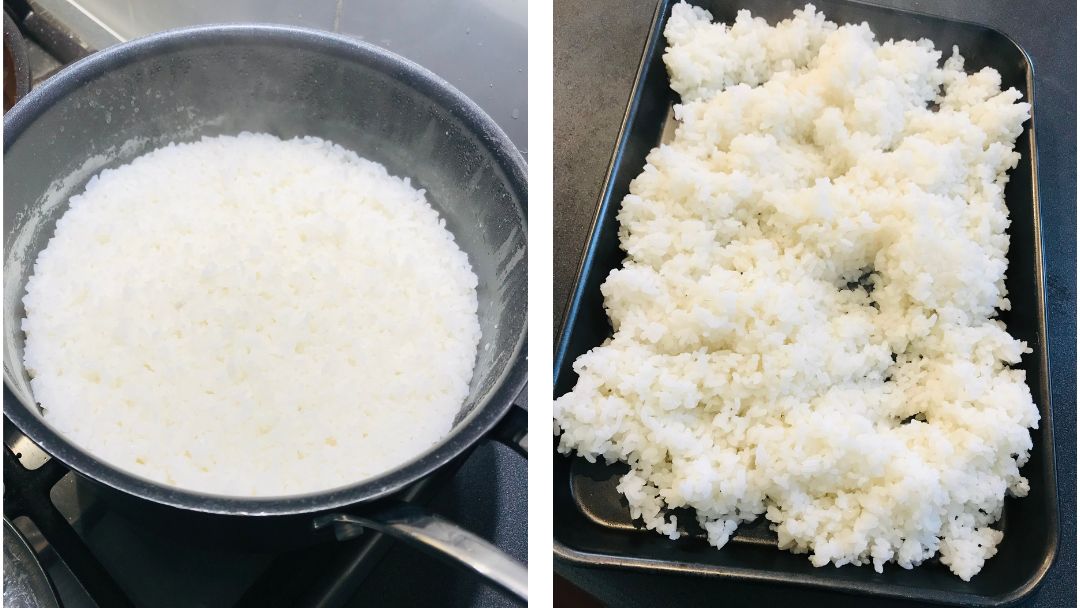 How to Make Sushi Rice in a Rice Cooker
Wow! This would have to be the simplest way to cook sushi rice and it would require the least effort. A rice cooker is great for cooking sushi rice because it requires no attention at all.
We used a very basic Kambrook  rice cooker. Nothing fancy with only one setting.
Firstly rinse your rice until clear.
Pop your washed rice into the rice cooker and add 1.5 cups cold water.
Turn on and cook.  When the button pops and it's in the warm stage, remove the bucket from the cooker and allow to sit on a chopping board for another 10 minutes.
This allows the rice to fully cook and absorb any remaining moisture.
Remove from the bucket and pop onto a tray and allow to cool.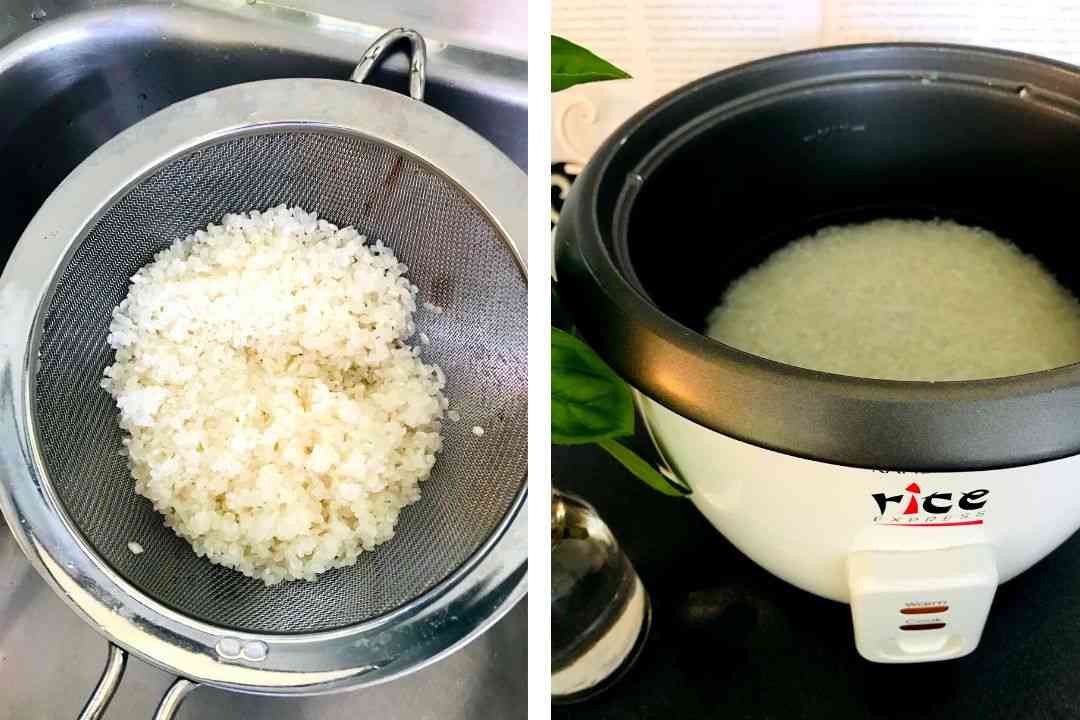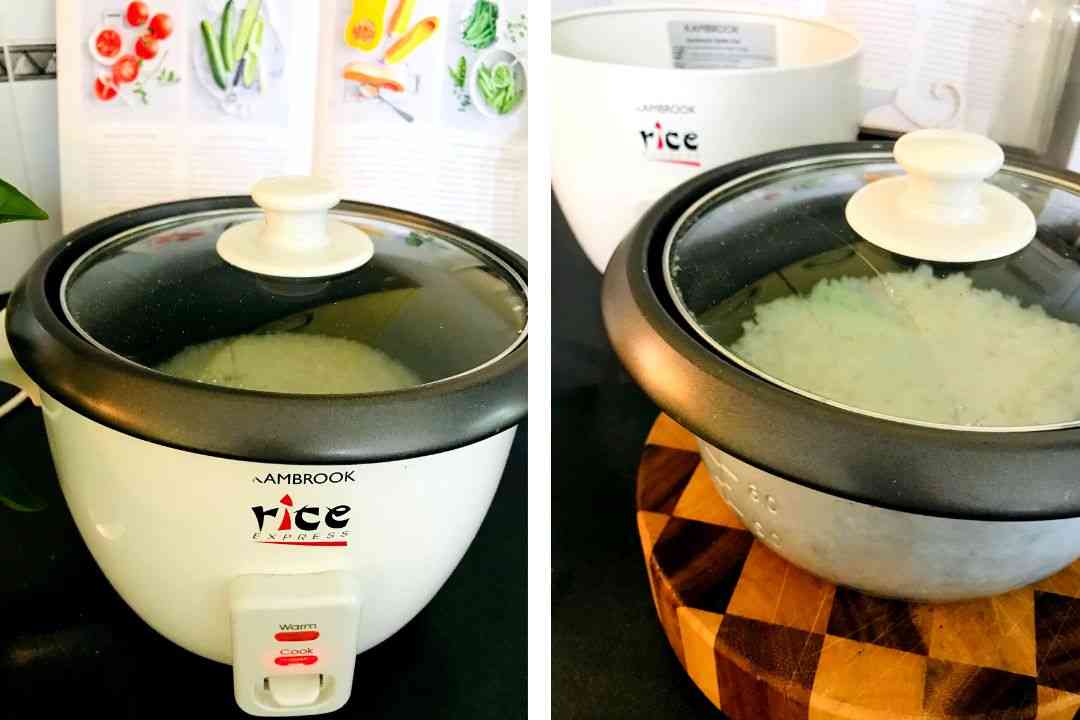 Here are a few tips to successfully roll a chicken Shushi roll:
Place a nori sheet aligned to the edge of the rolling mat closest to you.
Add the seaweed wrapper with the shiny side down
Spread the rice evenly over the seaweed wrapper and press down to make it stick leaving a few centimeter gap at the end. (If your hands get sticky have a bowl of cold water on hand to dip them in. This makes it easier).
Spread the fillings at the top of the wrapper – closets to you – making sure they are evenly spread across .It's easy to overfill your rolls so a little bit of chicken and veggie can go a long way. Drizzle with some Teriyaki glaze or sauce just before rolling.  Gives it that extra va va voom taste.
Start rolling the bamboo mat and push down a little firmly. Then start to roll again heading towards the end of the wrapper and when the end of the nori sheet closest to you reaches to the other end of the rice.
Wet the end of the seaweed wrapper and roll to ensure that the nori sheet is slightly tucked in and seals to the other end of the wrapper.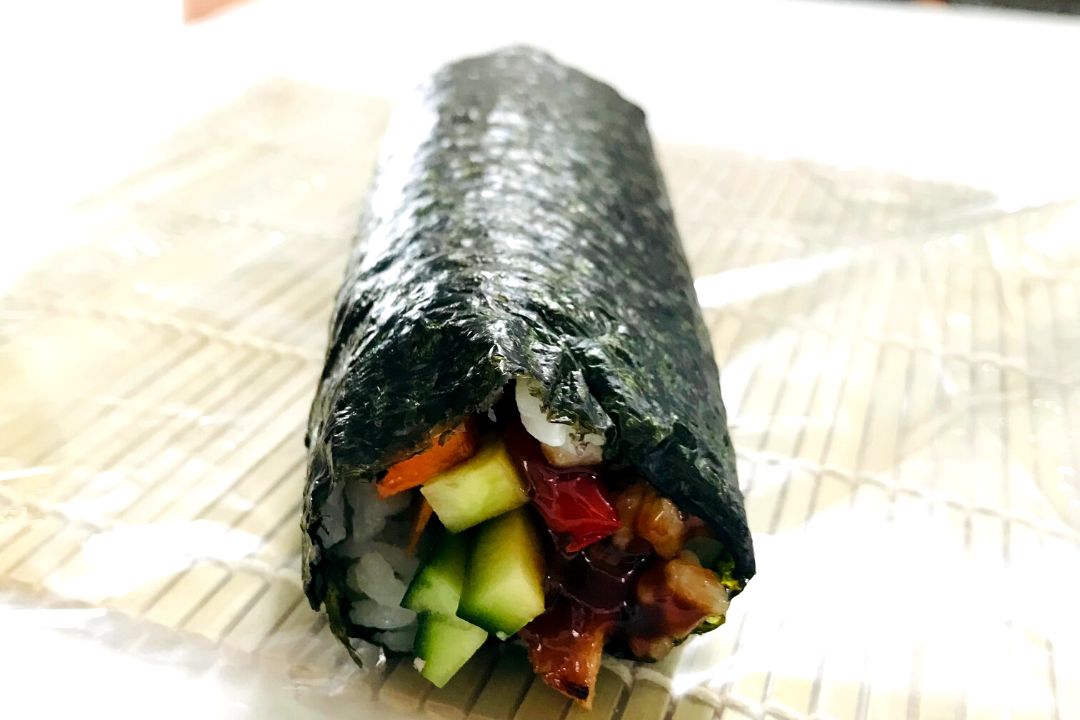 Below is a video that will help you visually on how to create the perfect Chicken Teriyaki Nori Roll
Teriyaki Chicken Nori Rolls Recipe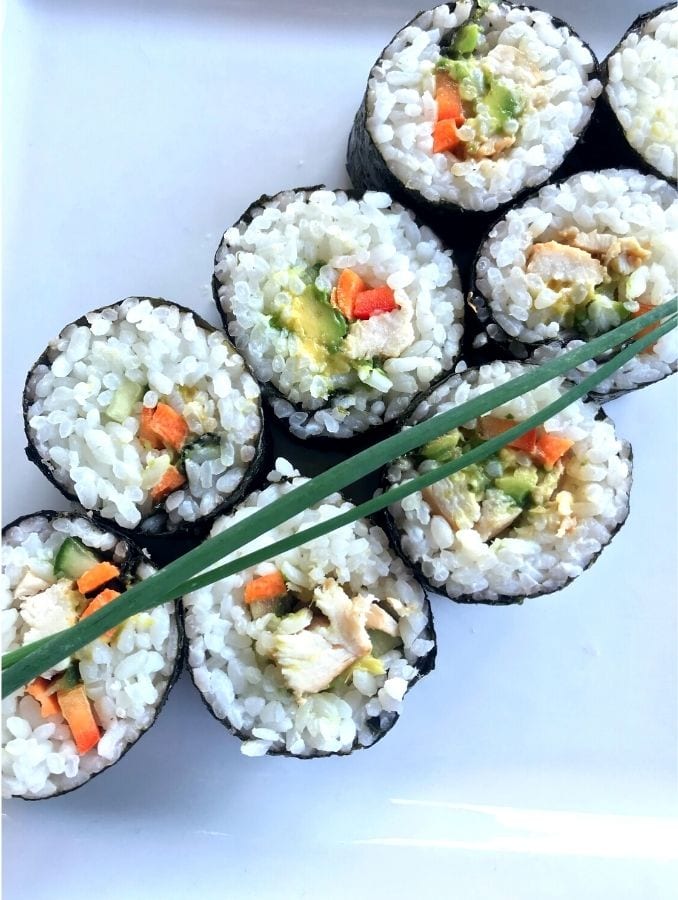 Teriyaki Chicken Nori Rolls
Course:
Dinner, Lunch, Lunchbox Ideas
Cuisine:
American, Australian, Japanese
Keyword:
chicken, healthy, nori rolls, teriyaki chicken, vegan
Ingredients
1

carrot finely sliced lengthways 5 cm

1

Lebanese cucumber sliced lengthways 5cm

1

packet seaweed wrappers

1

avocado halved and sliced thinly.

1

chicken breast

½

cup

teriyaki sauce

2

cups

sushi rice (cook as per packet instructions

Soy sauce & mirin for dipping

Japanese or Kewpi Mayo

Wasabi

1

Avocado

sliced thinly lengthways
Instructions
Cook rice as per packet instructions and allow to cool. We pop ours onto a metal tray and place into the fridge (or freezer) for a few minutes to speed things up.

Marinade the chicken breast in the teriyaki sauce for an hour. If short on time coat with teriyaki sauce and pan fry till cooked. When cool slice thinly or shred if you prefer.

Assemble all your ingredients on your bench ready to roll.

Place a nori sheet shiny side down on a bamboo sushi rolling mat.

Spread a layer of rice over the wrapper leaving an edge at the bottom. Place your ingredients on top of the rice, at the beginning of the edge where you are going to start rolling.

Add a drizzle of teriyaki sauce over the ingredients to give it a little extra zing.

Roll up using the bamboo mat and press firmly. Brush edge of nori wrapper at the bottom with water and continue rolling so that the edges seals shut.

Cut into bite sized rolls. These taste great the next day for lunches too.

Dip the rolls with soy sauce, mirin and wasabi if you like to add extra taste.
Recipe Notes
Make these Nori Rolls to your liking.  Add other vegetables if you like. Snow pea sprouts, chives, tofu or other meat if you prefer.
The seaweed wrappers will soften when eaten the next day, but sometimes that's nice too.
Nutrition Facts
Teriyaki Chicken Nori Rolls
Amount Per Serving (4 g)
Calories 154
Calories from Fat 36
% Daily Value*
Fat 4g6%
Cholesterol 9mg3%
Sodium 368mg16%
Potassium 252mg7%
Carbohydrates 23g8%
Protein 6g12%
Vitamin A 706IU14%
Vitamin C 3mg4%
Calcium 13mg1%
Iron 1mg6%
* Percent Daily Values are based on a 2000 calorie diet.
Frequently Asked Questions
How long can I store sushi in the fridge?
These Nori rolls with cooked filling ingredients, can be stored a day or two in the fridge though we really think it's best eaten the day of making.
Do you need to wash sushi rice?
Washing the rice removes extra starch and helps keep the rice from getting extra sticky. Even though sushi rich is meant to be sticky and the stickiness is an important for making sushi rolls,  if it's too sticky then it can become chewy.
Pop your rice into a strainer and wash with running water till the water becomes clear.
Why is my sushi rice gluggy?
The rice may be overcooked.
Water to rice ratio is wrong.  Check with your packet directions
The rice hasn't been wash thoroughly
Do I have to make all the sushi ingredients at the same time?
If you have loads of leftover chicken in the fridge that may need to be used, then Nori rolls make the perfect second dinner to the leftover roast chicken.
You can make the teriyaki chicken and rice the day before you assemble the rolls.  Cover the rice so it wont' dry out.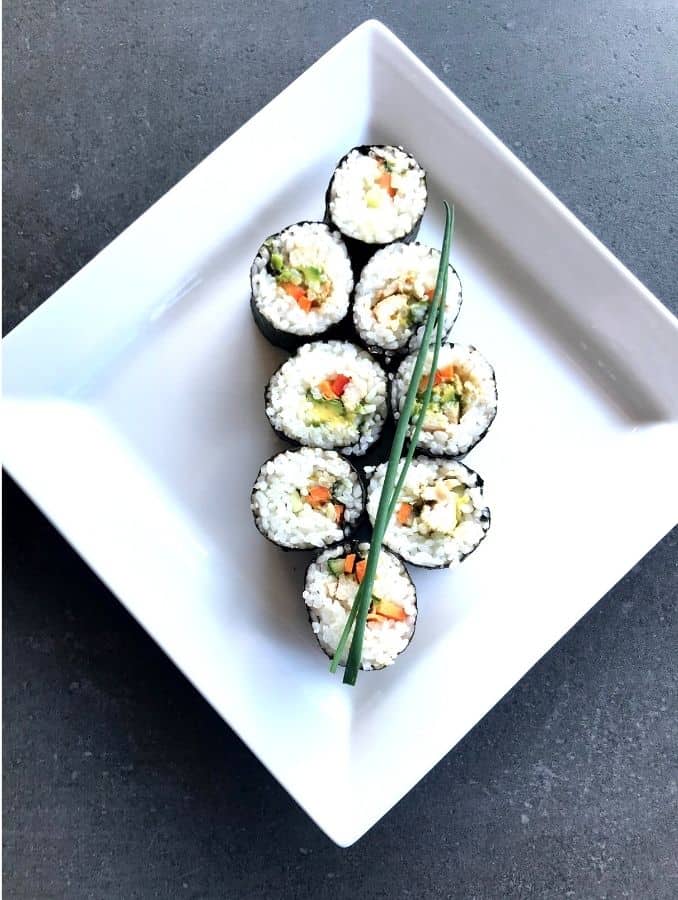 Please share your Nori Roll creations with us on Instagram Hashtag  #just1biteatatime and we'll share the love. ?
Instagram or on our Facebook page too.
Need some help finding yummy and healthy dinner Ideas?
Download our Free 40 Vegan Recipe Cook Book. To grab your copy just click the button below.👇