Looking for a delicious and unique twist on traditional pies? Look no further than these mouthwatering Curried Lentil and Pumpkin Pies. These savory pies are packed with flavor and are sure to be a hit at your next family get together, and please even the hard core meat eaters in your family
We fell in love with these vegan pies after dining at our local vegetarian café.  It was a no brainer what we were going to order every time we went there.  It was a standard order of curried lentil and pumpkin pie with a ginormous side serving of several salads.
Needless to say it was definitely a high fiber affair. After our café left the area I decided it was time to create our own version.
Coming up with one wasn't as easy as I had first thought but after giving it a go it was a piece of cake…sorry pie!!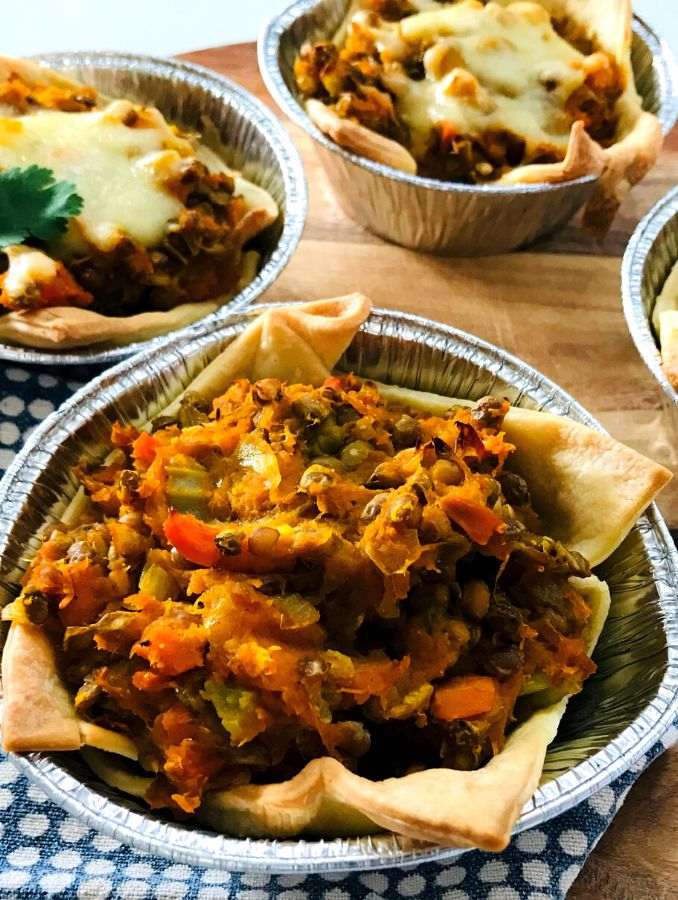 Ingredients For Curried Lentil and Pumpkin Pies.
Onion – any colour and super finely diced
Carrot – finely diced
Celery – 2 stalks finely diced
Garlic – just one clove crushed
Curry Powder – quick and easy and smell yum
Cumin – to give it that interesting vibe
Pumpkin – precooked and slightly mashed (such a versatile ingredient and great to use if you have oodles of leftover pumpkin like our Pumpkin Quinoa Patties.
Lentils –  tinned brown lentils, drained
Shortcrust pastry  – premade from the supermarket is quick and easy
Veggie stock cube – a biggish sized stock cube or two smaller ones.
Olive oil – just a little to fry off the veggies and spices till aromatic.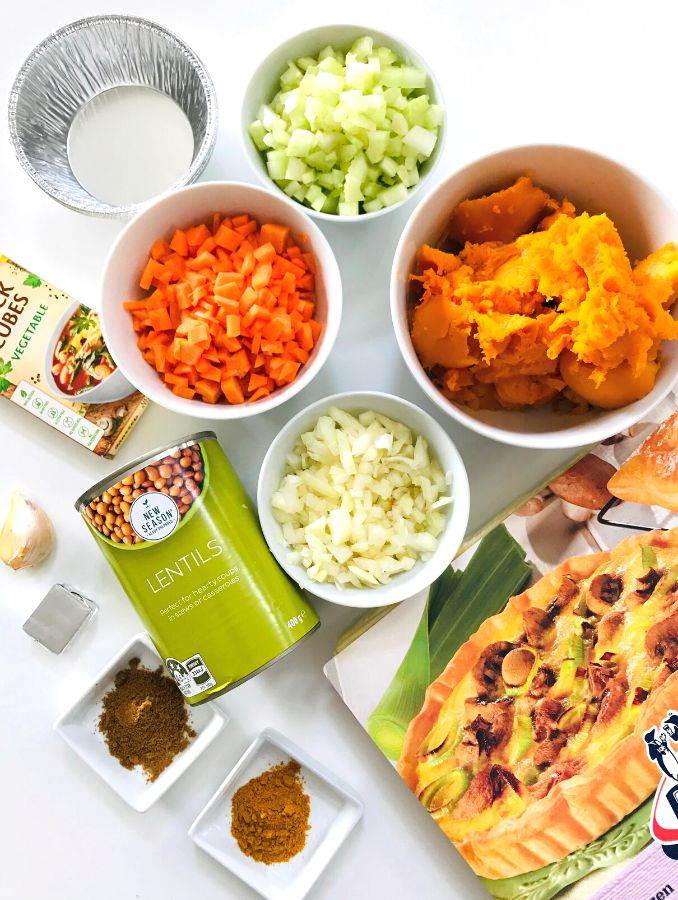 Why You'll Love These Curried Lentil and Pumpkin Pies
Simple Ingredients: You'll probably have the ingredients for these yum curried lentil and pumpkin pies on hand at home.  If not a quick trip to the local supermarket will have anything you might be missing.
2 Spice Combo: The combination of the earthy lentils combined with the sweet pumpkin and spices add a great texture and unique taste.
Satisfying : They are rather filling.
Quick: Pre-made shortcrust pastry makes this recipe a quick one.
Fibre Content: High in fibre.
Customize: Can make them smaller or a larger pie if you prefer.
Nutritional Value of Lentils  These small lentils contain an amazing amount of protean, fibre, potassium, folate, iron and more. We love using brown canned lentils so you might like our  Awesome Vegan Chili Con Carne Recipe
Step by Step Instructions
Preparing the pastry cases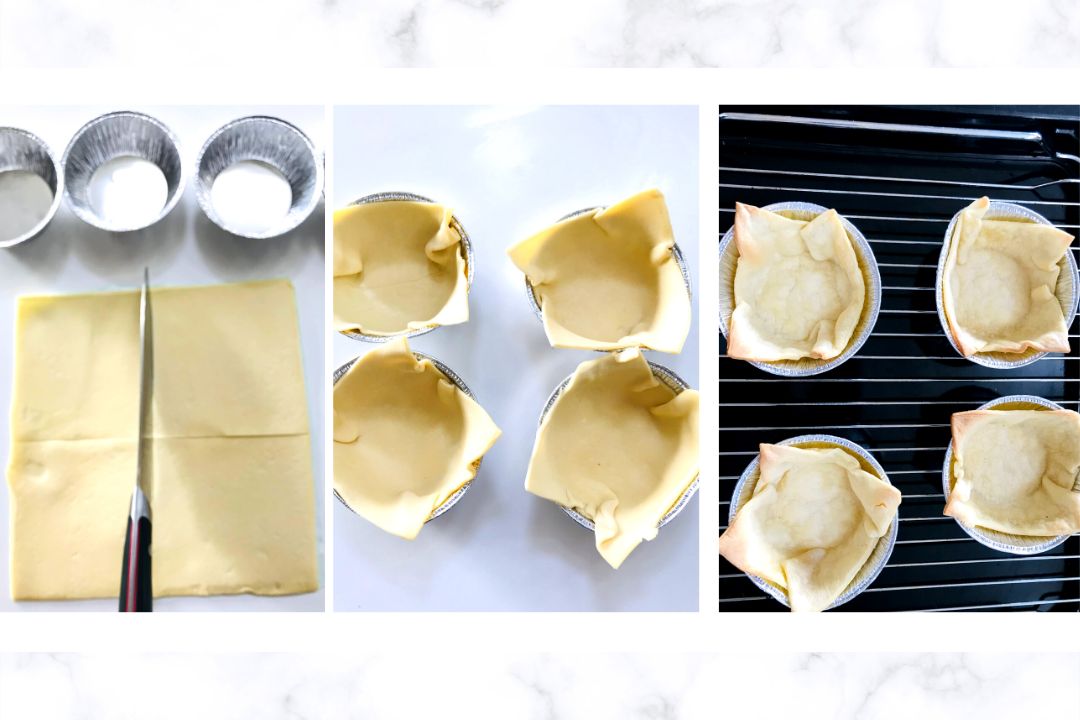 Preheat  oven at180 degrees Celsius grab your sheet of frozen shortcrust pastry and allow to thaw on kitchen bench.  Grease your containers with cooking spray and set aside on a tray.
When workable cut one sheet into four and place inside foiled trays or container of your choice and mould lightly into a pie shape.(they'll look a little rustic).
Blind bake in oven for 10 to 15 minutes till just golden. (you shouldn't need to use paper and beans to weigh down shortcrust pastry during blind baking as it won't rise very much at all).
How to make the curried lentil and pumpkin filling
Into a frypan place the diced onion, carrots, garlic, celery and olive oil and cook till softened. Hint- the smaller the carrots are dice the quicker they'll cook.
Add the curry powder and cumin and cook for a minute till aromatic.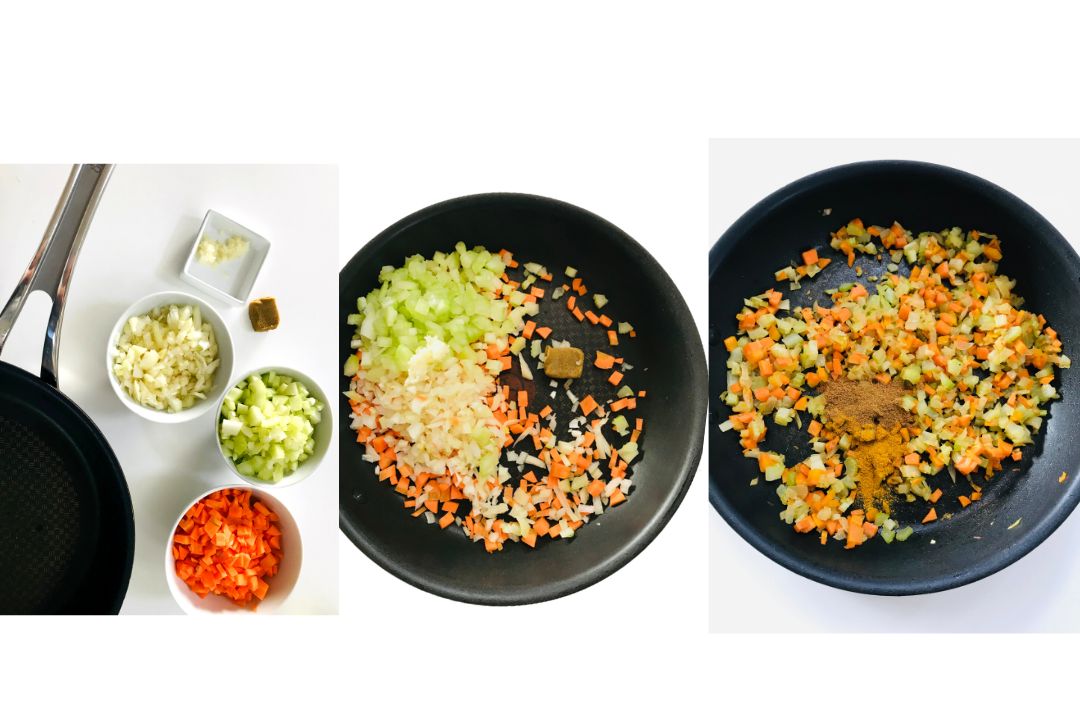 Drain the lentils and add the the fried onion, carrot mix along with the mashed pumpkin and combine and cook for a few minutes.
Allow to cool slightly and then pop into the pie cases.
Cook in oven for 15-20 minutes.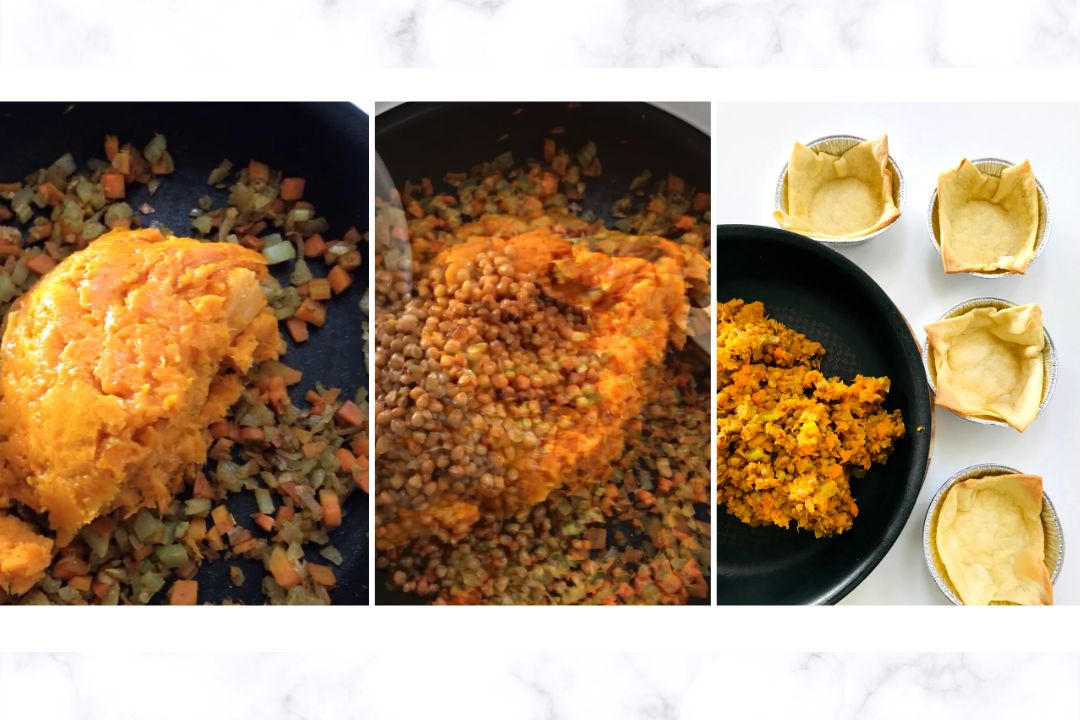 Video
Topping Suggestions
Feel free to add some grated cheese on top before baking or use a vegan cheese alternative.  Just a little something different.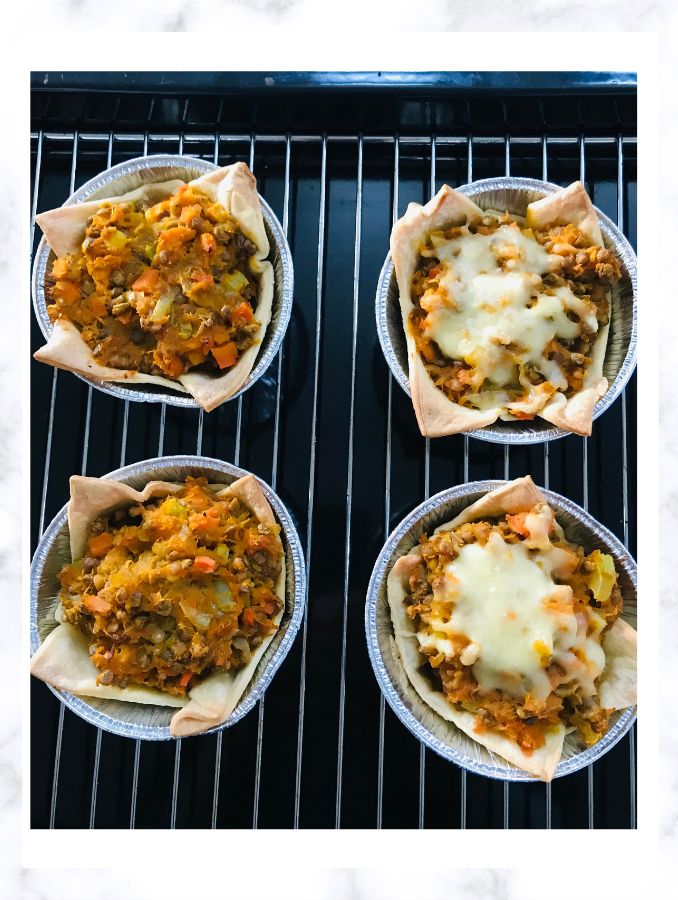 Curried Lentil and Pumpkin Pies Recipe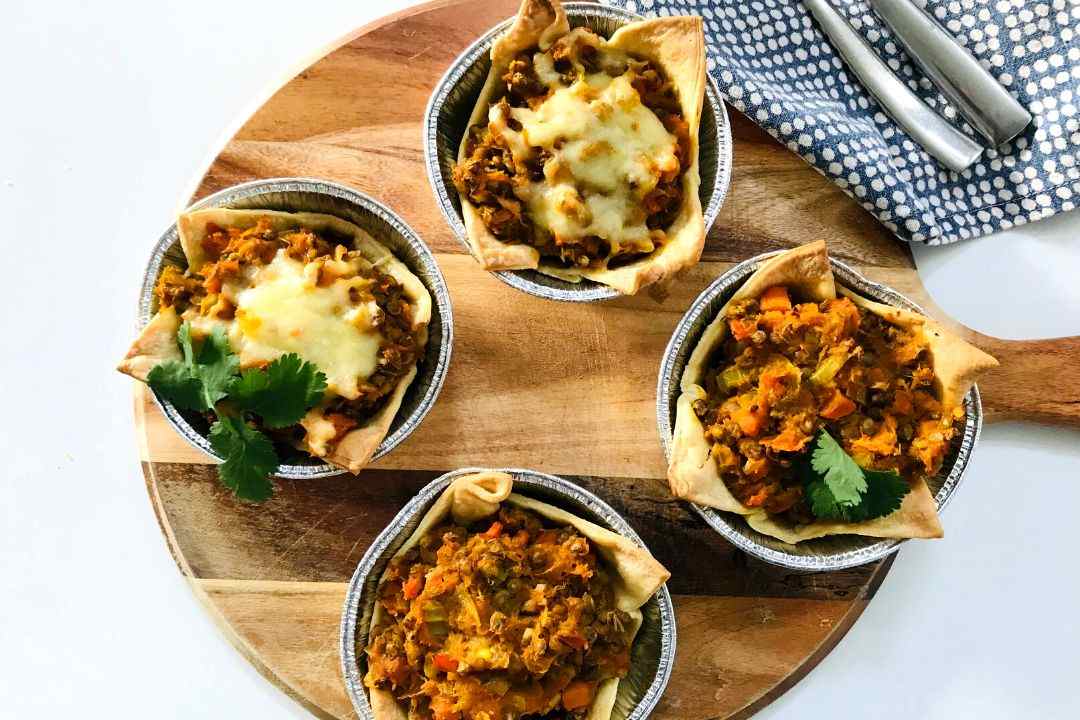 Curried Lentil and Pumpkin Pies
These mouthwatering Curried Lentil and Pumpkin Pies are packed with flavor and are sure to be a hit at your next family get together.
Course:
Lunch, Main Course
Cuisine:
American, Australian
Keyword:
curried lentil and pumpkin pies, lentil pies, vegan pies
Ingredients
350

g

cooked mashed pumpkin

1

400 g

lentils

1

clove garlic

crushed

1

onion

diced finely

2

stalks celery

diced finely

1

carrot

diced finely

1

veggie stock cube

1

tsp

ground cumin

1

tsp

curry powder

1

sheets pre-made shortcrust pastry

2

tbs

olive oil

salt and pepper
Instructions
Preheat oven at 180 degrees Celsius. Grab one or two sheets of the shortcrust pastry and allow to thaw on the bench till workable.

Grease your pie tins* with cooking spray and set aside. When the pastry is workable cut into four squares and shape into the pie tins if making individual pies.

Pop onto a tray and blind bake for 10-15 minutes in the oven till lightly golden. (no need to blind bake as the shortcrust pastry shouldn't rise too much). Allow to cool while you prep the filling.

Dice your onion, celery and carrot finely and crush the garlic.

Pop into a frypan with 2 tabs of olive oil and veggie stock cube on medium heat and cook till soft.

Add your spices, cumin, curry powder and cook for 1 minute till fragrant.

Drain and rinse your can of lentils and add to the onion mix along with the pumpkin and cook for a few minutes. Season with salt and pepper to your taste.

Allow to cool slightly before popping filling into the pie cases. Top with grated cheese if you like and cook for 20-25 minutes.
Recipe Notes
* We found that individual pie cases were a little hard to come by, so used foil ones instead. 
Nutrition Facts
Curried Lentil and Pumpkin Pies
Amount Per Serving (4 g)
Calories 339
Calories from Fat 108
% Daily Value*
Fat 12g18%
Sodium 530mg23%
Potassium 477mg14%
Carbohydrates 53g18%
Protein 7g14%
Vitamin A 11870IU237%
Vitamin C 22mg27%
Calcium 71mg7%
Iron 4mg22%
* Percent Daily Values are based on a 2000 calorie diet.
How to add more flavour
For this curried lentil and pumpkin pie recipe we've used curry powder and cumin but feel free to change up the spices to suit your taste.
You can add some turmeric and coriander if you prefer to the spice mix.
Use a premade curry paste from a jar if you prefer.
Add finely chopped fresh chili to add that extra bit of heat.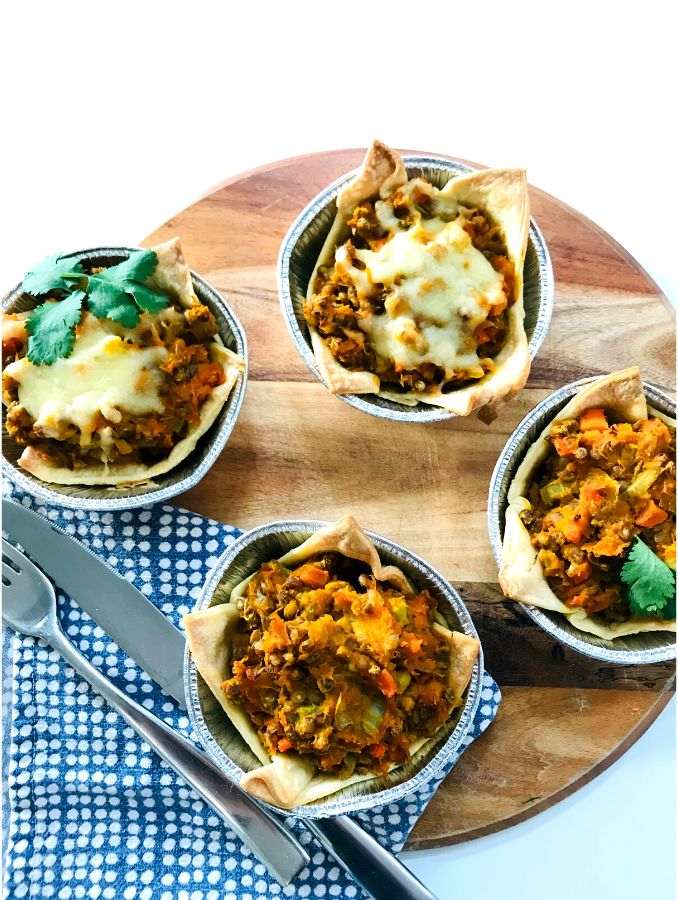 Variations
Make a large pie instead of individual smaller ones. Place the filling into a greased casserole dish and top with the pastry instead of it on the bottom. Cut a tiny hole in the centre for the steam. Glaze with a beaten egg to make it nice and golden brown.
Top with cheese before cooking for an extra tasty addition.
Sprinkle with fresh coriander.
Swap out the pumpkin for mashed red sweet potato or keep it chunkier if you prefer.