When we started our Just One Bite at a Time, our dear dog Gemma was our third partner.  As we wanted to get fitter she was always on our mind as to how we could incorporate taking her with us so she could be a part of our get fit scheme and she became our dearest walking buddy.
She was a big reason why we would actually make the effort to get off our tushies and get out and about.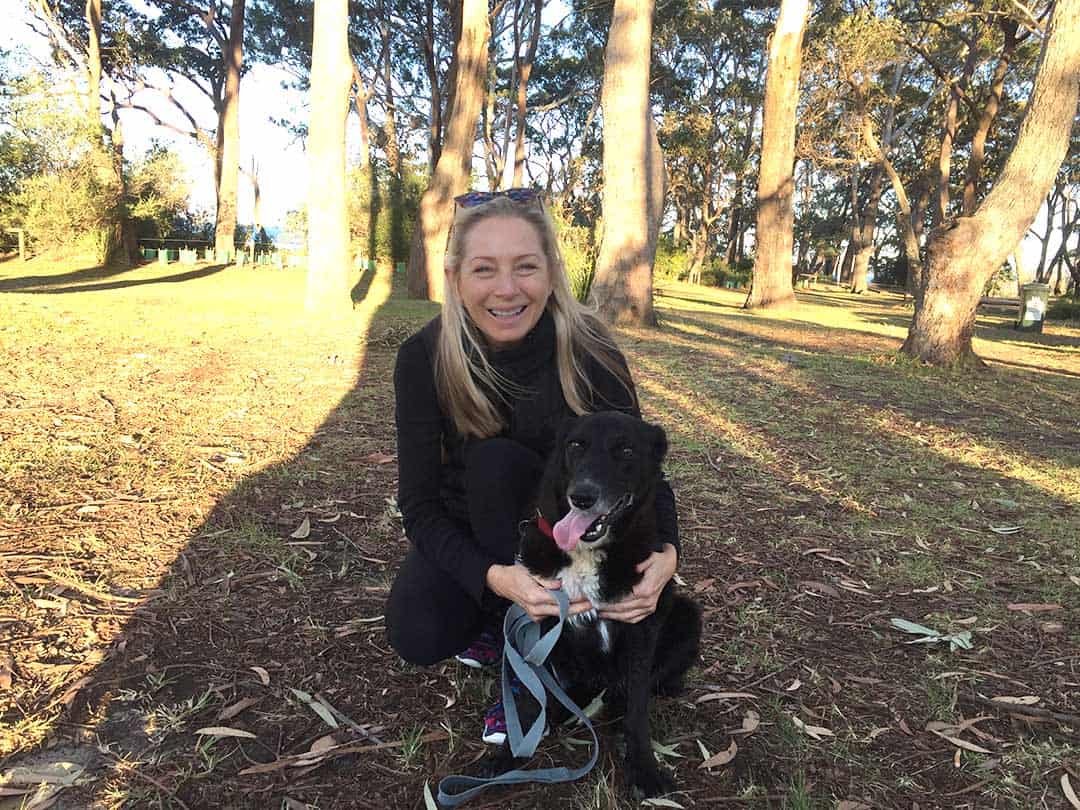 I didn't realise how her excitement and joy really made our walk so more fun especially when she would throw out a bark because she was just so thrilled to be outside. And often a little bit embarrassing when she would tell (be rude to) other dogs to back away when they got up in her grill and invade her space and if they stole her stick.
She is a one of a kind doggie and loved walking and enjoyed a swim every time we went to the beach often prancing around like a circus pony because she was so happy to be out. We were never short of a laugh especially when she would steal another dogs balls or when she would just join in with children (we did not know) to play soccer.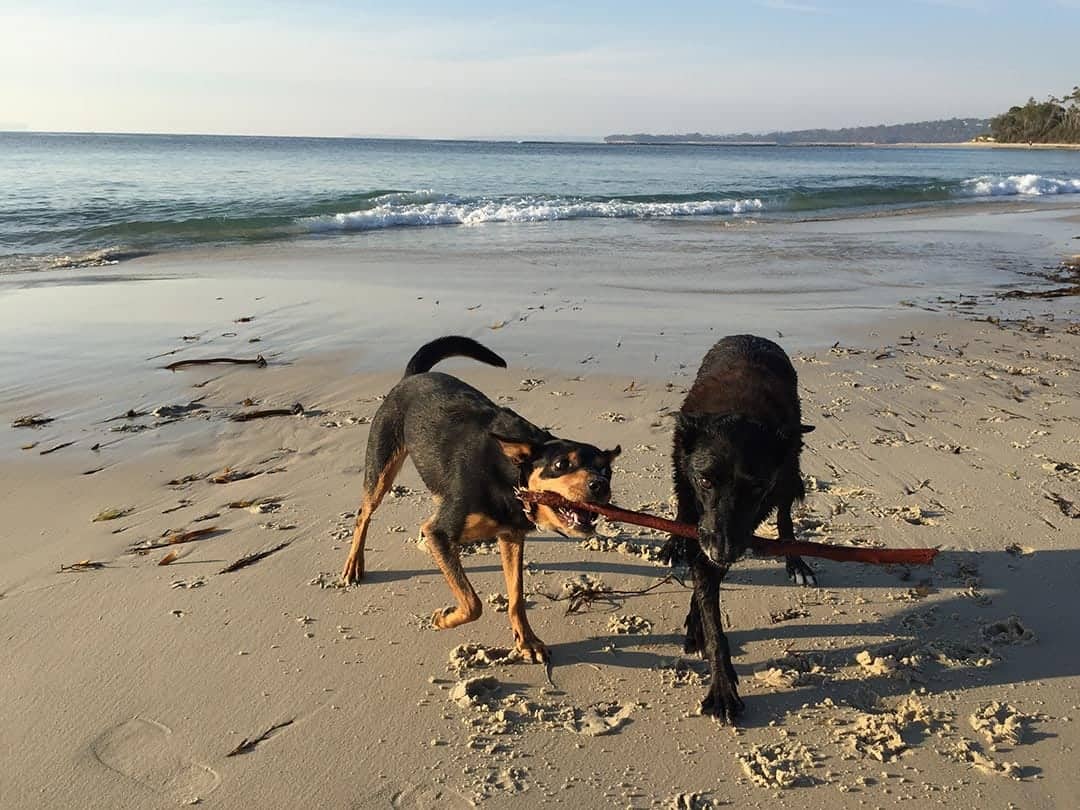 I'm sure fellow doggy owners would know exactly what I'm talking about.
If either Greg or myself were away we would always have her as our exercise partner so we were never alone. She was our friend as well.
It wasn't until a couple of weeks ago all that changed.  We had her booked in to have an operation to remove a lump that was in her tummy.  We were  very optimistic but had been told to be prepared that she may have other issues on investigation of the lump. We knew she was getting older but her enthusiasm for life made us think that "she'll be right mate".
But sadly we had to say farewell and send her with love to heaven. And Then it all changed.
I didn't realise how much we relied on her until after she was gone.  I didn't go for a walk for a whole week as I couldn't do it alone.  It felt so weird to be enjoying myself without her but…. I couldn't enjoy myself anyway because she wasn't there with us to make us laugh.
But we've now got back into the swing of things again and it's getting a little easier to do it without her. Sometimes a little sad especially when kind and thoughtful locals would often ask as to her whereabouts and we had to explain that she had gone to God. Dearly, we both would much rather she was here with us.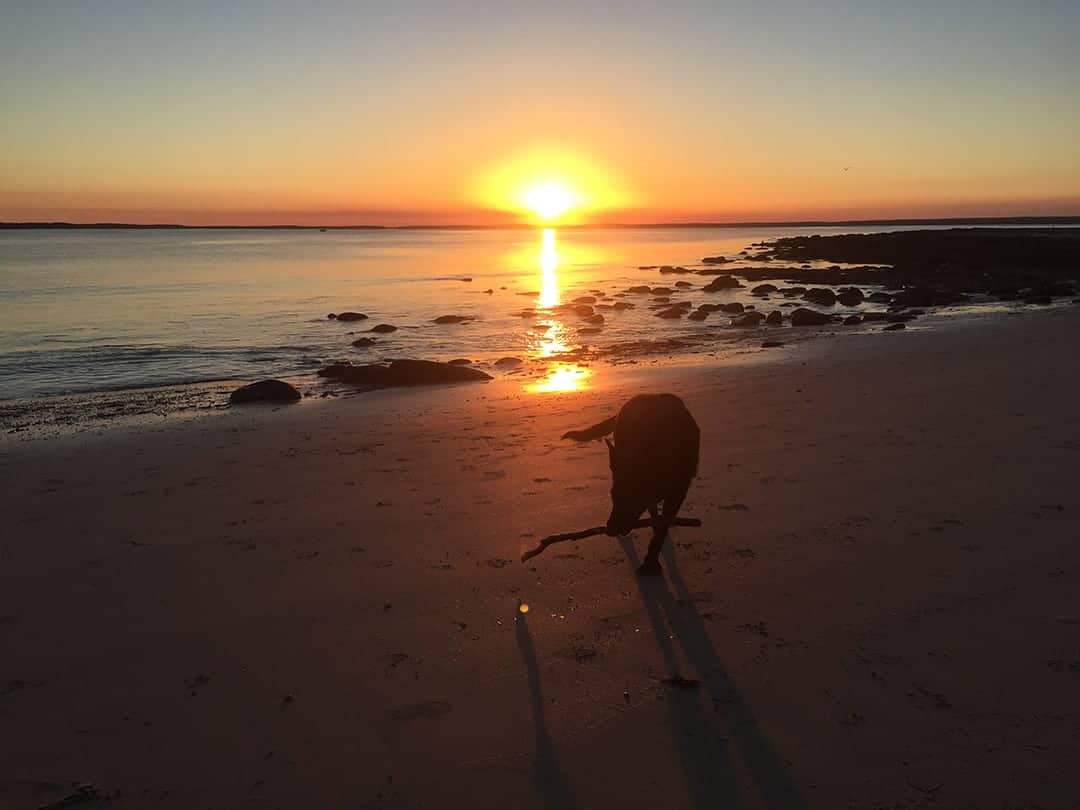 But that's life.
Which made me think this is new uncharted territory. We've had a dog or two for the whole of our 27 years of marriage.  Even though I had Greg as my exercise buddy, if he wasn't around I would always have Gemma to go for a walk with.
I had also written and early blog post in the beginning of our start of Just One Bite at a Time about How I Got Moving by getting yourself a walking buddy and how they will keep you motivated and egg you on when you don't want to go. So I knew I had to do something to turn my mindset around.
So what will make me want to go?
I did miss getting out in the fresh air and walking on our bike track and on the beach as we had already established a bit of a routine after only a few months of exercise.  And also seeing my fellow exercise folks and their puppy dogs too. So we went for a walk and it got easier and easier as each day went by.
I would make an effort to pat all those pooches that were out and about on the beach, pause to take a few more photos of the gorgeous surrounds we live and stop and have a chat and a coffee with my friends and family.
I know we are not the only people to lose their puppy dogs and some may have even lost their actual partner or friends.
It wasn't until the other day when one of our fellow walkers asked about where our dog Gemma was. When we told them she was no longer with us they said "well it's great to see you guys are still out walking, feel free to borrow ours anytime you like".
We just may have to take them up on it some time soon.
Bye Gem, XXX