How to have happy hour the healthy way.
When we first started to really look at our overindulgence and what I call "fun" food eating (you know happy hour), cheese and crackers were one of our biggest weaknesses.
Hey aren't they everyone's weakness?
And I have to say it was one of the hardest habits to break.  It became such a routine almost every afternoon.   And to suddenly stop it was  kind of a weird feeling.
Eating an apple just didn't cut it.
But we did eventually find a way to have our crackers and enjoy a little happy hour without going overboard.
So to give you an idea of what we were like I'll  do quick rewind….say 6 months ago.  It's a Friday and nearing 4.30pm when I look at Greg and ask him, "Would you like some happy hour food?"
And like most of us, Friday arvos are the wine—-d down at the end of a busy week, so a little cheese and crackers with a beer sound kind of perfect. Almost like a kind of reward.
But we just couldn't have a couple of crackers each.  Oh no… they tasted soo yumm and were very moorish.  Then came out the olives, gherkins, salami, and maybe a few little chips too.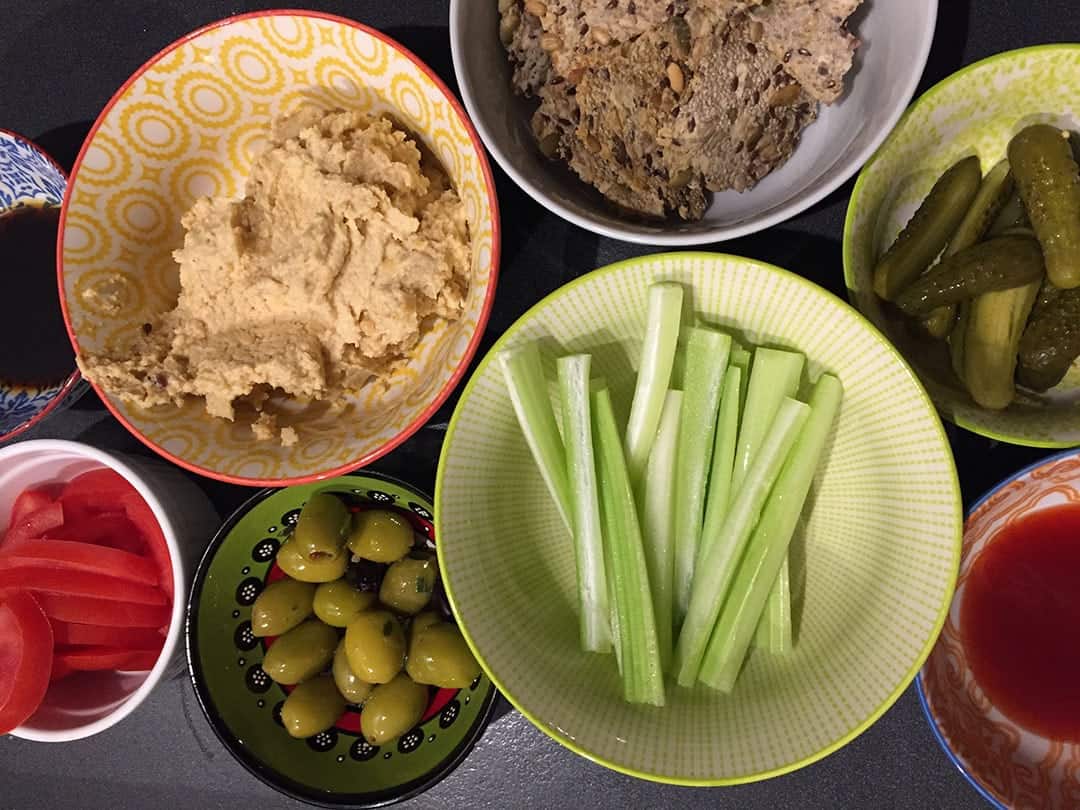 So when we needed to get onto the loose weight bandwagon, we found a way to have happy hour in a much healthier way.
Replacing some of the real fatty foods with cherry tomatoes, hummus, carrot and celery sticks, guacamole, nuts and cucumbers.
And thanks to my friend Narrel who gave me the recipe and the idea to replace the traditional over flavoured "bikkies" with her awesome Seed Crackers (recipe below), that you can make yourself, are yumm , vegan and healthy too.
Something new we could eat in the afternoon without feeling so guilty. Enjoy the recipe below.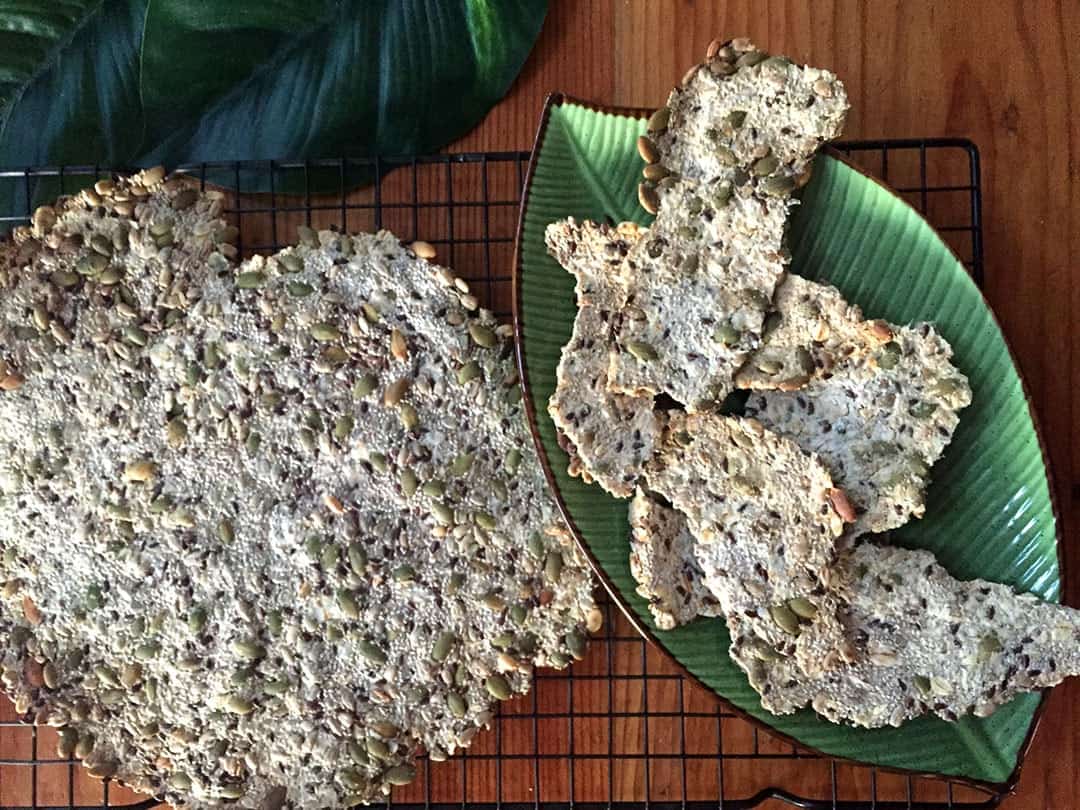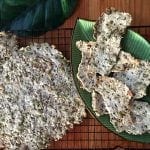 Seed Crackers
These seed crackers are a great alternative to those artificial, heavily flavoured snacks that we like to enjoy at happy hour without the guilts. They are quick to make and fun to eat, enjoy!
Keyword:
crackers, happy hour, seeds, snacks, vegan, vegetarian
Ingredients
40

g

Pepitas

40

g

Sunflower Seeds

40

g

Chia Seeds

15

g

Rolled Oats

20

g

Flax Seeds

20

g

Almond Meal

or substitute for rice flour, buckwheat floor or chickpea flour.

1/2

tsp

Salt

2

tsp

Olive Oil

165

ml

Water
Instructions
Pre heat oven at 180 deg C then turn down to 150 when trays go into the oven.
Place all ingredients into a bowl and mix well and allow to sit for 30 minutes.
Cut 4 pieces of baking paper the same size as the 2 trays.

Place half the mixture on 1 piece of the baking paper on a flat surface. Place a second sheet on top and roll out between the two until the mixture is flat. Or press out gently with your hands until quite thin.

Carefully peel back and remove the top layer of baking paper and slide onto a tray. Repeat with the remaining mixture.

Turn oven down to 150 deg C and place trays into the oven and bake for 40 mins. (could be less or more time depending on how thick the mixture is and how hot the oven you have is). Check to see if they look slightly golden and are becoming crisp.

Dry on racks and snap apart when cooled. Place in and air-tight container.
Nutrition Facts
Seed Crackers
Amount Per Serving
Calories 157
Calories from Fat 108
% Daily Value*
Fat 12g18%
Sodium 224mg10%
Potassium 160mg5%
Carbohydrates 8g3%
Protein 6g12%
Calcium 66mg7%
Iron 2mg11%
* Percent Daily Values are based on a 2000 calorie diet.