Do you get super excited about going away on a little break but kind of worry about how to stay on track when you're away on vacation?
And….what about the temptations like that awesome boutique ice-cream store that's in walking distance from where you are staying which is open all day and till late at night?
All those dinners each night trying out new restaurants and of course accompanied with a glass of vino ? 😊 They key is finding the balance between delight and
Here are 5 things I've found how to stay on track when your on holidays.
1. It's Ok to Let your hair down!
Vacation is all about taking some time out to relax and enjoy life. It's not so much about all the rules we might place on ourselves with food, health and lifestyle, but rather taking the time to indulge without going A-wall in the process….ha ha!
Indulge in the perfect balance of bliss! Watching everyone enjoy cocktails at the resort while you're drinking soda water doesn't seem to cut it. So treat yourself a guilt free beverage and enjoy all of it.
If you love deep fried food enjoy it with a scrumptious side salad. We always love to visit the local gelato shop to finish off dinner.  If you can go to the eatery' that have better choices and larger variety of options for different diets while still giving you that yummy treat factor.
2. Do a reconnaissance mission for restaurants & and menus ahead of time.
Check out the local restaurants and their menus ahead of time.  If you are keen on a certain cuisine then it's a great idea to search out the kinds of foods you love and where to find them to avoid aimlessly wandering around when you're starving and opting for a less healthy option.
Ask locals about the local places to eat.  They are in the know….. you know!  They won't hold back telling you their fave place to dine and also guide you away from ones that are less likely to impress you.
3. Pick a hotel with some type of cooking facilities.
We love going to a fully self-contained apartment with fridge, stove, microwave and toaster options. Honestly we never (or rarely) use the stove top but in saying that if there's going to be days of wet or horrible weather, a nice cooked breakfast at the unit is kind of tempting rather than sitting outside in the blustering elements.
4. Bring along your healthy breakfast options.
If you are in a self contained unit bringing along some breakfast foods saves time and thinking where you can go to get a morning meal.  Though who can resist that cooked breakky? Not always possible if you've traveled overseas and staying in a motel style of room.  Grabbing a few things from the local supermarket like fruit and yogurt might be a nice option or the local wholefoods markets are a treat as well.
We always have a bowl of fruit in the unit we stay in….well you know it's the power of suggestion for me. If I see it I'm more than likely to eat it.  I think we often forget about fruit while away and holidays can also create havoc with the digestive department.  Having fruit on hand can help with those constipation issues and here are 5 of our fave foods if you wanted to know!!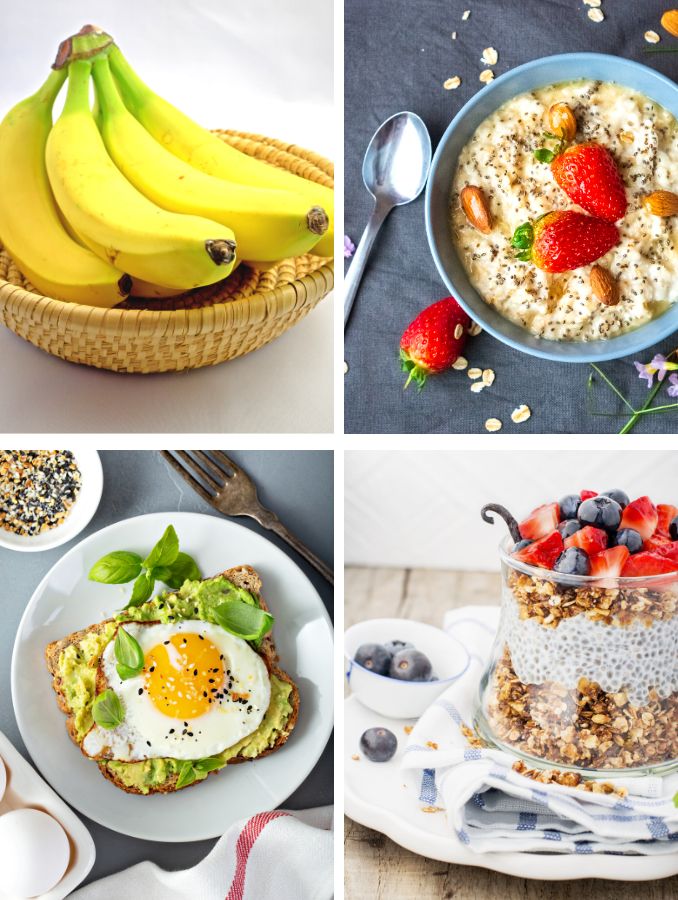 5. Go shopping for healthy foods and drinks Asap.
Once you're there make a beeline to the local shop and grab some farm-fresh goodies. We usually unpack a little and then pop on down the road and grab some bananas and milk to go with breakfast, healthier options for happy hour nibbles like strawberries, a little cheese, hummus dips, pita crackers, olives and whatever tickles our fancy.  It's kind of a savvy move because it not only saves you moolah but also keeps you feeling ok about indulging by filling up on wholesome treats.
If you want to stick to a no alcohol policy while away, being prepared with some awesome healthy options that you can ask the bartender to make is a great idea.
Balance is everything
Ok….so does it really matter if you've been a bit naughty with your treats or slacked off on your workouts? Deep down you know that those little extra indulgences aren't really so bad and you know that when you're back to your normal home routine you'll be back on track for sure.
Most of all enjoy your holiday.  It's all about relaxing and enjoying the moment. Torturing yourself isn't worth the hassle, but taking some time out is always great for your mind.
It's a journey of uncovering the mysterious balance between indulgence and contentment!