This Easy Spinach bacon and egg pie recipe is a long time favourite recipe borrowed from my sister Monika.
It's the perfect solution for a speedy and scrumptious weeknight dinner or to take your lunch game to the next level!. And a great solution if you have a bounty of spinach growing in the garden and need to use it up quick.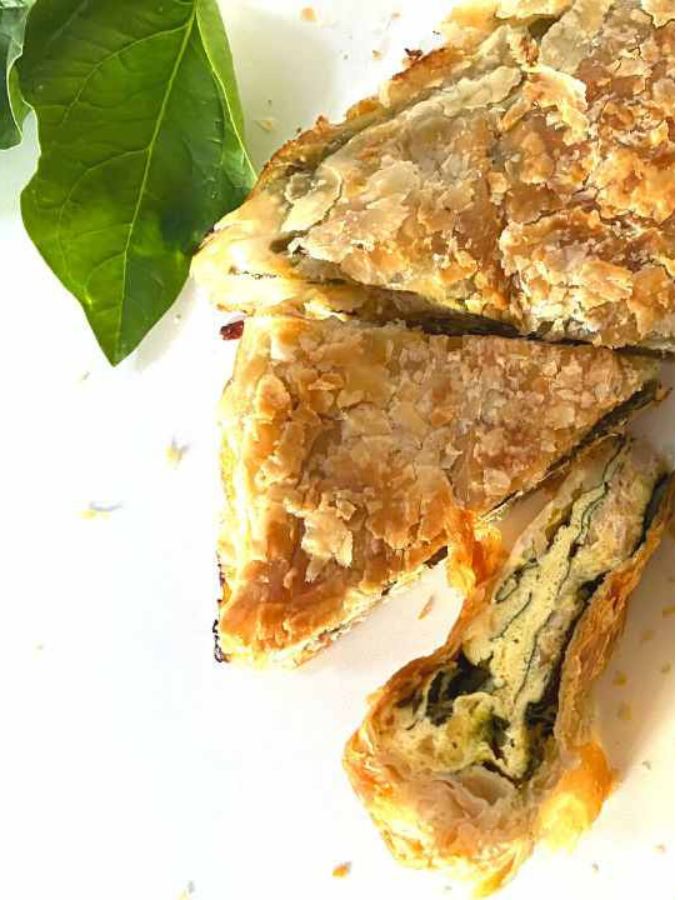 This recipe tastes so good that you might not have any leftovers!
Trust me the last slice is often fought for. The combination of bacon, spinach, eggs, cheese make this dish a family favorite. We can vouch for that for sure.
Ingredients for Spinach, Bacon and Egg Pie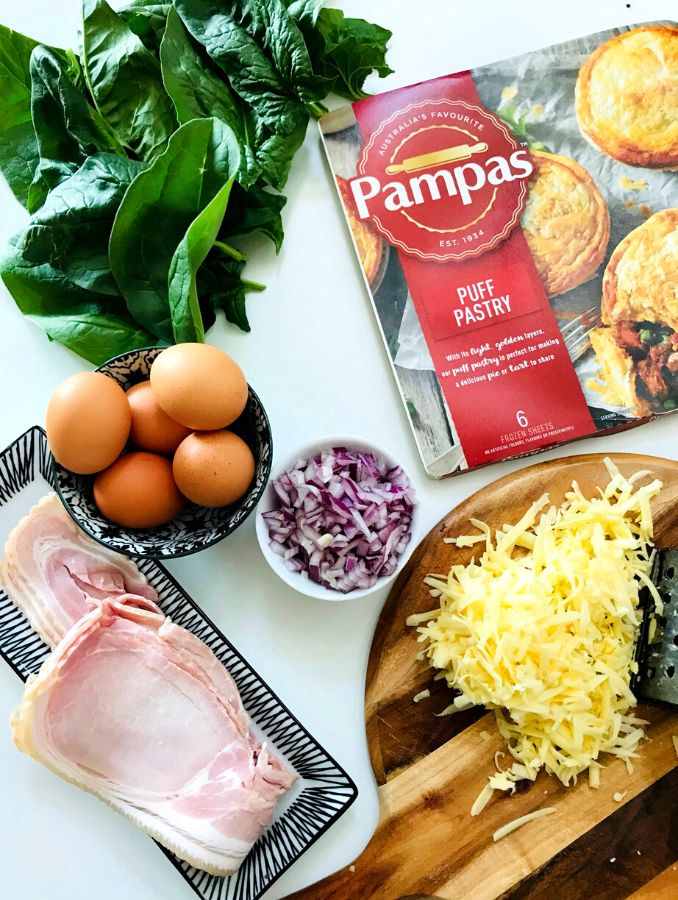 Fresh Spinach –  Baby spinach,  English chard, flat leaf are perfect.  Remove tough stalks and use the leaves. (Plus the nutritional value of spinach is pretty awesome).
Eggs – Five for this recipe
Bacon – 3 rashers chopped finely
Onion – any, red, brown or white
Cheese – tasty cheese works well but why not up the anti and try a little shaper version like vintage.
Salt & Pepper – just a tiny bit.  You can always add more afterwards.
*Sour Cream – Optional but make for a more luxe dish.  Just a dollop….or two.
To make this easy Spinach Bacon and Egg Pie Recipe
Oven Ready – Pre-heat the oven at 180 degrees Celsius.
Puff Pastry – take 2 sheets of store bought puff pastry and allow to thaw on a flat surface while prepping the filling.
Egg Mixture Filling  – finely chop the onion and bacon rashers and sauté lightly in a frypan to just a little brown.  While it's cooling mix your eggs together, (add your sour cream if you are using it here), add the grated cheese, salt and pepper in bowl.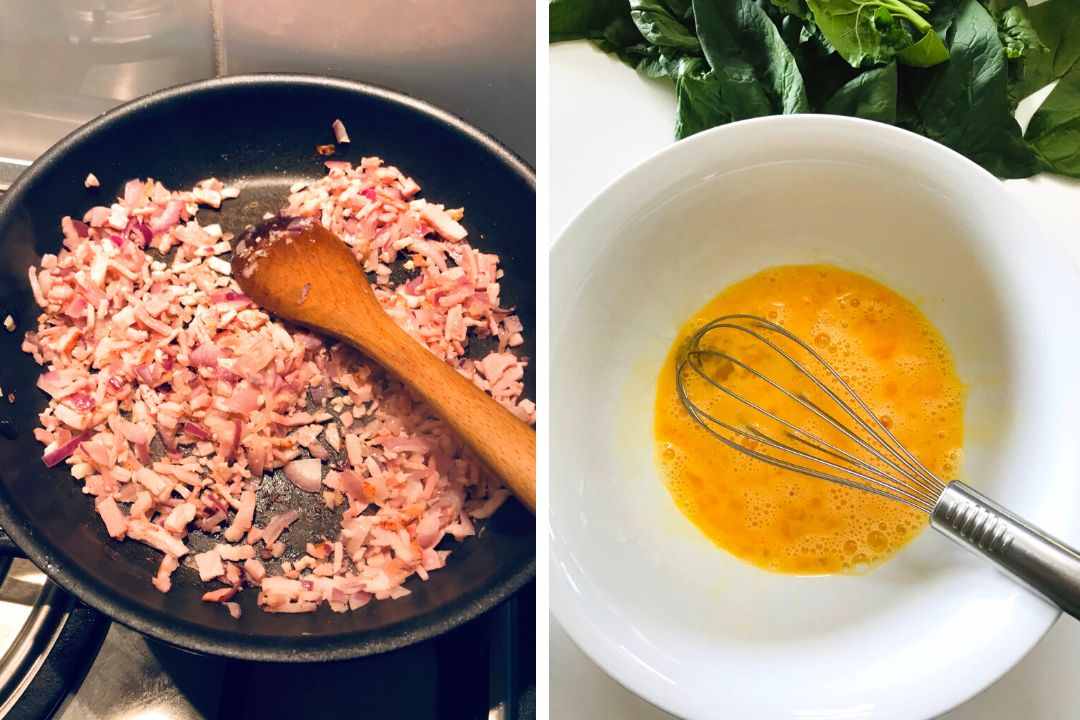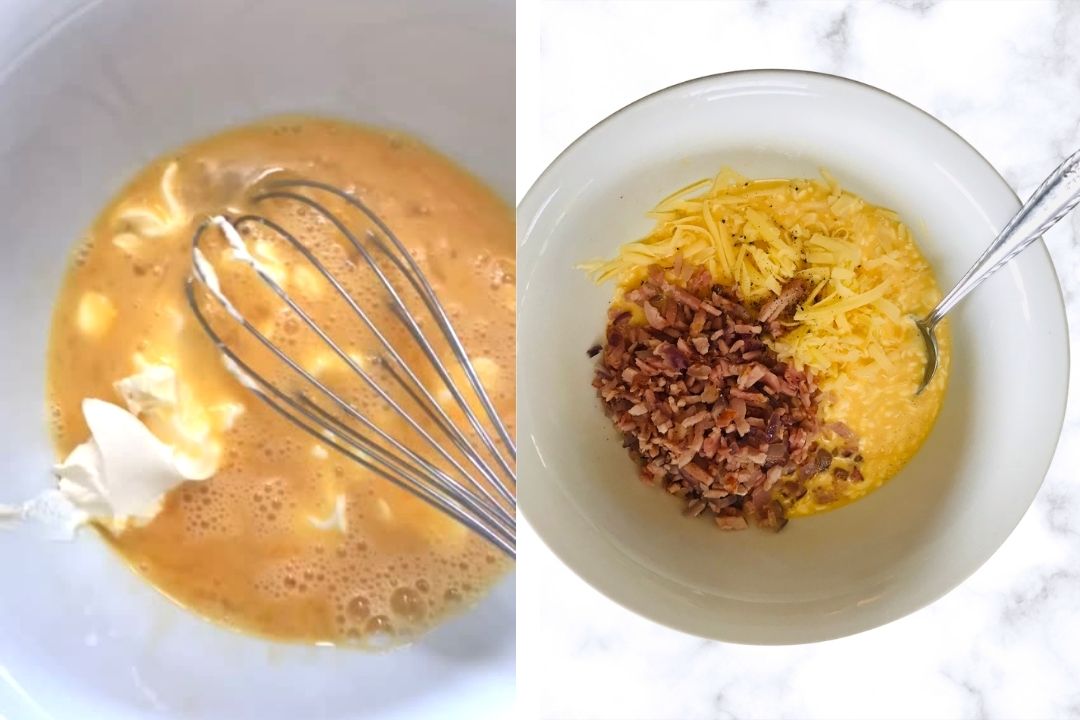 Prepare for layering – place one sheet of pastry onto an oiled ovenproof dish. Remove stalks if needed and layer the spinach. Add the cooled onion mix to the egg mixture and pour into base.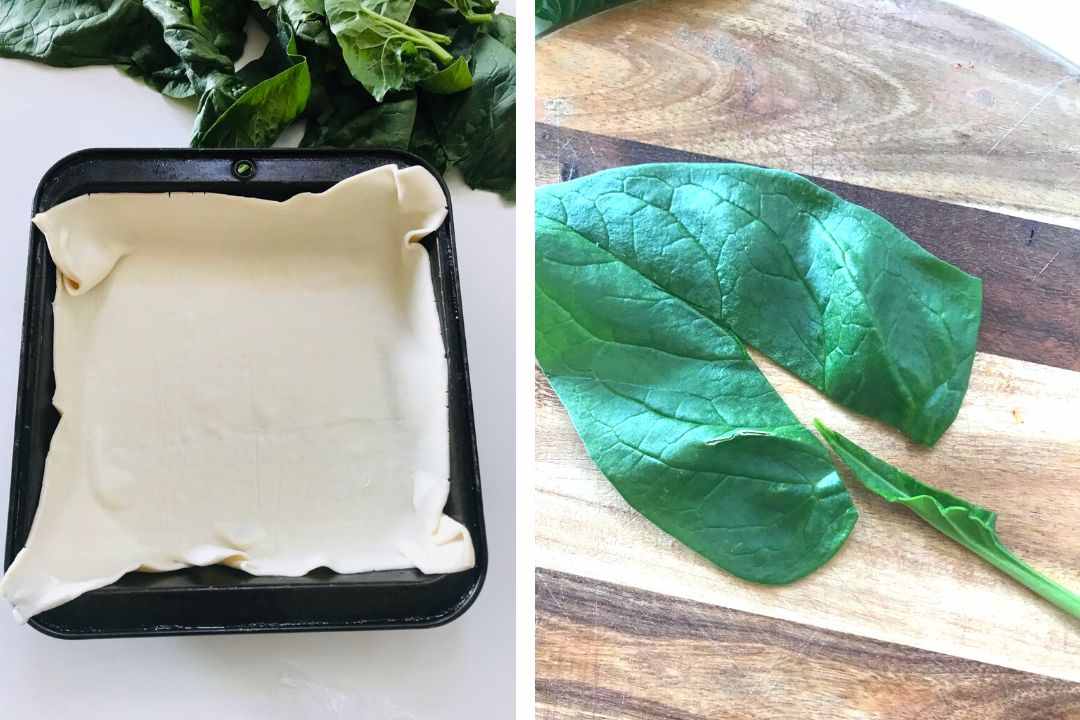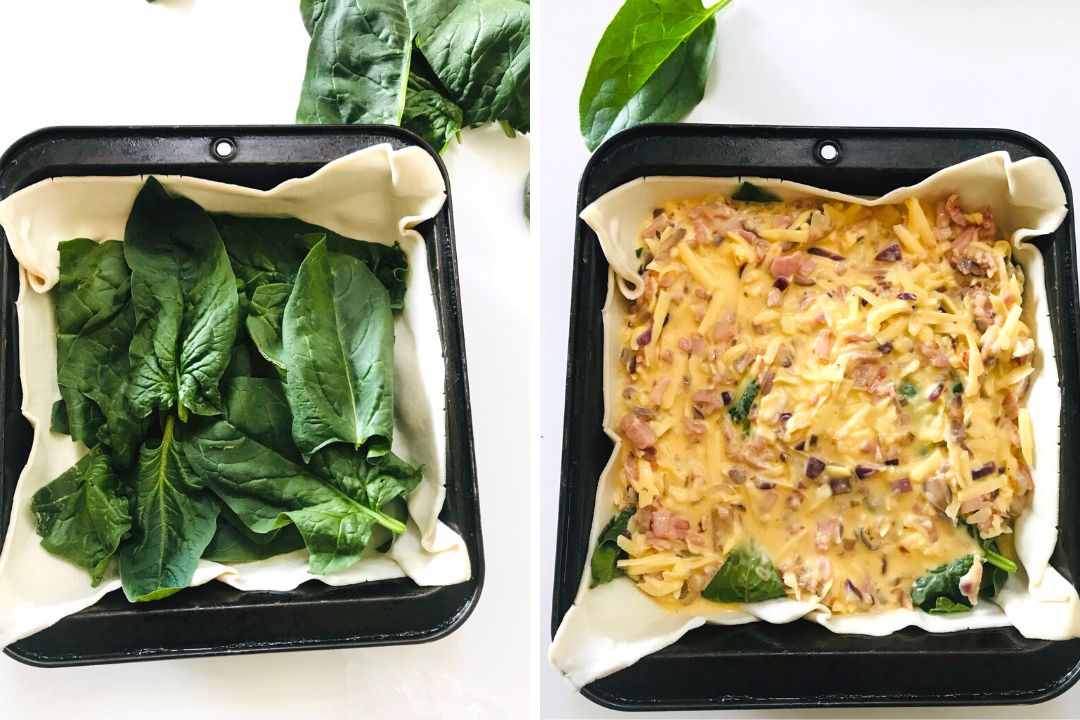 Finalizing – Add another layer of spinach and close with the 2nd sheet of pastry and glaze.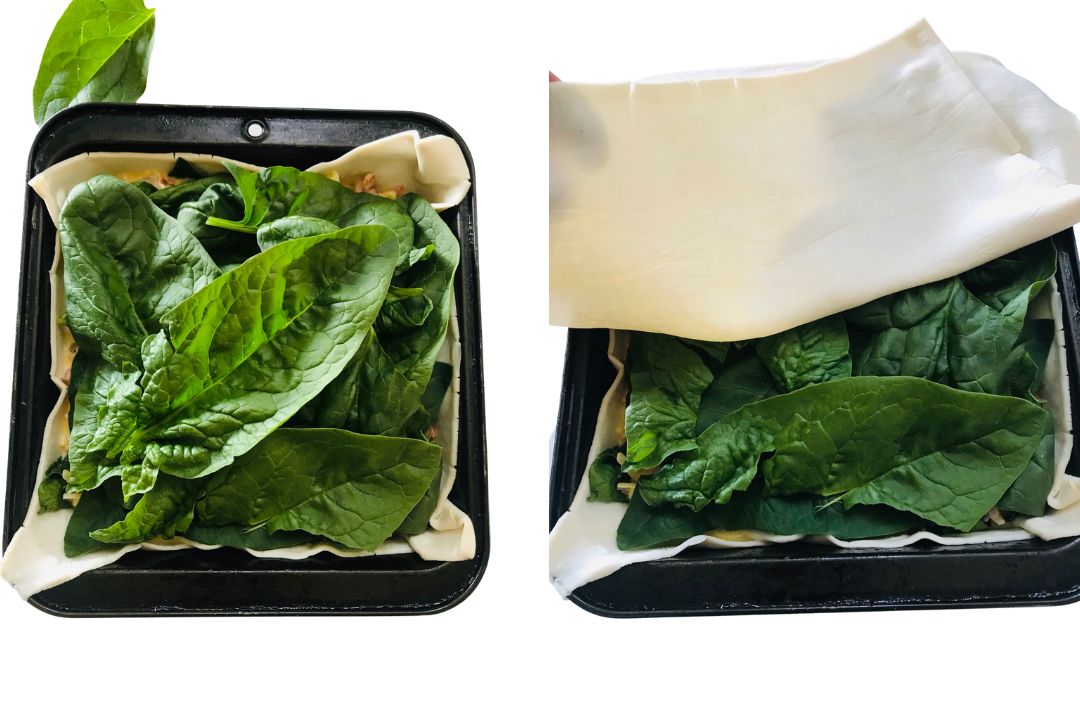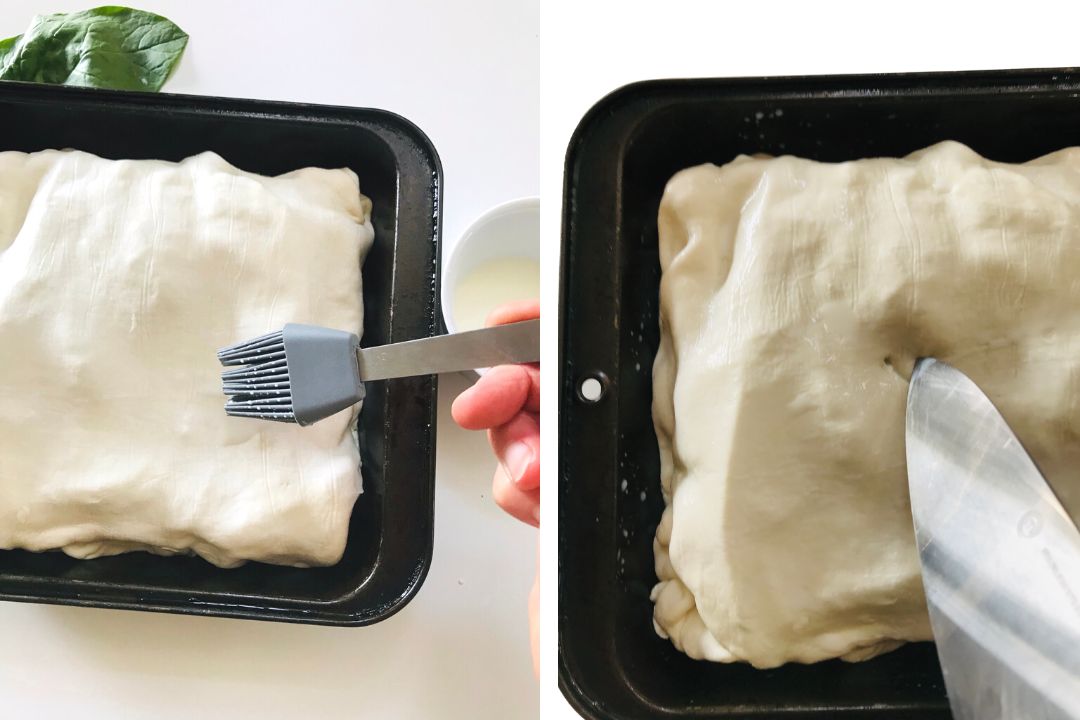 Bake – for approximately 50-55 mins till golden brown.
Cool – allow to cool 5 minutes before slicing.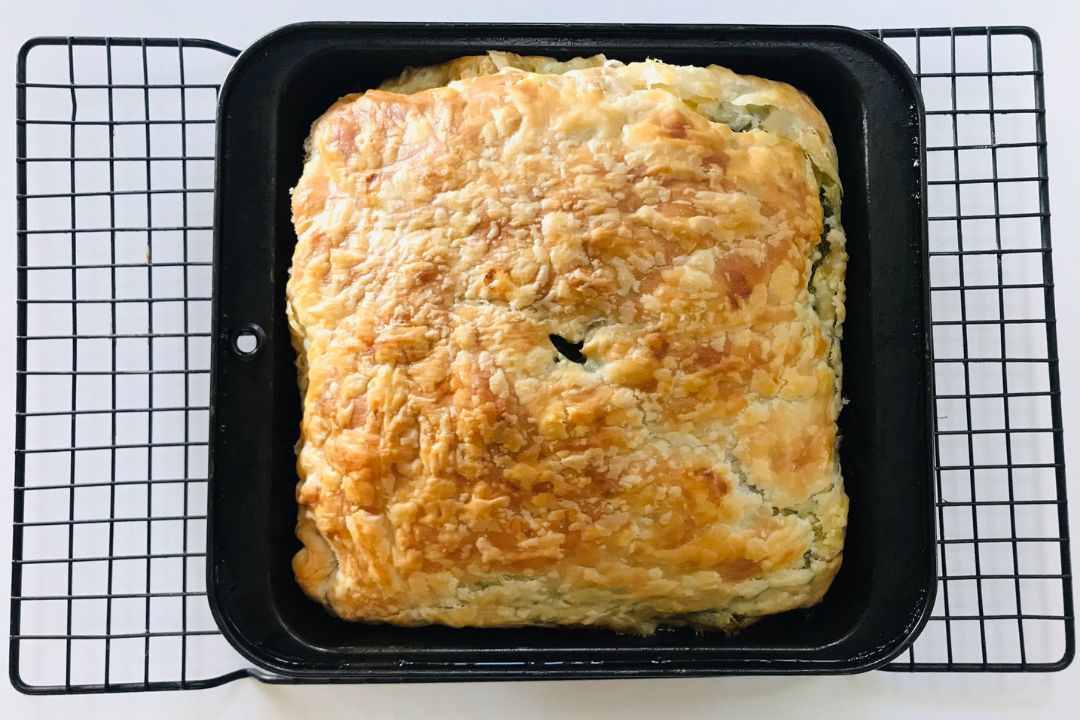 What to serve with Spinach Bacon and Egg Pie
Spinach Bacon and Egg Pie is a light and delicious meal that can be served as an entrée if you like, lunch or easy dinner option.
Enhance the flavors of this delectable dish by accompanying it with a refreshing and vibrant salad or a succulent side of crisp, colorful vegetables. To add a little crunch and zing you might like our Quick Cucumber Salad or Green Goddess Salad.
Add dollops of Tzatziki to give it that real Greek kind of spanakopita flavours.
Additions and Variations for fillings in Spinach bacon and Egg pie
Get creative with your Spinach Bacon and Egg Pie! Switch up the filling to give it a unique flavor and  a tasty twist. Don't forget to throw in some fresh herbs like basil, oregano, or thyme to take it to the next level.
Spring Onions
Chives
Fresh herbs like basil oregano and thyme.
Leeks finely sliced and sauté with the bacon
Sour Cream
Greek Yogurt
Roasted red capsicum
Cream – fresh, thick to give it that luxe taste
And of course, a different style of cheese is always a delicious addition! You may prefer a sharper vintage style of cheese.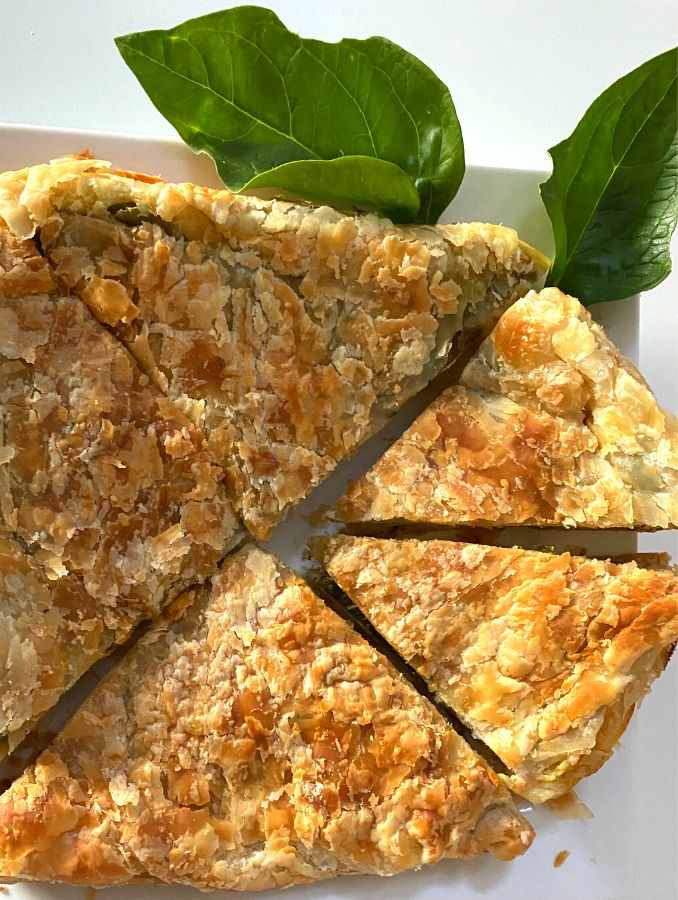 Why you'll love this meal.
– A delicious and satisfying meal that combines the flavors of spinach, bacon, and eggs.
– Easy to make with simple ingredients, saving you time and effort in the kitchen.
– Perfect for breakfast, brunch, or even a quick dinner option.
– A versatile recipe that can be customized with additional ingredients or seasonings to suit your taste.
– Can be made ahead of time and enjoyed as a convenient grab-and-go meal for a few days…though we don't think it will last that long!
Spinach Bacon and Egg Pie Recipe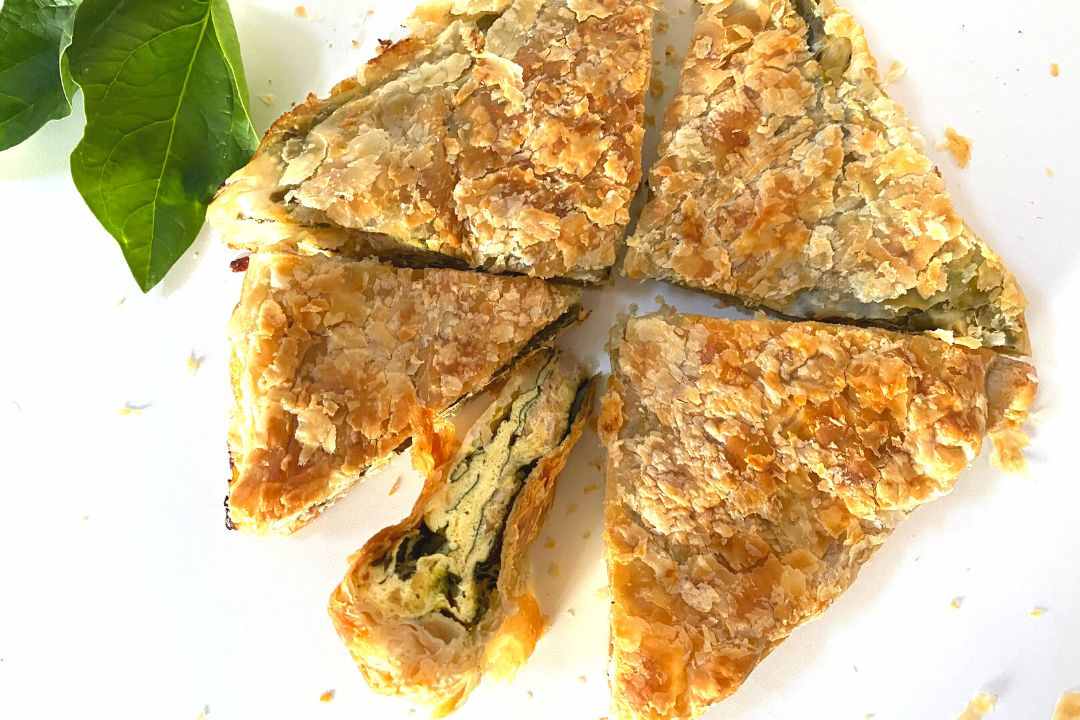 Easy Spinach Bacon and Egg Pie Recipe
Course:
Lunch, Lunchbox Ideas
Keyword:
Puff Spinach Pie, Spinach Bacon and Egg Pie, Spinach Pie
Ingredients
1 20 cm x 20 cm square tin or ovenproof dish
2

sheets frozen putt pastry

4

cups

baby spinach

6 large spinach leaves

eggs

3

rashers

bacon

1

onion

1

cup

cheese

grated

salt & pepper

pinch

¼

cup

sour cream

milk or egg wash
Instructions
METHOD
Preheat the oven at 180 degrees Celsius.

Thaw 2 sheets of ready made puff pastry on a flat surface. Prepare your ovenproof dish by spraying with a little olive oil.

Finely chop your onion and bacon and pop into a frypan and cook till softened and a tiny bit brown. Set aside and allow to cool.

Prepare your spinach by cutting out the stalk. (if needed). If you're using baby spinach you can miss this step.

Lay one sheet of the puff pastry over your prepared ovenproof dish making sure the pastry sides are sitting half way up. A bit like a square bowl of pastry inside dish. Then layer it with half of the spinach.

Whisk the eggs and sour cream (if you are adding it) and then mix in the grated cheese, salt and pepper and cooled fried bacon and onion mix and pour gently over the layer of spinach.

Add the rest of the spinach on top of the egg mix and then place the 2nd sheet of puff pastry over the top and tuck into the sides making sure the egg mixture doesn't ooze out.

Cut the tiniest slot on the top of the pie with a sharp knief and glaze with milk or egg wash and pop into the oven for around 45 to 55 minutes till golden brown. Allow to cool on a wire rack a little before slicing.
Nutrition Facts
 Easy Spinach Bacon and Egg Pie Recipe
Amount Per Serving (6 g)
Calories 656
Calories from Fat 423
% Daily Value*
Fat 47g72%
Cholesterol 168mg56%
Sodium 471mg20%
Potassium 287mg8%
Carbohydrates 41g14%
Protein 17g34%
Vitamin A 2327IU47%
Vitamin C 7mg8%
Calcium 196mg20%
Iron 3mg17%
* Percent Daily Values are based on a 2000 calorie diet.
This spinach bacon and egg pie is an easy, delicious and nutritious meal that can be quickly put together for weeknight dinners. The combination of bacon, spinach, eggs and cheese make this a family favorite. Serve it with a salad or side of vegetables to enhance the flavor and boost the nutrition. Enjoy! This dish is sure to be a hit with everyone at the table!