Easy Homemade Veggie Dog Treats
These awesome Homemade Veggie Dog Treats are fun, easy to make. Made with frozen vegetables, whole meal flour, wheatgerm, brewers yeast and some rice flour and
add a little veggie stock and olive oil and your in business. Your four legged friend will love these dog biscuits even though they are vegetarian.  Go figure!!
If you are like us, we love to give our dogs a treat.  But sometimes you really aren't quite sure what ingredients may be in them.
While these homemade dog treats are created from wholesome ingredients so you'll know exactly what you are feeding your pooch when you give them one.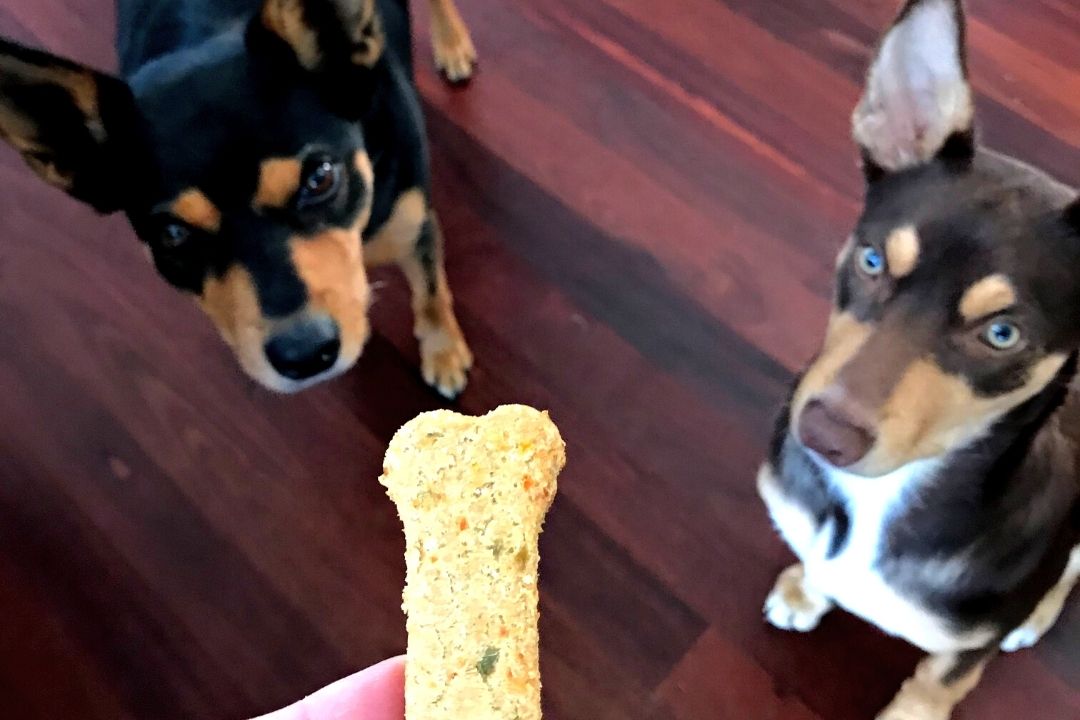 These homemade dog biscuits aren't oily or salty….(trust me I've tired them…ha ha). In fact there is only a quarter of a cup of oil in the recipe.
We love to give our dogs frozen veggies are something we pop into Bonnie and Tilly's dinner.
And they will eat them without leaving the peas behind. Popping veggies into a dough and creating a dog treat was something different for us but thought we'd give it a go.
Using the bone shaped cookie cutters made the process so much fun.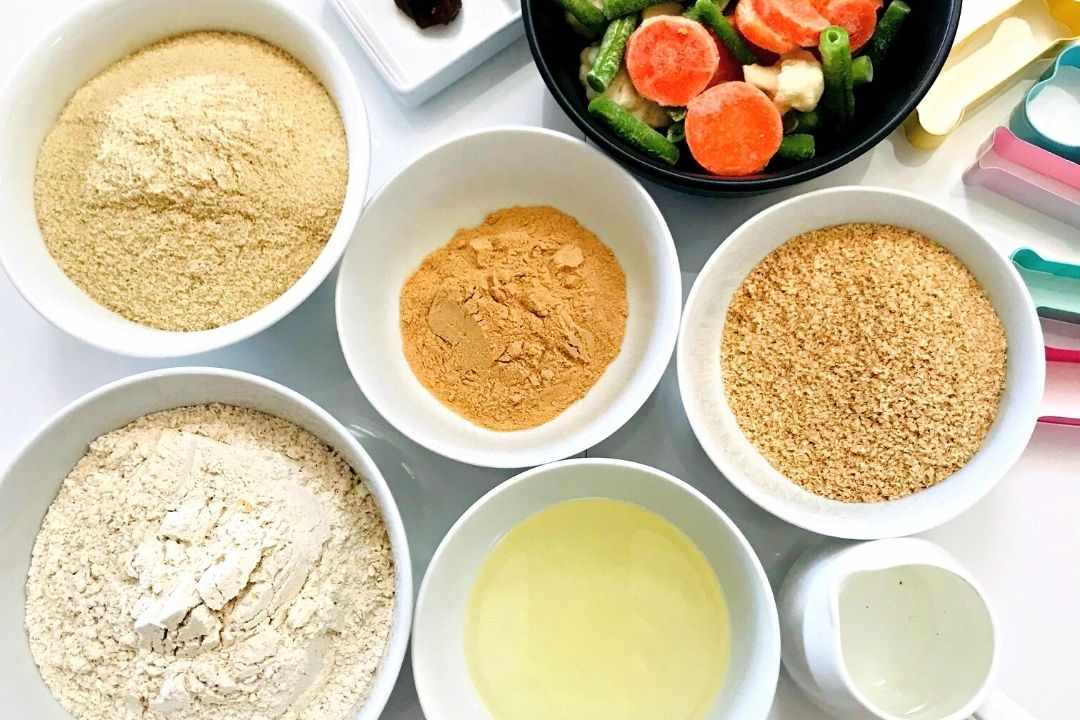 What You'll Need To Make Veggie Dog Treats?
Frozen Veggies – Mixed frozen veggies are used in this recipe and a combination of beans, carrots, broccoli and cauliflower.
Wholemeal Four – normal or organic
Wheatgerm – Wheat germ is a good source of Omega-3 fatty acids if you can't source wheatgerm in your supermarket try your health food or bulk wholefood store
Brewers Yeast – High in B vitamins and a good source of protein.  Great article about Brewers yeast for dogs that you might like to read here.
Rice flour – good alternative if sensitive to wheat products
Veggie stock cube – just to add a little flavour
Olive oil – good source of omega-3 fatty acids, and vitamin E
Water – add the water to the stock cube and steam the veggies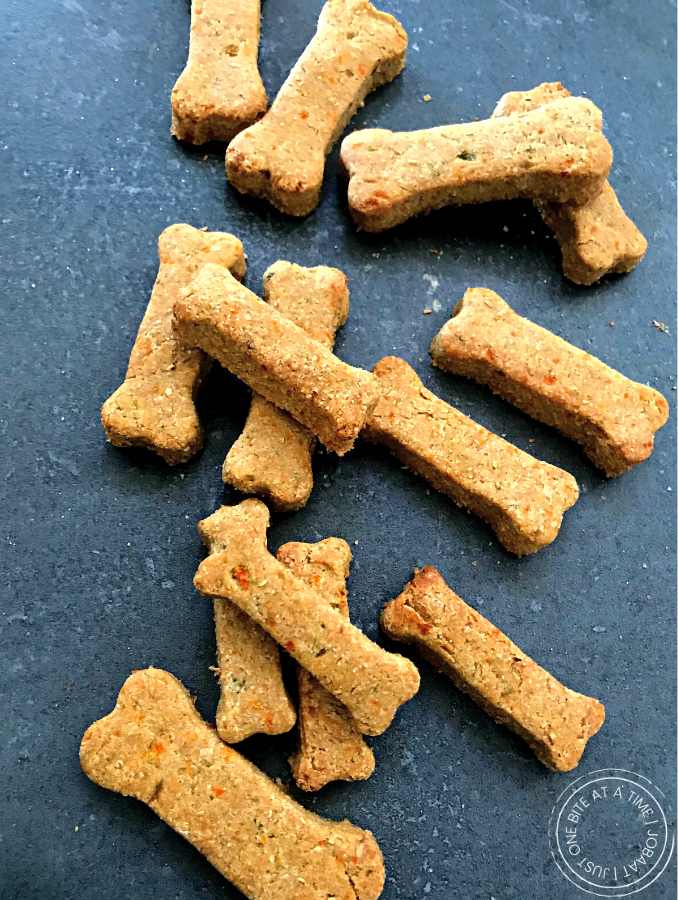 Homemade Veggie Dog Treats
These vegetable based dog treats are great even for the carnivore puppys in the family
Keyword:
vegetable dog treats
Ingredients
11/2

cups

frozen mixed vegetabels

1/2

cup

water

1

veggie stock cube

low salt

1/4

olive oil

11/2

cups

wholemeal flour

1

cup

rice flour

1/2

cup

wheatgerm

1/4

cup

brewers yeast

found in health food stores
Instructions
Turn on the oven to 180 deg Celsius.

Place the frozen veggies, stock cube and water into a microwave proof dish and cook for 3 mins or until soft.

Pop into a food processor, blender or Thermomix and blend till it's a puree.

Add in the rest of the ingredients and mix till a dough is formed. If needed add more water to make the dough more pliable.

Roll out dough to a half a cm thickness (5 millimeters) and using cookie cutters cut into the desired shapes.

Place onto a a baking trays lined with baking paper and cook for around 20 minutes or until biscuits are firm.

Turn oven off and leave the trays of biscuits in the oven to cool possibly around 90 minutes.

Once cooled store in an airtight container in the pantry.
Nutrition Facts
Homemade Veggie Dog Treats
Amount Per Serving
Calories 3922
Calories from Fat 279
% Daily Value*
Fat 31g48%
Sodium 1315mg57%
Potassium 6730mg192%
Carbohydrates 794g265%
Protein 175g350%
Vitamin A 50890IU1018%
Vitamin C 104mg126%
Calcium 568mg57%
Iron 48mg267%
* Percent Daily Values are based on a 2000 calorie diet.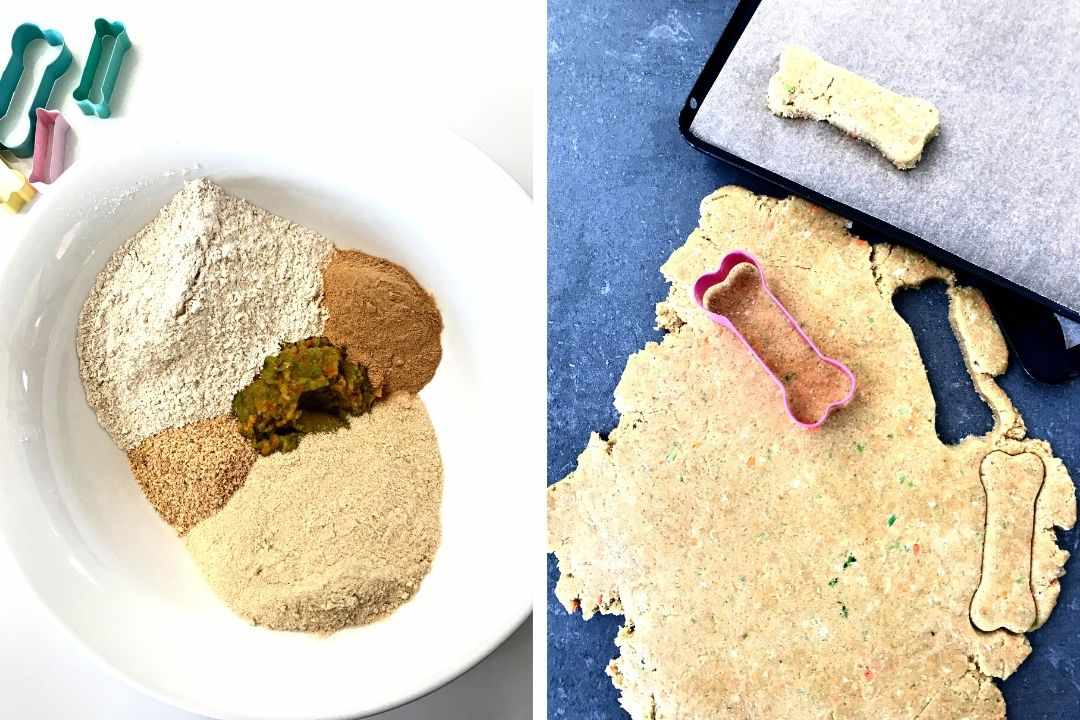 Can I Make Dog Treats Crunchy or Soft?
Yes you can.  Less amount of cooking time will make them softer while cooking a little longer will harden them up.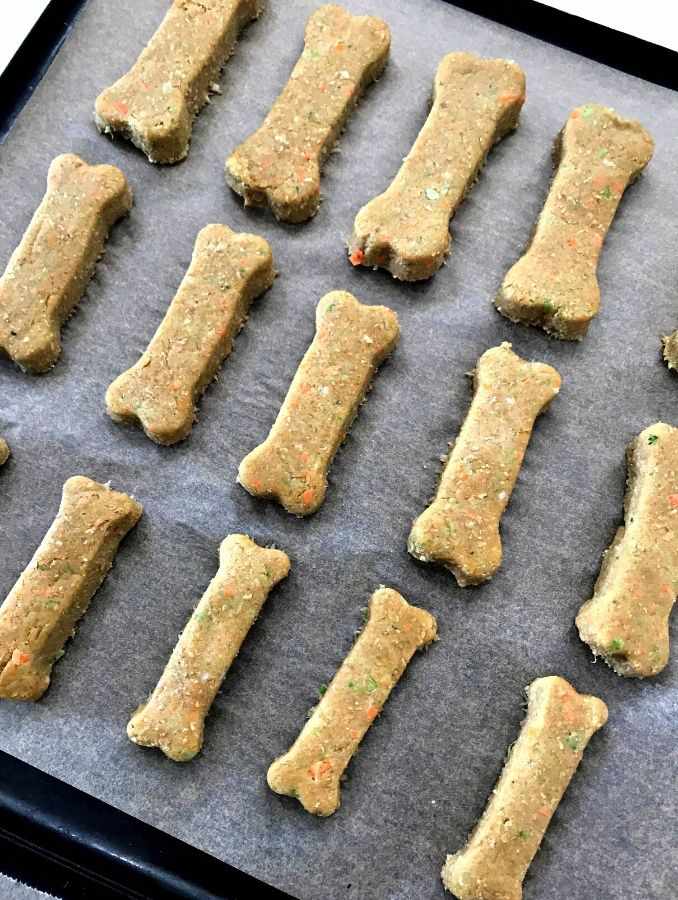 How To Store Your Homemade Dog Treats
After your biscuits have totally cooled, pop them into an airtight container.
Alternatively you can bundle up in a gift bag and give them as presents to your friends fury children.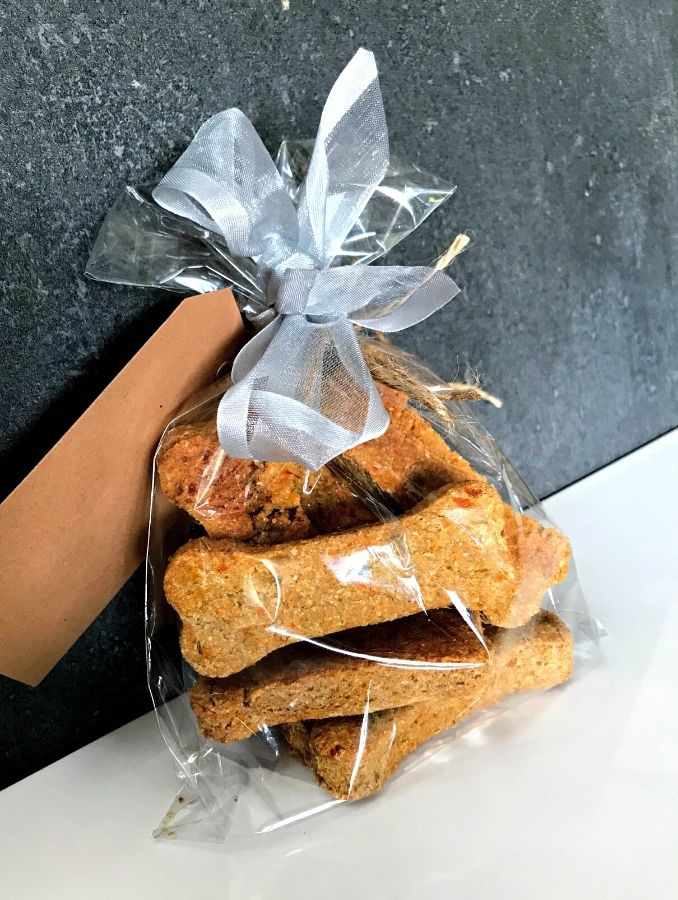 Rewarding Your Dog With Treats
Most often if  our dogs could choose a beach walk or a treat they'd always go for the beach option. I never knew how much a puppy dog helps to motivate you to get out and exercise  until our other dog Gemma went to heaven.
Yes a dog is a humans best friend. I knew she would have loved these homemade veggie dog treats too.💚