I'm sure you love a good salad dressing but do you sometimes think I just can't seem to find one that really suits my taste.
Then we think you'll love this 5 Minute Homemade Honey Mustard Dressing as it's one of those salad toppers that goes with just about everything and definitely a real crowd pleaser.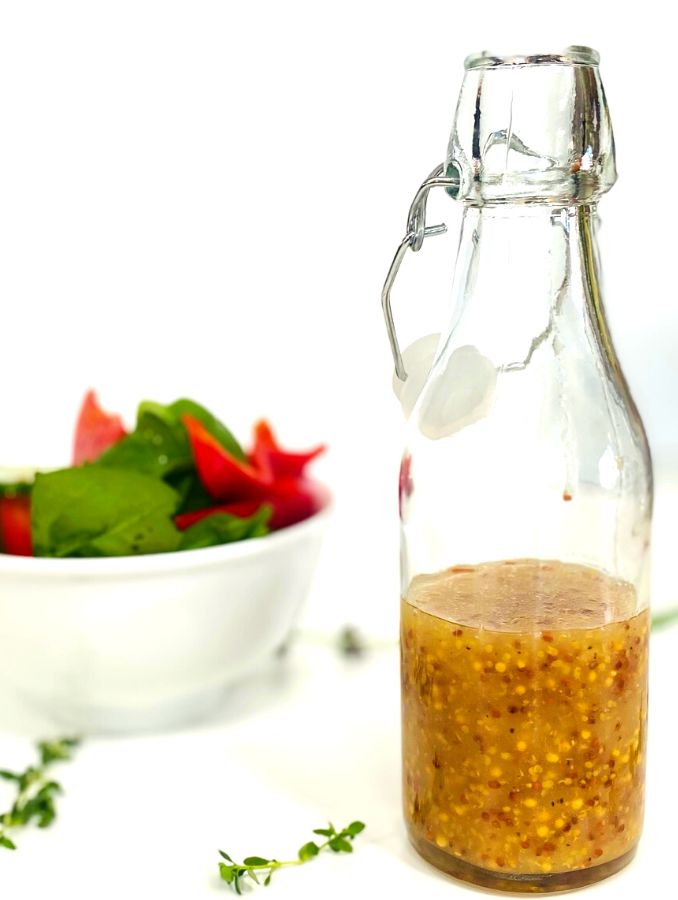 Making homemade dressings is easier than you think and it's often so much more delish than store-bought ones.
So why not make your own from simple basic pantry ingredients you'll likely already have on hand in at home.
What is honey mustard dressing made of?
Honey – gives the dressing a gorgeous sweetness and mixes well with the wholegrain mustard. Perfect combo.
Wholegrain Mustard – there are often two types of mustard used in this dressing.  We've opted for the wholegrain or grainy version (purchased from the supermarket) though you might often find Dijon mustard is often used as well. If you are feeling ambitious you can give Jamie Oliver's Wholegrain Mustard recipe here a go.
Olive oil – we like to use the light olive oil for this recipe. Sometimes the extra virgin olive oil taste can overpower the dressing.
White Wine Vinegar – add that tangy flavour.
Lemon Juice – just a tablespoon to give you that citrusy-acidic flavour. Add that bit of freshness.
Seasoning – Salt and a pinch of pepper
(Water – optional if you want to thin it our a little)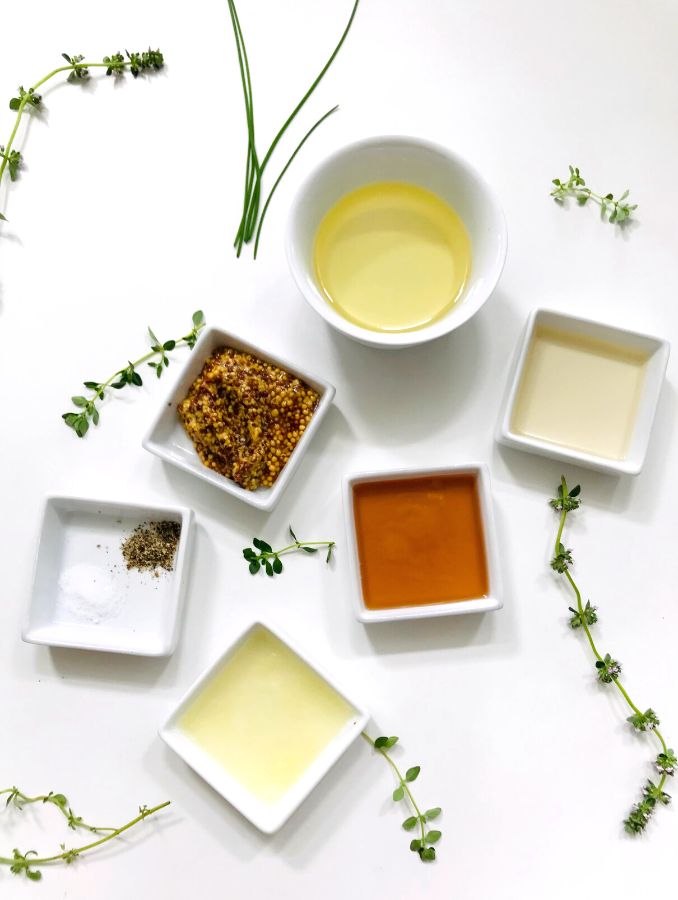 You'll be able to tweak this Homey Mustard Dressing recipe to the depth of flavour and your liking.
Whether you like it a little on the sweeter side or with a more tangy twist, then this super easy 5 minute recipe will show you how and give you that classic honey-mustard flavor.
This was the first homemade salad dressing I ever made, and hands down, is one of the best.  We use it all the time and it's often requested as a last minute addition right before dinner is on the table.
It's such an easy go-to recipe you'll pop this one in your faves folder for sure.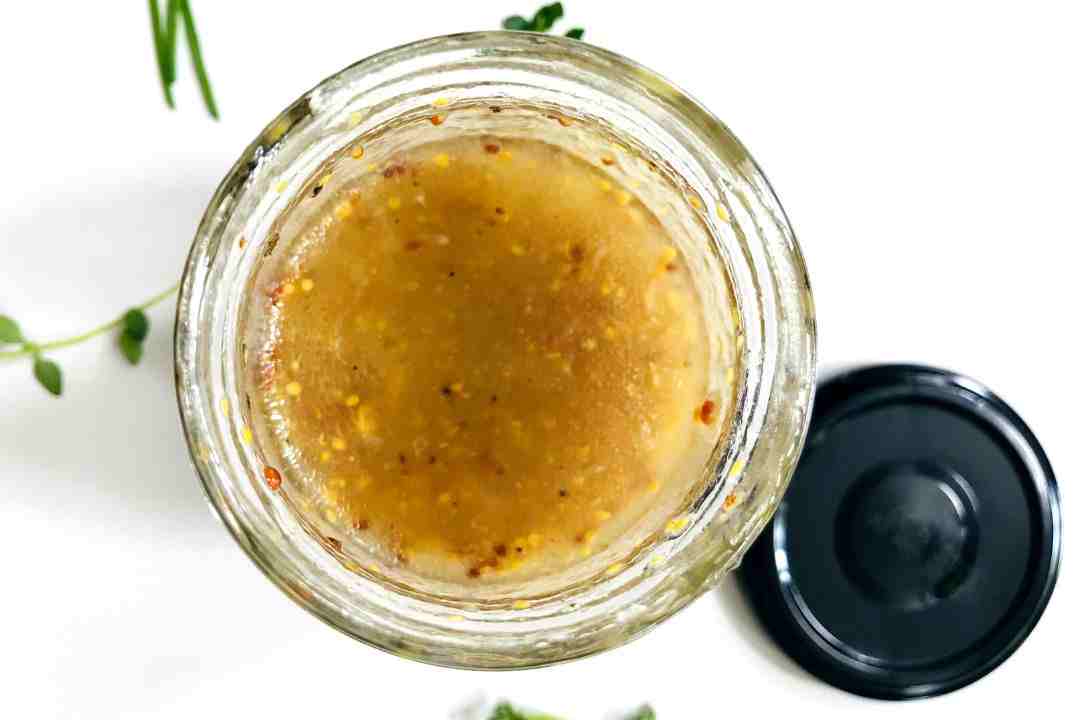 What does honey mustard dressing taste like?
This dressing is a combination of sweet and a hit of tangy-ness because of the wholegrain mustard and honey combination.  This is where you can customize it to your own tastes.
We like it on the sweeter side but feel free to lessen the honey quantity when making the dressing.
I probably wouldn't recommend upping the vinegar but rather just reducing the honey by half.  You can always add more if needed.
How to Make Honey Mustard Dressing
Prep time is pretty well only 5 minutes. The easiest way to make this dressing is to pop all the ingredients into a clean screw top glass jar and shake till all combined.
Alternatively you can mix all the ingredients in small to medium bowl and whisk till nicely incorporated.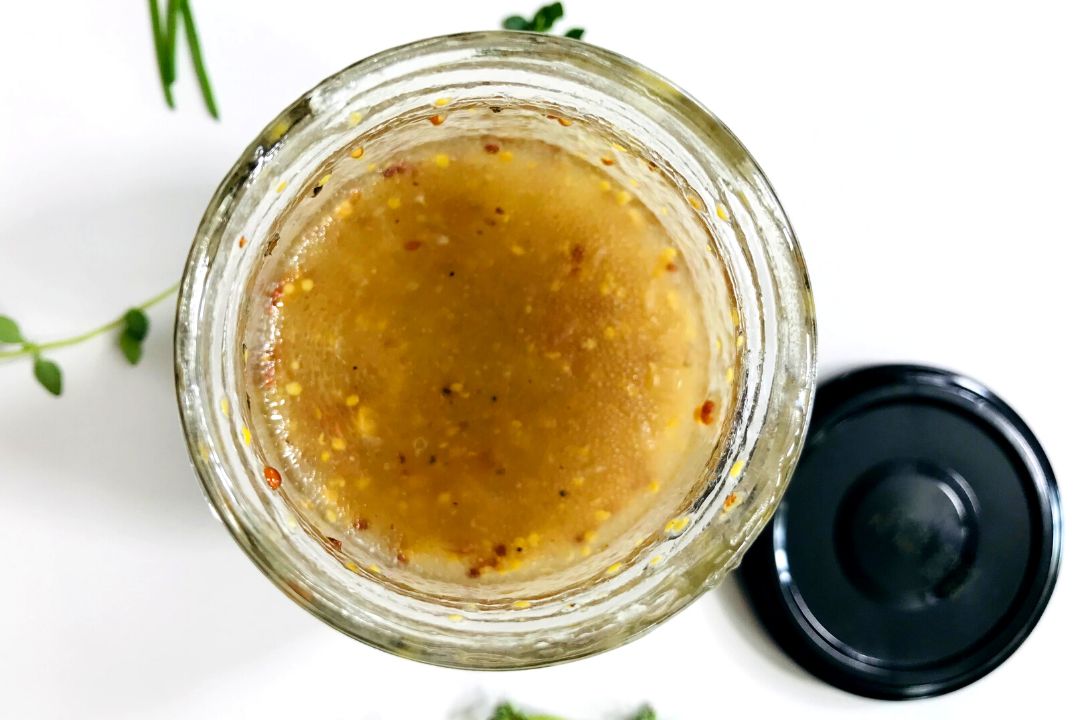 Homemade Honey Mustard Dressing
An all time tangy and sweet dressing that's a favourite with everyone.
Keyword:
honey mustard dressing
Ingredients
2

tab

honey

runny honey will mix easier

4

tab

light olive oil

2

tabs

whole grain mustard

1

tab

white wine vinegar

1

tab

lemon juice

½

tsp

salt

pinch of black pepper

1-2

tabs

water to thin if necessary
Instructions
Combine all ingredients into a screw top jar and shake till combined. Alternatively pop everything into a small bowl and whisk till mixed together.

Serve ASAP or store in the fridge for up to a week in an airtight container. * see note
Recipe Notes
*Sometimes the Homemade Honey Mustard Dressing can solidify in the fridge.  Take out of the fridge 15 minutes before serving and shake well.
* When storing to use at a later date It's a great idea to label the jar with the date when it was made before popping into the fridge.
Nutrition Facts
Homemade Honey Mustard Dressing
Amount Per Serving
Calories 158
Calories from Fat 126
% Daily Value*
Fat 14g22%
Sodium 297mg13%
Potassium 12mg0%
Carbohydrates 9g3%
Protein 0.1g0%
Vitamin A 1IU0%
Vitamin C 2mg2%
Calcium 2mg0%
Iron 0.2mg1%
* Percent Daily Values are based on a 2000 calorie diet.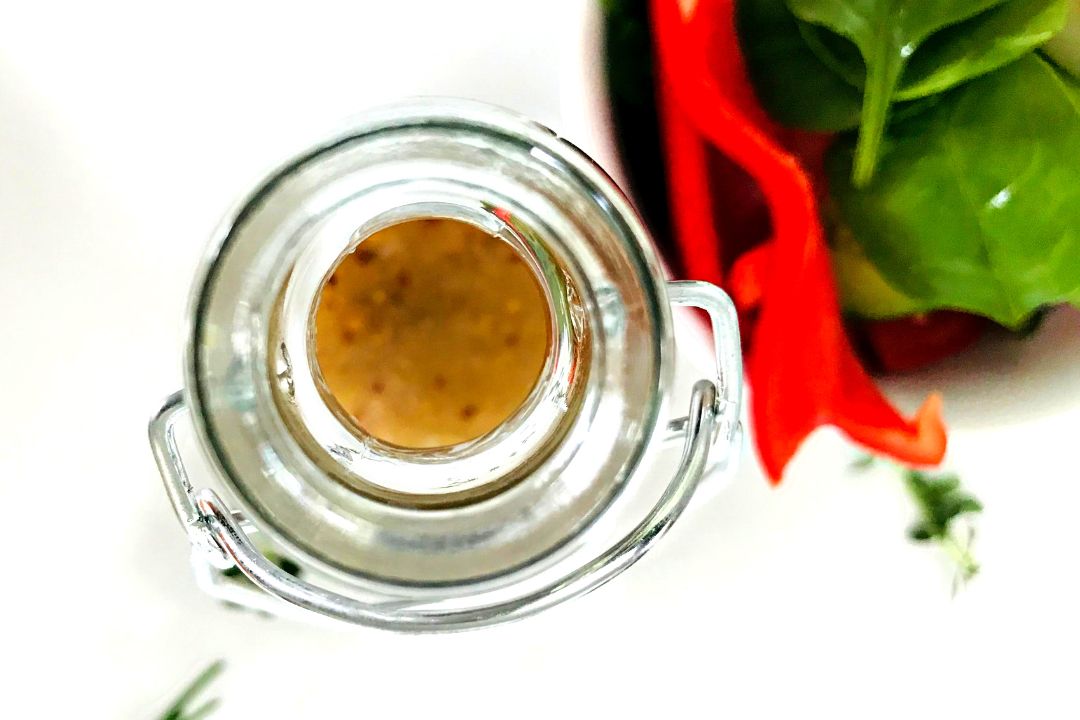 How far ahead can I make Honey Mustard sauce?
This honey mustard recipe can be made a few days prior to using it.
How Long Will The Dressing Last?
This dressing keeps really well in an airtight container in the fridge for up to a week.
What to use Honey Mustard Dressing on.
This dressing goes well with tossed salads, warm vegetable salads ( like our Roasted Vegetable and Quinoa Salad ), or over more robust green vegetables like a kale and broccoli salad. This homemade honey mustard dressing goes so well with avocado cucumber tomato salad and your favourite salad greens.
Salad Dressing Tips
Use runny honey as it's easier to combine all the ingredients together.
Save time and make a double batch.  If you are making one jar it's easy enough to make twice as much.
When using only a tablespoon of fresh lemon juice, it's easy enough to squeeze the whole lemon and store the remaining juice in the fridge in an airtight container for another time.  Keeps well for a few days.
It's easier to combine the dressing in a smaller jar than a larger type.  If it fits into your hand comfortably it's easier to shake.
To reduce the sweetness of the dressing instead of adding more vinegar it's probably easier to add less honey and if needed add more after tasting.
Sometimes the Homemade Honey Mustard Dressing can solidify slightly6 in the fridge.  Take out 15 minutes before serving to ensure and shake well.
When storing to use at a later date, it's a great idea to label the jar with the date it was made. 
Love some more of our fab salad dressings?
Download our Free Salad Dressings eBook to help you make the simplest but tasty dressings from ingredients you'll already have in your cupboard plus our 7 Easy & Tasty Dinner Recopies eBook. .