This Vegan Carrot Cake with whipped Coconut Cream frosting is so delectable you won't be able to resist.
This is one of the best and simple vegan carrot cake recipes I've found. Not only is it yum but it's full of awesome ingredients that not only make it taste so adorably good, but rises into one of the largest cakes ever.
And the Coconut Cream Frosting is so gorgeously smooth and silky with the hint of coconut and vanilla you'll think you're on a tropical island.
But you can decorate the top of this cake with whatever icing you like.  For a lower fat content topping, a vanilla glaze icing would be perfect too.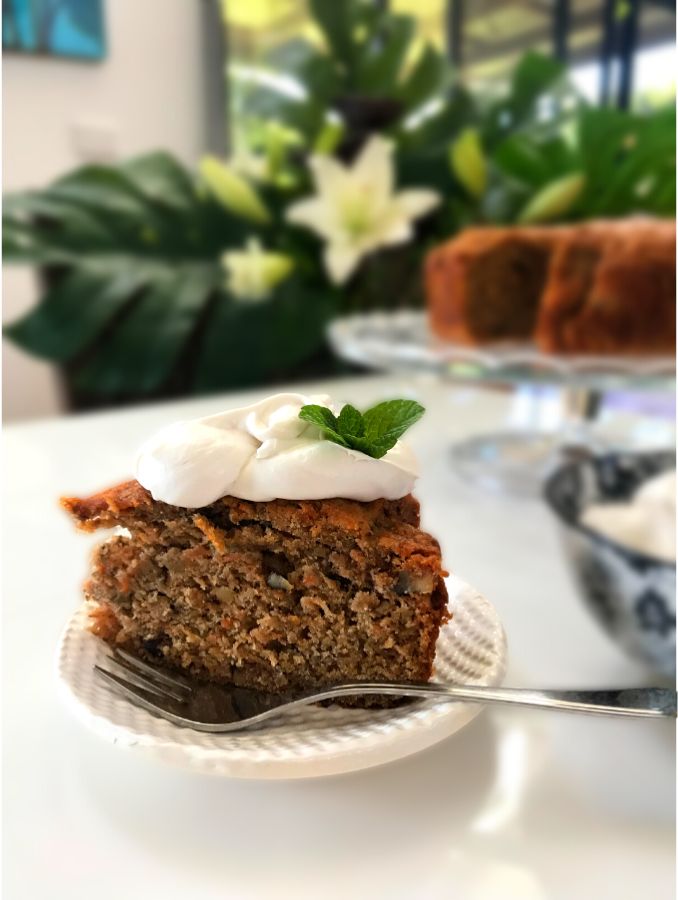 What is Vegan Carrot Cake Made Of?
The ingredients for this awesome vegan carrot cake are one's you're likely to have on hand at home.
Carrots – about 1 medium to make around a cup of loosely grated carrot.
Self Raising flour – and all round pantry staple
Sugar – your choice. I used soft brown sugar – nice a caramel flavour
Apple Sauce – I used the pre-made sauce in the jar
Walnuts – Add that extra nutty flavour
Spices – cinnamon and nutmeg, true carrot cake fave ingredients
Salt and Baking Soda – non egg raising agents
Chia Seeds – mixed with boiling water to become an awesome binder and raising agent
Plant Milk – your choice. For a sweeter taste oat milk is lovely.
Lemon Juice –  When baking soda is mixed with lemon juice it neutralizes and helps baked goods to rise.
Olive oil – the lighter oil is nicer for cakes as the flavour is less intense.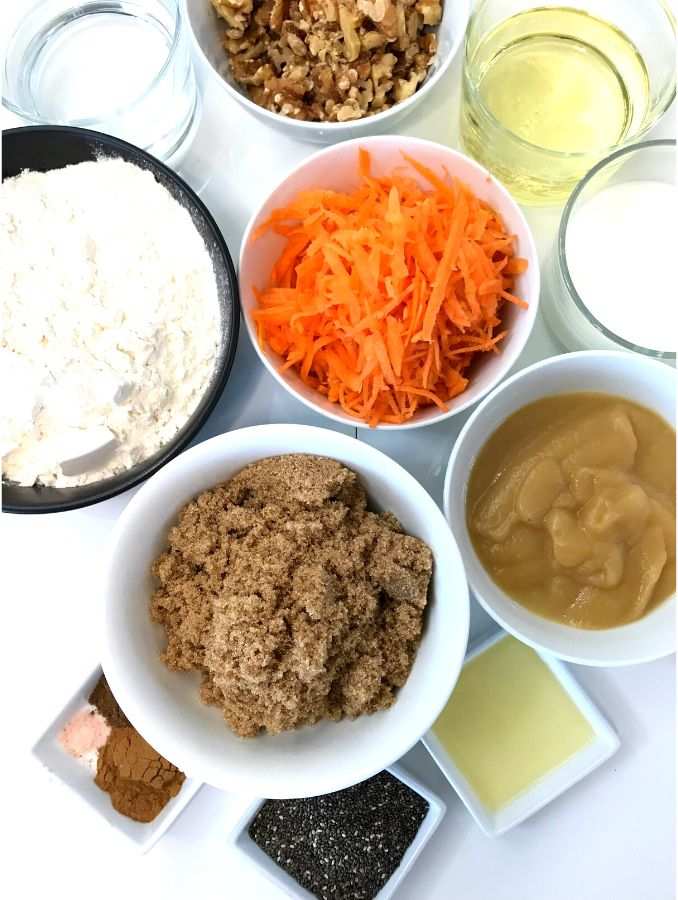 This high rise vegan carrot cake is due to a combination of the  egg-free raising ingredients – apple sauce, chia seeds, baking soda, lemon juice mixed with the self raising flour.
You'll never have to worry about it turning out like a dense, weighty brick ever!
After mixing the chia seeds with boiling water allow the mix to rest for 5 minutes. Then add your wet ingredients in with the chia seeds to get started followed by the dry ingredients.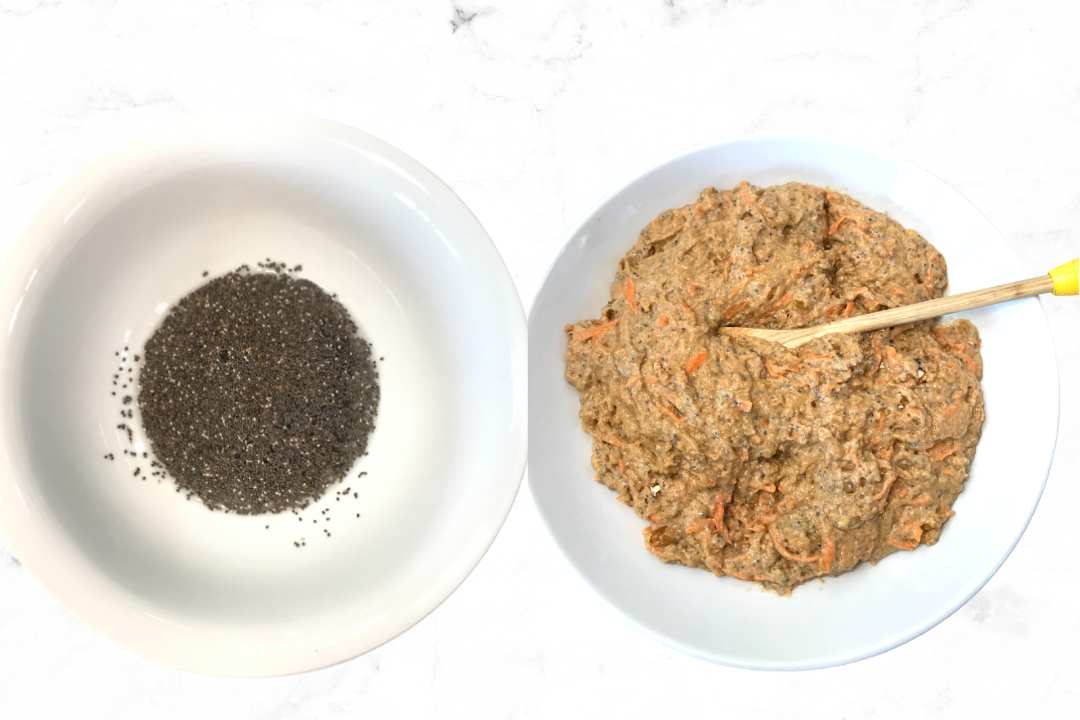 How To Cook a Carrot Cake
The mix for this Vegan Carrot Cake is rather large in quantity and will make a cake of around 10 servings.  I'm partial to a ring tin but at the time of baking only had a 22 cm sized round cake one large enough on hand.
In saying that it cooked perfectly in the 45 minute time.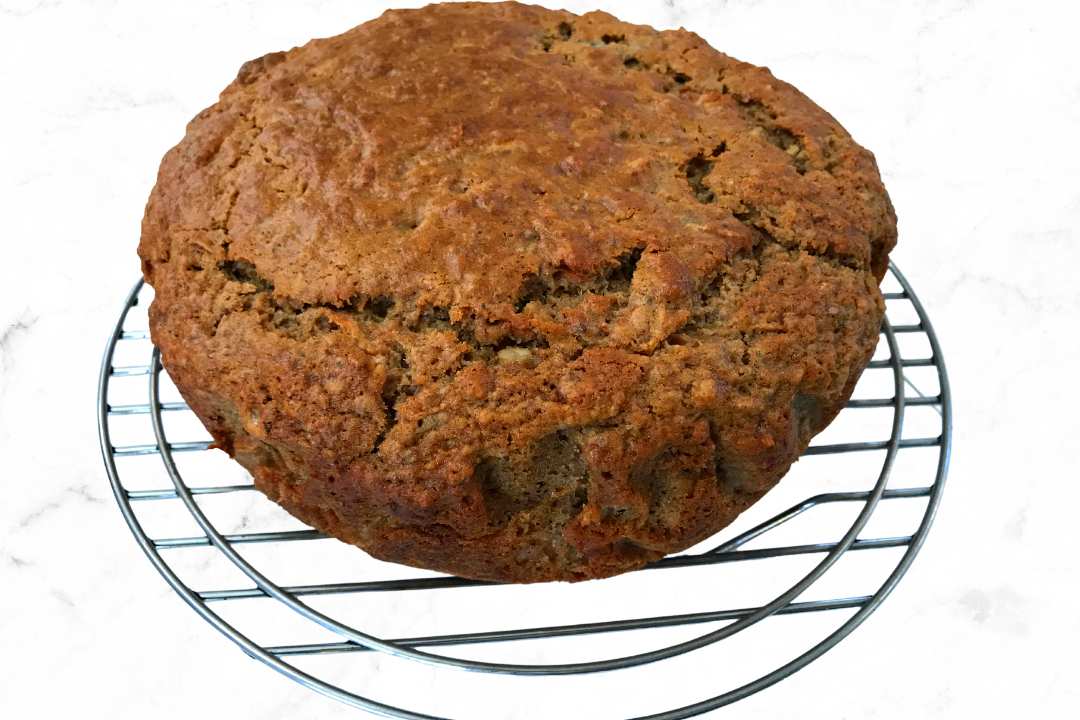 Does Vegan Carrot Cake Need To Be Refrigerated?
Carrot cake is often refrigerated only because the icing is made from cream cheese or in this case coconut cream and would normally spoil if left at room temperature.
For this recipe the whipped coconut cream was kept in the fridge while the Vegan Carrot Cake was kept in an airtight container at room temperature. Keeping your carrot cake in the fridge can make it become more wet and dense and in my opinion looses some of it's great flavour.
We decided to serve the cake at room temp and pile on dollops of the whipped coconut cream right before serving.  Oh and it was delectable!
Vegan Carrot Cake Recipe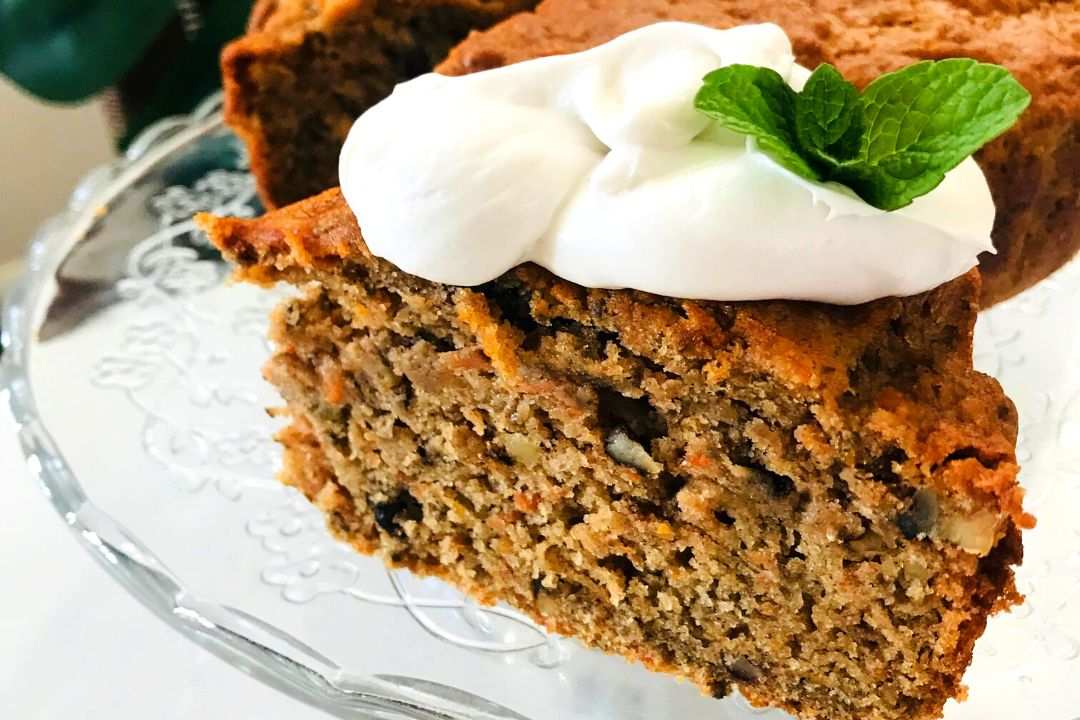 Vegan Carrot Cake
The Dreamiest Vegan Carrot Cake with Coconut Cream Frosting
Keyword:
Vegan Carrot Cake
Ingredients
2

tabs

chia seeds

1/2

cup

boiling water

1/2

cup

plant milk

almond, soy, oat

1/4

cup

olive oil

1/2

cup

apple sauce

1

tabs

lemon juice

1

cup

carrot (grated)

1

cup

soft brown sugar

2

cups

self raising flour

1

cup

chopped walnuts

1

tsp

baking soda

1/4

tsp

salt

1

tsp

cinnamon

1

tsp

nutmeg
Instructions
Preheat the oven at 180deg Celsius.

Grease a large sized cake tin and line with baking paper.

Pop the chia seeds into a large bowl and add the boiling water and leave for 5 minutes. Allow the seeds to soak up the water.

In the meantime, sift the flour, spices, baking soda and salt.

Add the sugar to the dry ingredients and combine. Soften any lumps if you have some.

Add the chopped walnuts to the dry mix as well.

To the chia seeds add all the wet ingredients - apple sauce, milk, lemon juice, oil and grated carrot.

Then add the dry ingredients to the wet ingredients and mix gently till combined.

Pour mix into prepared cake tin and bake for 45 minutes. Cake will be cooked when a skewer comes out clean.

Allow cake to cool for at least 10 minutes and then turn out gently onto a cake rack to cool.

Ice with whipped Coconut Cream Frosting or serve cake with frosting on the side as needed. *note

If your cake is frosted you'll need to refrigerate. If you are serving cake without frosting keep in an airtight container at room temperature. Store frosting in the fridge and use as needed.
Recipe Notes
The coconut cream used in this recipe is not your normal can of coconut cream but a specific Whipping Coconut Cream.  The difference is that the whipping coconut cream contains tapioca flour to help stabilize the whipped cream and to help keep it's shape.
Nutrition Facts
Vegan Carrot Cake
Amount Per Serving (10 g)
Calories 313
Calories from Fat 126
% Daily Value*
Fat 14g22%
Sodium 201mg9%
Potassium 158mg5%
Carbohydrates 44g15%
Protein 5g10%
Vitamin A 2146IU43%
Vitamin C 1mg1%
Calcium 57mg6%
Iron 1mg6%
* Percent Daily Values are based on a 2000 calorie diet.
Vegan Carrot Cake Coconut Cream Frosting
There are so many coconut cream brands available but for this recipe I used Whipping Coconut Cream which is different to normal coconut cream.
The ingredients in the coconut whipping cream contain a thickener making it easier to whip the cream into a stable consistency.  The thickener was organic tapioca starch
The tin I purchased was from our local whole foods store Bunya but also available in most supermarkets.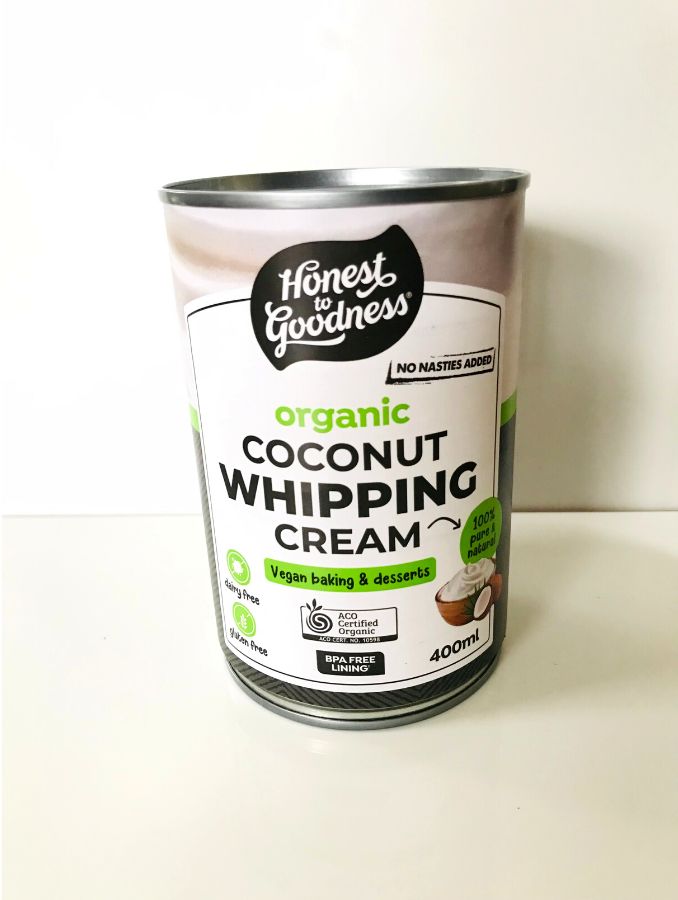 Whipped Coconut Cream Frosting Recipe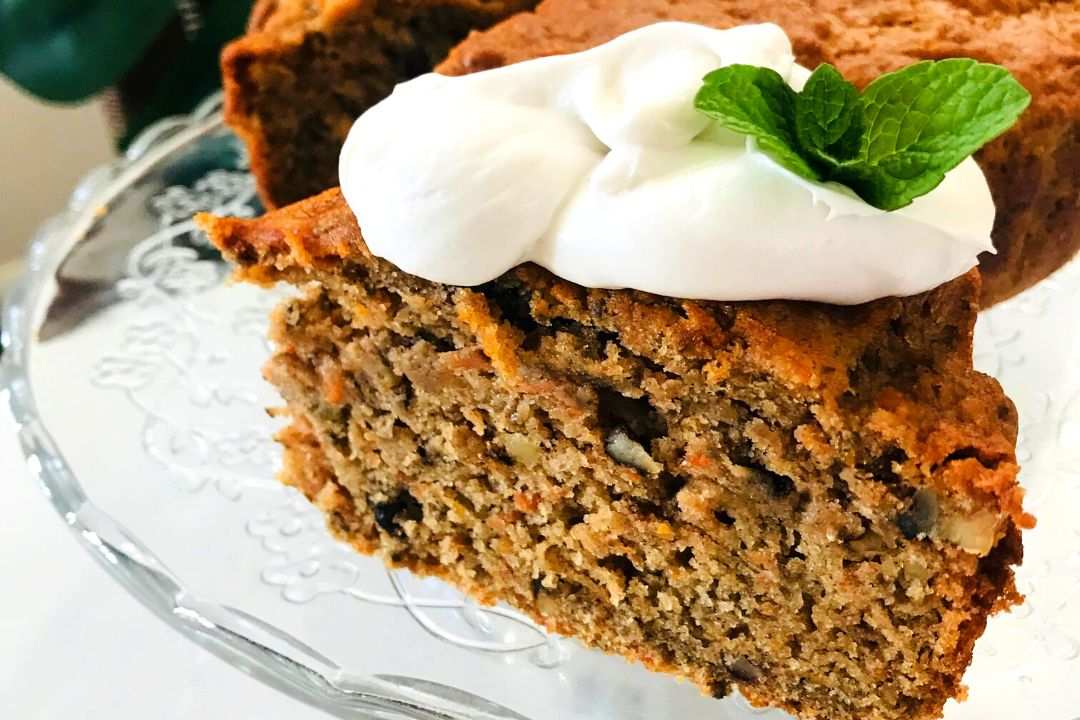 Coconut Cream Frosting
A light, fluffy and delectable vegan frosting for any cake
Keyword:
Coconut Cream Frosting
Ingredients
1

can

Coconut whipping cream

400 gm can

1

cup

icing sugar

1

tsp

vanilla essence
Instructions
Chill the coconut whipping cream prior to use in the fridge for at least 2 or 3 hours.

Pour coconut whipping cream into a bowl, with icing sugar and vanilla.

Beat with electric mixer till light and fluffy. Shouldn't take more than 2-3 minutes.

Spread onto cooled cake and serve.

Store in an airtight container in the fridge.
Recipe Notes
The coconut whipping cream is different to coconut cream.  This has been thickened with tapioca flour and is a much thicker consistency than regular coconut cream.
Nutrition Facts
Coconut Cream Frosting
Amount Per Serving (10 g)
Calories 49
Calories from Fat 1
% Daily Value*
Fat 0.1g0%
Polyunsaturated Fat 0.001g
Monounsaturated Fat 0.003g
Sodium 0.3mg0%
Potassium 1mg0%
Carbohydrates 12g4%
Protein 0.01g0%
Vitamin C 0.001mg0%
Calcium 0.2mg0%
Iron 0.01mg0%
* Percent Daily Values are based on a 2000 calorie diet.
Want To Try Another Cake With Applesauce?
One of the best and moorish cakes that has been give the thumbs up is the Choc Chip Zucchini Loaf recipe. You can grab the recipe here.