This Easy Dairy Free Mini Blueberry Cheesecake recipe is quick to make, deliciously sweet, creamy and the perfect Summer dessert. Oh this recipe definitely got a big thumbs up in our home especially from the non-vegan crew. 🤩
Made with two types of nuts – almonds and cashews, coconut cream, maple syrup, some lemon juice and of course dark purple blueberries, this makes for not only a yummy raw vegan dessert but a visual feast for the eyes.
(quick video below)
The Base Ingredients
Almonds – a great alternative to biscuit based cheesecake recipes
Maple Syrup – natural and just the right amount of sweetness
Salt – just a little tiny bit to bring out the flavour
Coconut Oil – a great firming agent in dessert bases.  You can omit this if you rather and add a couple of pitted dates instead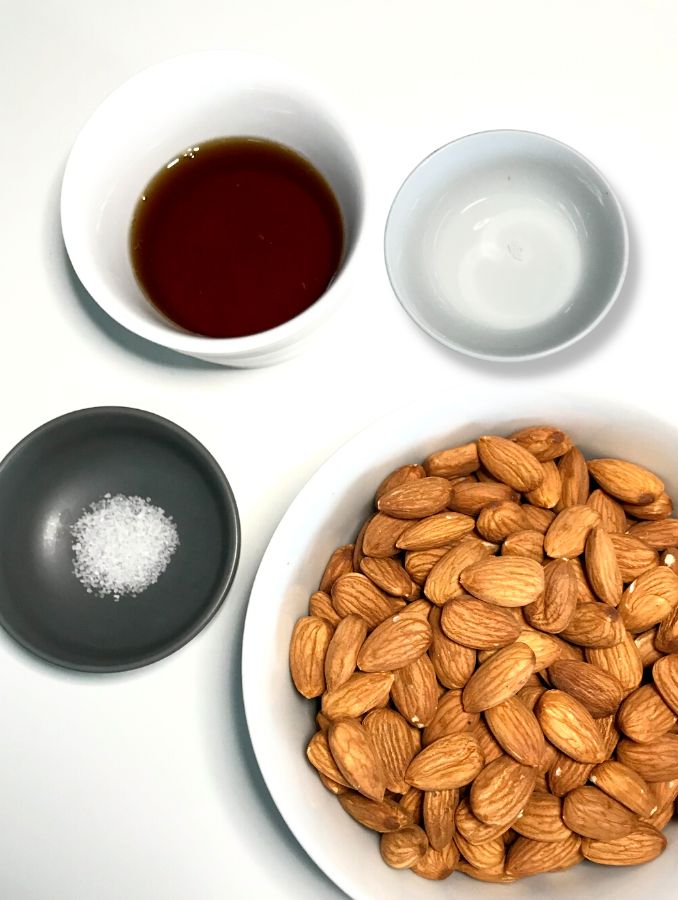 How To Make Your Mini Blueberry Cheesecake Base
Basically you'll need a fairly strong food processor or blender to blitz the nuts up. When you add the wet ingredients the base will for nicely into dough like clumps.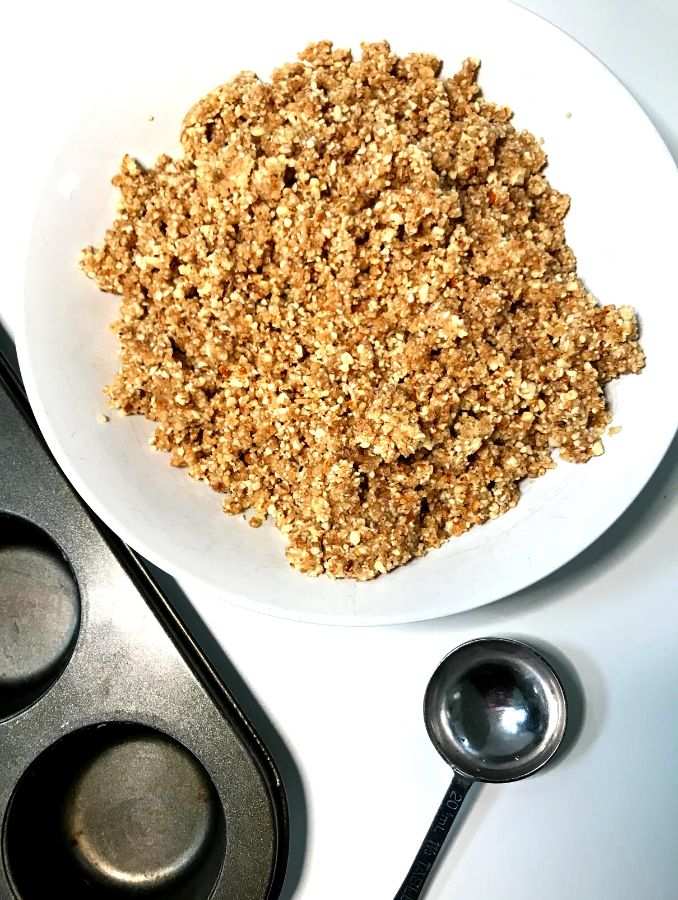 This makes it easy to squish down into the muffin tray.  Using a glass to even out the base will make it easier.

The Filling Ingredients – What you'll need.
Cashews – when soaked these become a magical dairy free alternative
Coconut Cream – ahh another dairy free cream option
Lemon Juice – a great natural setting agent
Vanilla – the best flavour enhancer
Blueberries – little morsels of vitamin C and gorgeously purple (wondering what the health benefits of blueberries are? Great article here)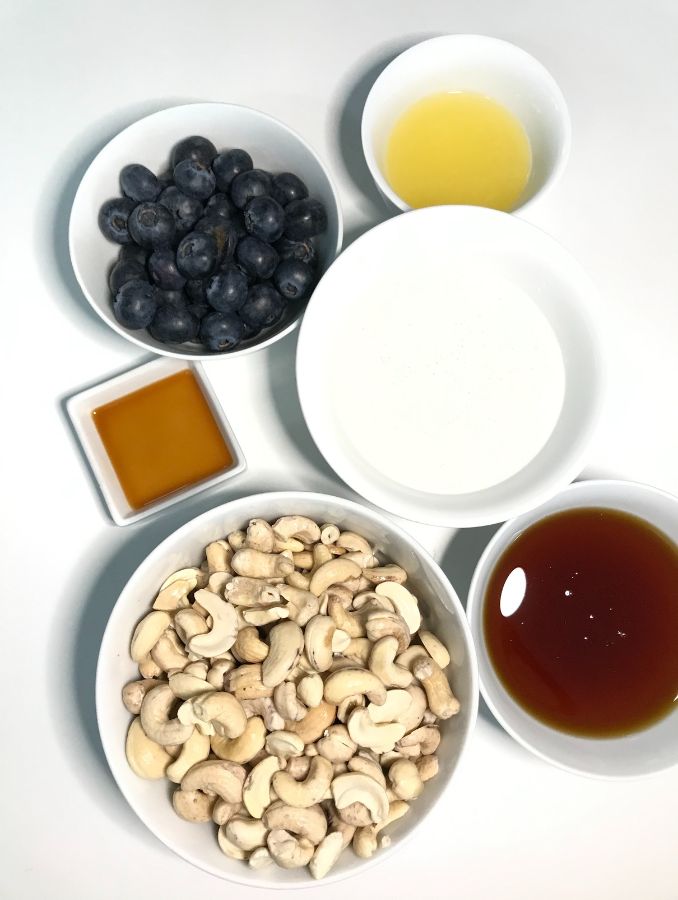 The most important thing to make these Mini Blueberry Cheesecakes is to soak your cashews overnight. There are two ways to soak your cashews – Fast and the overnight method. 
Not sure how to soak your cashews? Tips for Success.
The overnight method you'll have to soak your cashews for at least 12 hours. (be sure to cover them completely).
The Fast Method is to pop your cashew nuts into a heatproof bowl and pour boiling water over them.  This method speeds up the process and you can blitz them in an hours time. The downside of doing it this way, is that your nuts can loose certain nutrients.
One last tip is to dry your cashews before using them.  Pop them onto a clean tea towel and pat dry to remove any leftover moisture.
Assembling Your Mini Blueberry Cheesecakes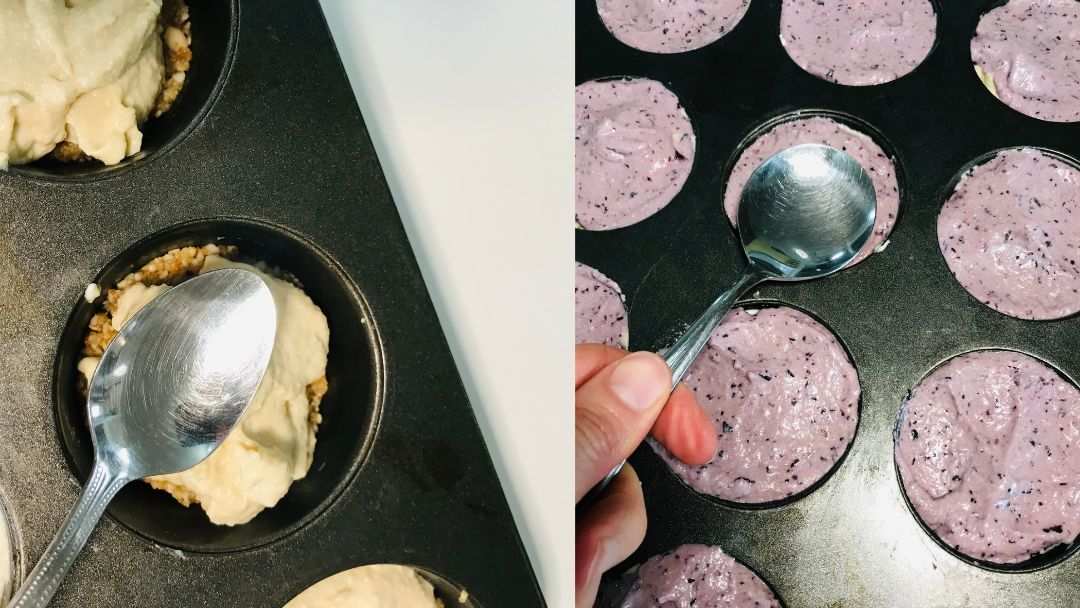 Easy Dairy Free Mini Blueberry Cheesecake Recipe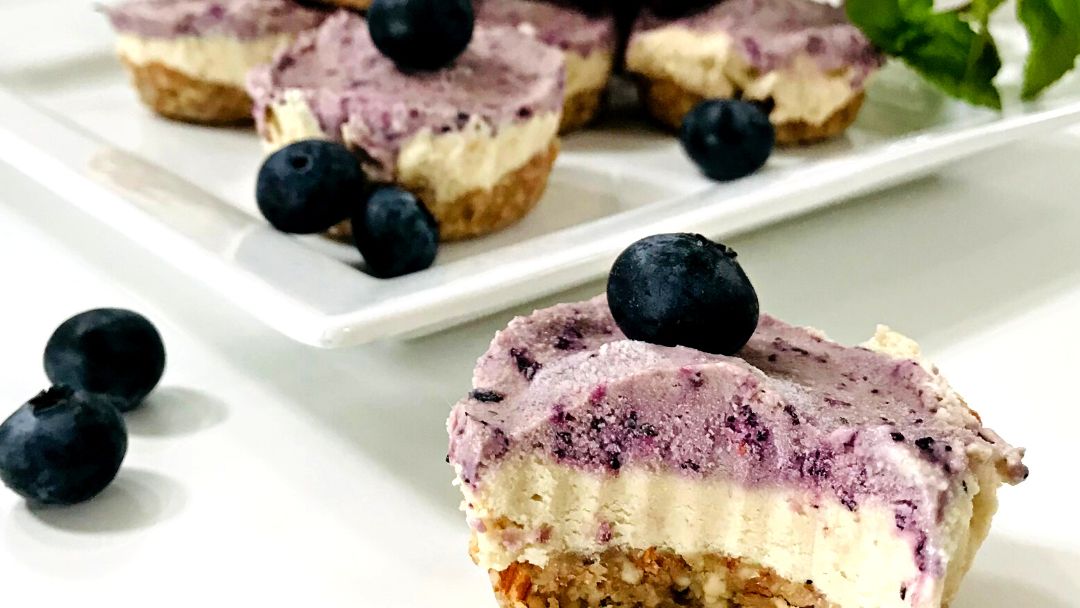 Easy Dairy Free Mini Blueberry Cheesecake
This Easy Dairy Free Mini Blueberry Cheesecake recipe is quick to make and deliciously sweet, creamy and the perfect Summer dessert.
Cuisine:
American, Australian
Keyword:
Almonds, blueberry, vegan cheesecake
Ingredients
BASE
2

cup

raw almonds

1/4

tsp

salt

1

tab

coconut oil

melted

3

tab

maple syrup
FILLING
2

cups

cashews

soaked overnight

1/2

cup

coconut cream

1/2

cup

maple syrup

1/4

cup

lemon juice

freshly squeezed

1

tsp

vanilla

1

cup

blueberries

fresh

1/4

tsp

xanthan gum

optional
Instructions
Blitz the almonds till fine. Then add the maple syrup, salt and melted coconut oil and blitz again so it forms a nice sticky dough. (try not to over blend the nuts).

Press the base into greased muffin tins. Squash down with the base of a glass to make it even.

Pop into the freezer to firm.

To make the filling blend the soaked almonds, coconut cream, maple syrup, lemon juice and vanilla in a blender or high powered food processor until a smooth creamy consistency.

Add the xanthiun gum (if you are adding it) and whizz up again so it's nice and mixed through.

Set half the mix and aside for the blueberry layer. Pour the other half of the mix into the muffin tins and pop into the freezer.

Blend up the blueberries and add it to the remaining filling and smooth the layer on top of the muffin tins.

Freeze for around 3 hours. Bring out of the freezer at least 15 minutes before serving. (or longer if you like a much softer consistency.
Recipe Notes
In this recipe there is the option to add Xanthan Gum.  It's actually a thickening agent.  It makes the recipe slightly more smoother but not necessary and optional to add.
Nutrition Facts
Easy Dairy Free Mini Blueberry Cheesecake
Amount Per Serving (12 g)
Calories 332
Calories from Fat 207
% Daily Value*
Fat 23g35%
Sodium 55mg2%
Potassium 373mg11%
Carbohydrates 27g9%
Protein 9g18%
Vitamin A 7IU0%
Vitamin C 3mg4%
Calcium 93mg9%
Iron 2mg11%
* Percent Daily Values are based on a 2000 calorie diet.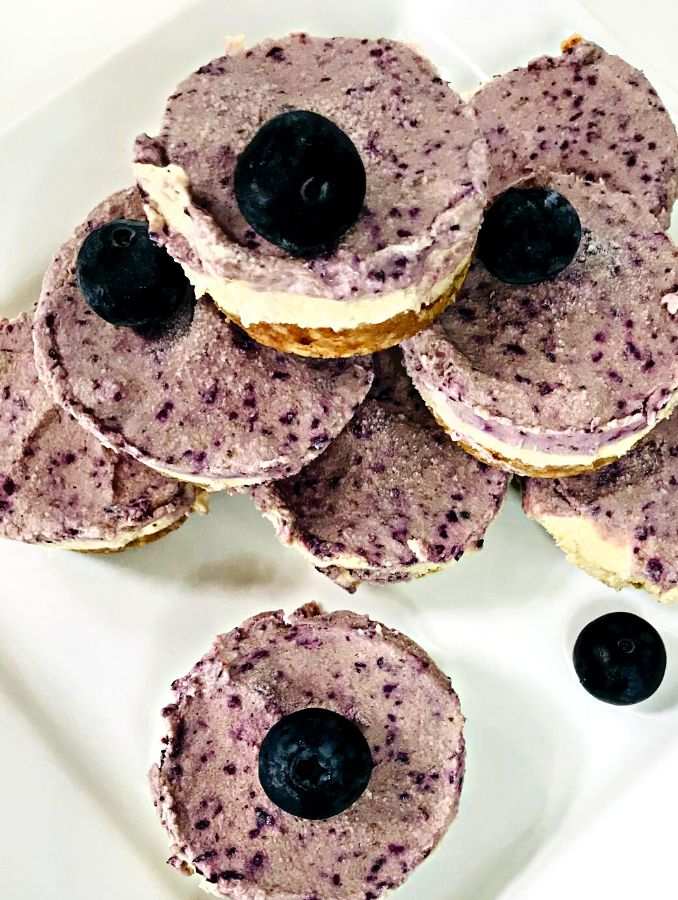 Want to try our fab Vegan Carrot Cake Recipe with Coconut Cream Frosting?  It's so yum and delish. You might also like our Choc Chip Zucchini Loaf recipe too.
For more Vegan desserts and recipes grab our Free 40 Vegan Recipes cookbook and download now straight to your inbox.  Just click the image below to grab your copy. ⏬