This Crunchy Salad with Thai Sesame Dressing will make your mouth water, and no need to worry about eating a soggy salad the following day as this is a dry style salad.
Use leftover veggies to create a dry-salad that you can keep in the fridge, pop into your lunchbox and dress with Thai Sesame Dressing just before you eat.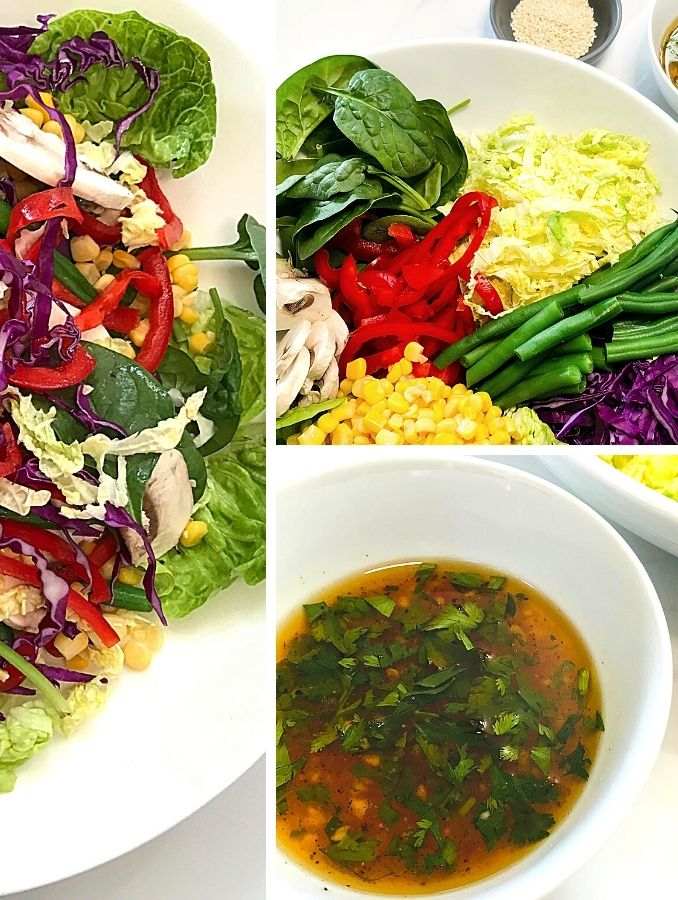 What Veggies Can I Use In the Crunchy Salad with Thai Sesame Dressing?
You can choose any veggie ingredients you like, but if you would like to make a larger salad for the following day's lunch, then picking vegetables that are firmer and crunchier with lower water content will keep this salad super crispy.
Cabbage is an awesome dry salad ingredient option, Mushrooms, spinach leaves, cos lettuce, carrot and corn are also firmer and less likely to turn to mush the following day.
The Thai Sesame Dressing is the flavour bomb that you'll love to gives it the va va va voom.
Thai Sesame Dressing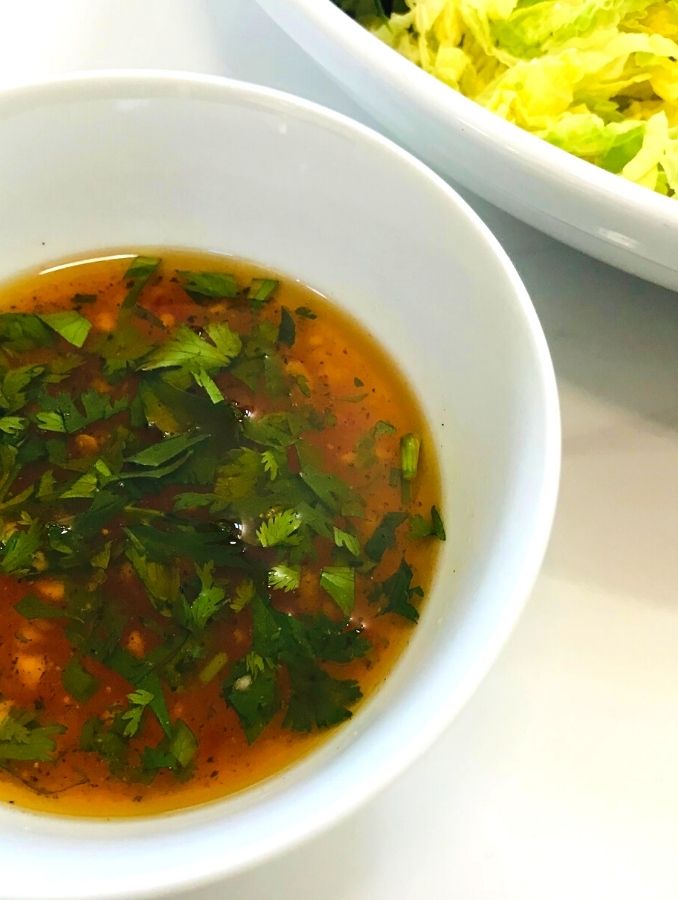 The Thai Sesame dressing ingredients
These ingredients are all common and found in your fridge and panty cupboard and you can weak up the salty, savory and sweetness to your liking.
The sesame oil gives a lovely flavour with the addition of a little bit of chili, garlic and honey bring it all together.
If you rather a vegan option replace honey with a sugar alternative. Unrefined coconut sugar or even soft brown sugar.
The addition of chili paste doesn't make this dressing spicy hot at all. We used the tube style from the fresh veggie section in our local supermarket called Gourmet Garden Mild Chili paste  Feel free to use long red chilis if you prefer a fresher option.
Thai Sesame Dressing Recipe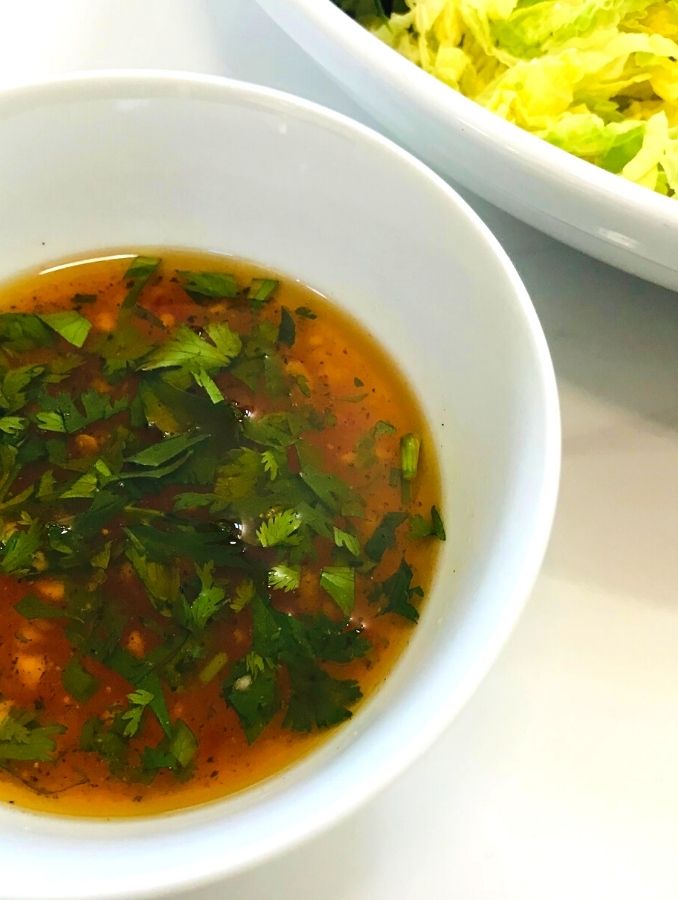 Thai Sesame Dressing
Course:
Dressing, Salad, Sides
Cuisine:
Asian, Australian
Keyword:
asian style dressing, sesame, thai dressing, thai salad dressing
Ingredients
2

tabs

rice wine vinegar

3

tsp

honey

2

tabs

sesame oil

2

tsp

lime juice

½

tsp

fresh red chili paste

Fresh chili paste comes in a tube in the veggie section of your supermarket

1

tab

fresh coriander

1

clove

garlic

minced (optional)
Instructions
Pop all the dressing ingredients into a bowl and mix till combined.
Nutrition Facts
Thai Sesame Dressing
Amount Per Serving
Calories 89
Calories from Fat 18
% Daily Value*
Fat 2g3%
Sodium 2mg0%
Potassium 37mg1%
Carbohydrates 19g6%
Protein 1g2%
Vitamin A 32IU1%
Vitamin C 4mg5%
Calcium 8mg1%
Iron 1mg6%
* Percent Daily Values are based on a 2000 calorie diet.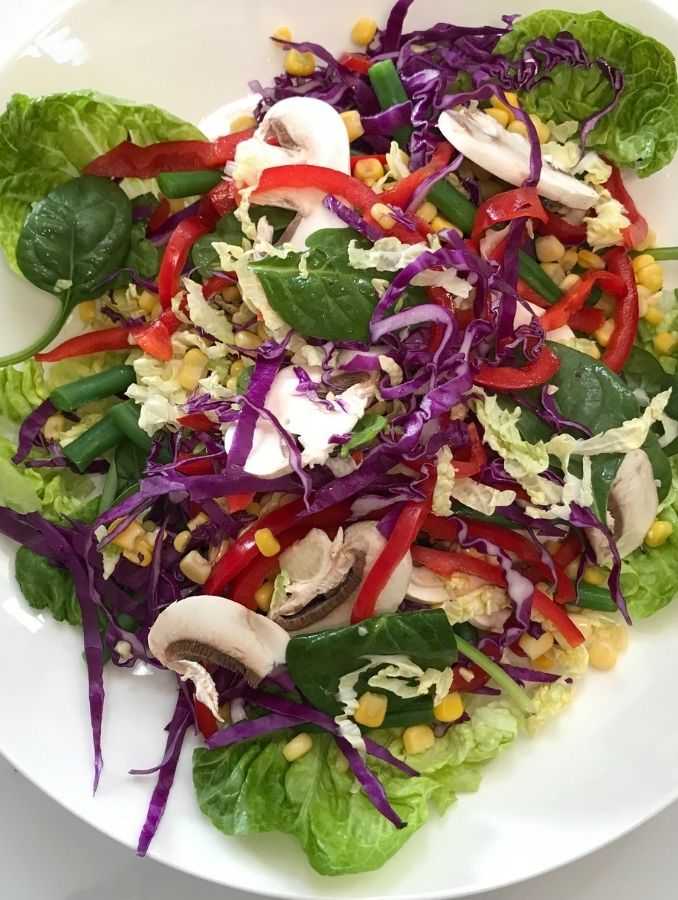 Crunchy Salad Recipe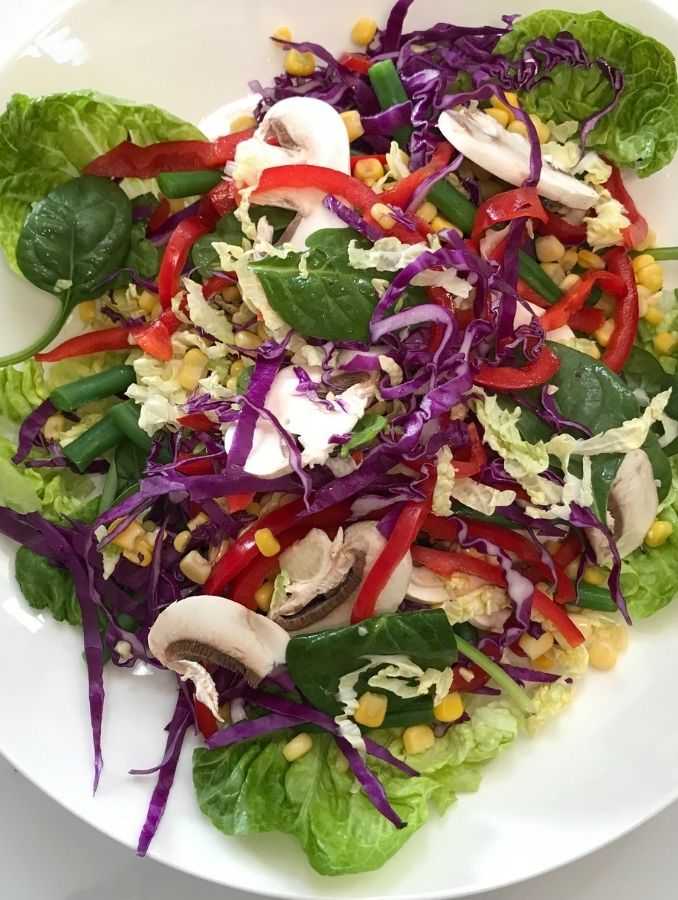 Crunchy Salad
Use your leftover veggies to make a colourful salad that you can use the next day for lunch. This colourful Crunchy Salad can be dressed just before serving to keep your salad nice and crunchy.
Course:
Lunchbox Ideas, lunchtime, Salad, Side Dish
Cuisine:
Asian, Australian
Keyword:
Crunchy salad, lunchbox salads, Summer Salad
Ingredients
⅛

red cabbage

¼

cabbage

Wombok or white cabbage

1

cup

beans

½

cup

tin corn

2

mushrooms

button

1

red capsicum

smallish

1

cup

baby spinach

1

tab

sesame seeds

lettuce leaves
Instructions
Half your beans and remove the tails and pop into the microwave to blanch for 90 seconds. Immerse into cold water to stop the cooking process.

Chop up all the remaining salad veggies however you like. Shred the cabbage, slice the mushrooms and lettuce leaves and cut the capsicum in long strips if you like.

Pop all the veggies into a bowl and toss.

Sprinkle with sesame seeds and drizzle with Thai Sesame Dressing.

If using the salad for lunch keep the dressing aside unt5il ready to eat the next day. Keeps your salad nice and crispy.
Nutrition Facts
Crunchy Salad
Amount Per Serving
Calories 73
Calories from Fat 18
% Daily Value*
Fat 2g3%
Sodium 27mg1%
Potassium 387mg11%
Carbohydrates 14g5%
Protein 4g8%
Vitamin A 2039IU41%
Vitamin C 81mg98%
Calcium 68mg7%
Iron 1mg6%
* Percent Daily Values are based on a 2000 calorie diet.
Keen for another crunchy salad dressing?
If you would love to try our Turmeric Vinaigrette dressing for the Cauliflower Rice Salad you can grab it here.
There's no secret we are salad dressing fans and if you would love our collection of superb (we think they are….), dressing recipes pop onto the link below.
Two of our all time faves is the Honey Mustard Dressing and the Easy Peasy Ranch Dressing.  Never disappoints. Plus our 7 Easy and Tasty Dinner Recipes eBook too.