If you love the crispy texture of tempura then look no further than your air fryer! You can make this delicious (and easy) Air Fryer Tempura Broccolini and Sweet Potato recipe in around half an hour.
We think you'll love it so much it'll become one of your recipe faves for sure.
It's one of those versatile recipes because you can swap for other veggies and makes an awesome accompaniment for just about any dish.
We love it with pan seared salmon but it also makes a great entrée or something you can share on a nibbles platter too.
Plus with a range of awesome dipping sauces the variations are endless.
Ingredients List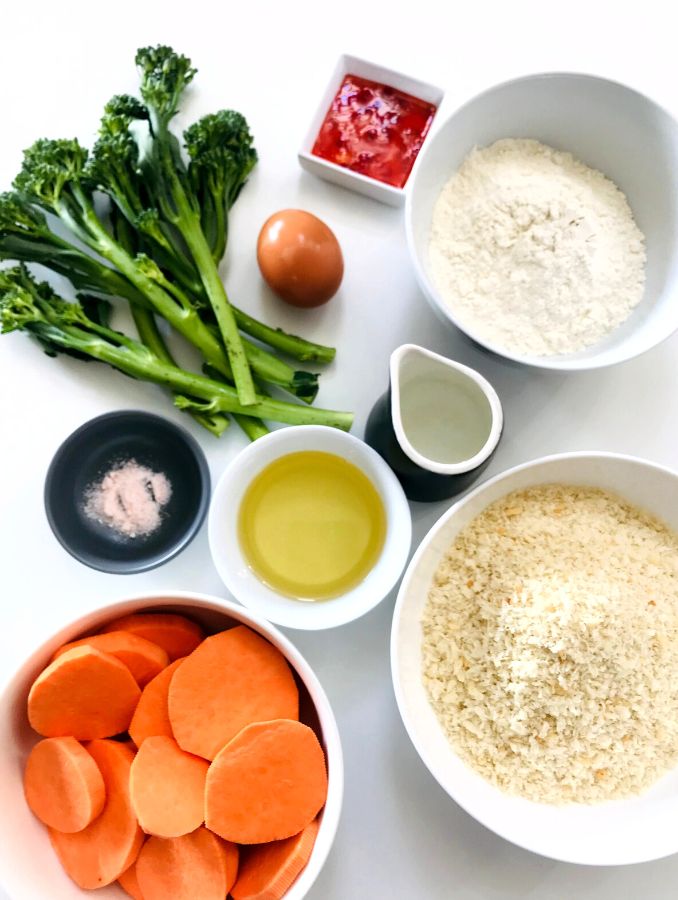 Broccolini – trimmed the ends of but keep whole if you like. Feel free to use normal broccoli if you prefer.
Red Sweet Potato – cut into discs or sticks.  Slice into regular even shapes to make cooking time even.
Self Raising flour – the tempura batter for this recipe uses Self Raising Flour though normal recipes often use
Salt – seasoning as always.
Sparkling Water – chilled is best for this batter recipe.
Sweet Chili Sauce – optional but gives it just a little bit of colour and taste plus it's not hot at all.
Egg – to keep it all together.  We love to use free range.
Panko Bread Crumbs – these make the crunchiest exterior ever and found in most supermarkets. Panko (we use the Obento brand)  are dryer and flakier and don't absorb as much oil.
Olive Oil – this is mixed in with the panko breadcrumbs so when your veggies are cooking they'll bet a nice golden coloring.
What Is Tempura Batter?
Tempura batter is a light, crispy coating made from wheat flour, cornstarch, baking powder and ice-cold water. It is commonly used to coat seafood and vegetables before deep-frying. Even though this recipe doesn't use the cornstarch or baking power the self raising flour works well.
Tempura batter is always a favourite dish in Japanese menus, plus it's one we order every time we go.
Step by Step Instructions –
Just a quick visual but the full instructions are in the recipe details below.
It's easiest to grab 3 bowls upfront.  One for the wet ingredients, one for the flour and one for the panko/olive oil combo.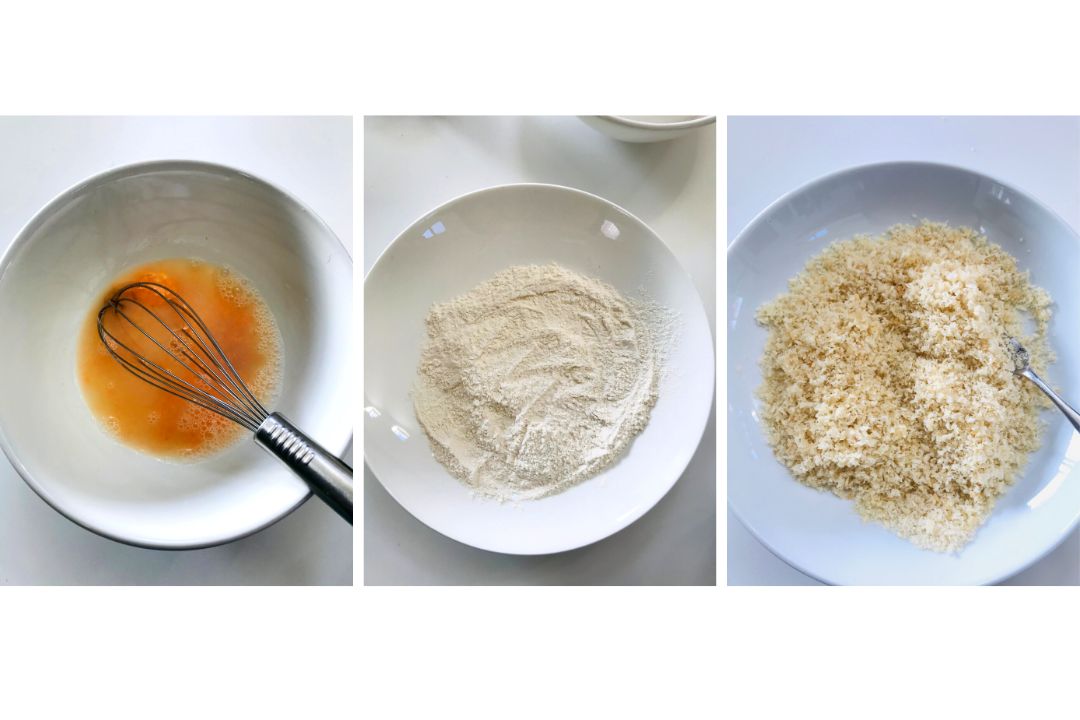 Step 1: Make the batter
Mix all your wet ingredients together.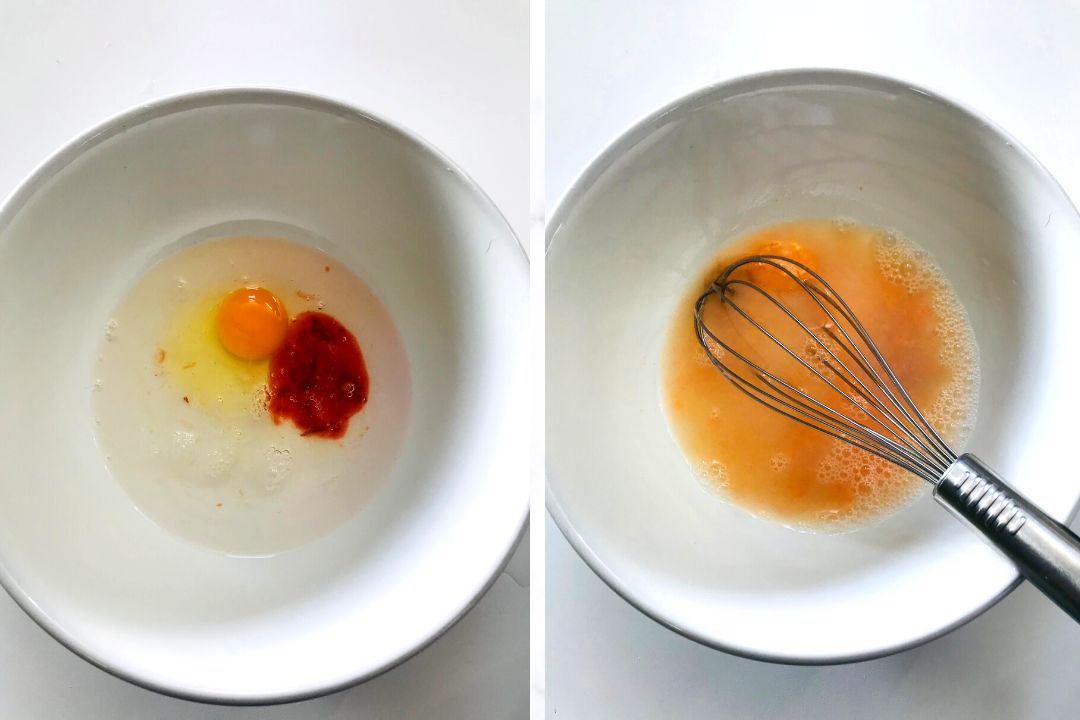 Mix the dry ingredients and then combine to make the batter and mix well to remove any lumps.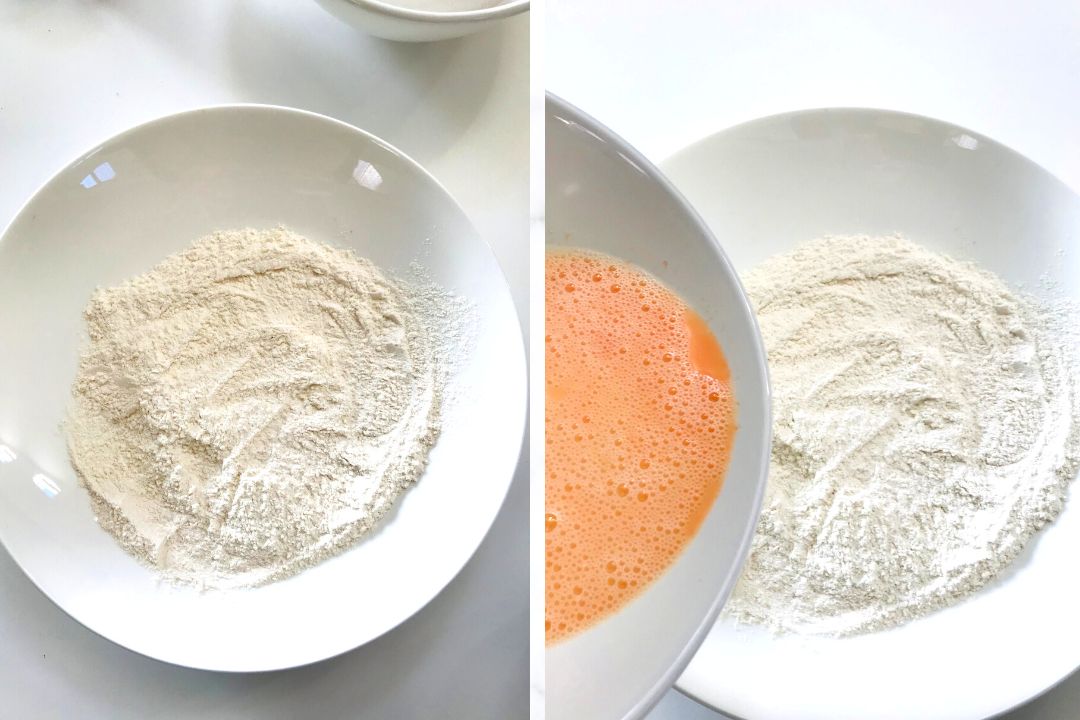 Add the olive oil to the bowl of panko crumbs and mix through.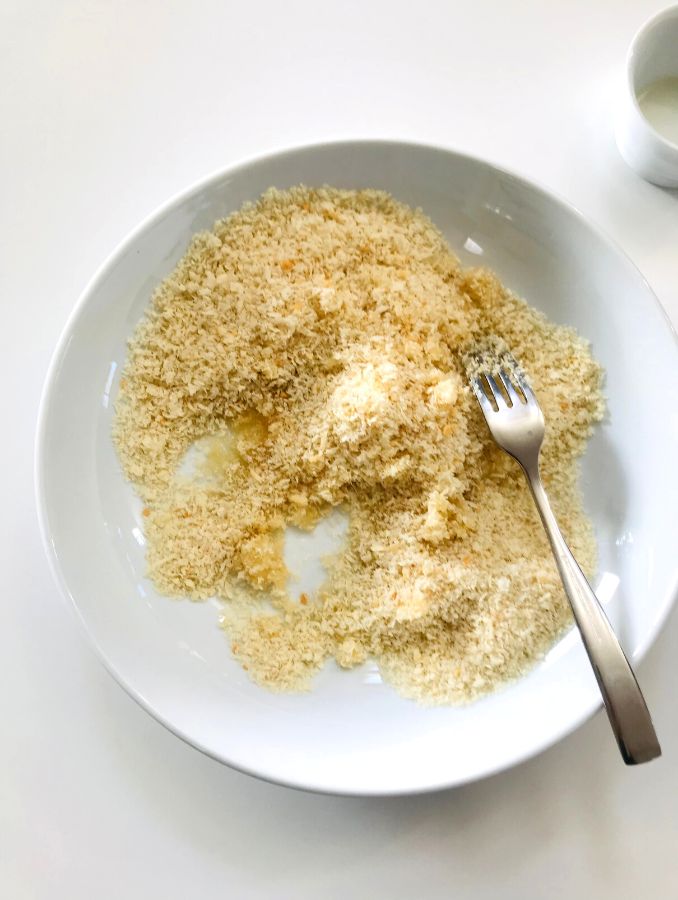 Step 2 Set yourself up like a production line.
Have everything ready to go.  Your chopped veggies, bowl of batter, panko crumbs and a tray with a wire rack to sit the veggies on after dipping. It's probably easier to do one lot of veggies first and cook them rather than dipping the whole amount and letting them sit for too long.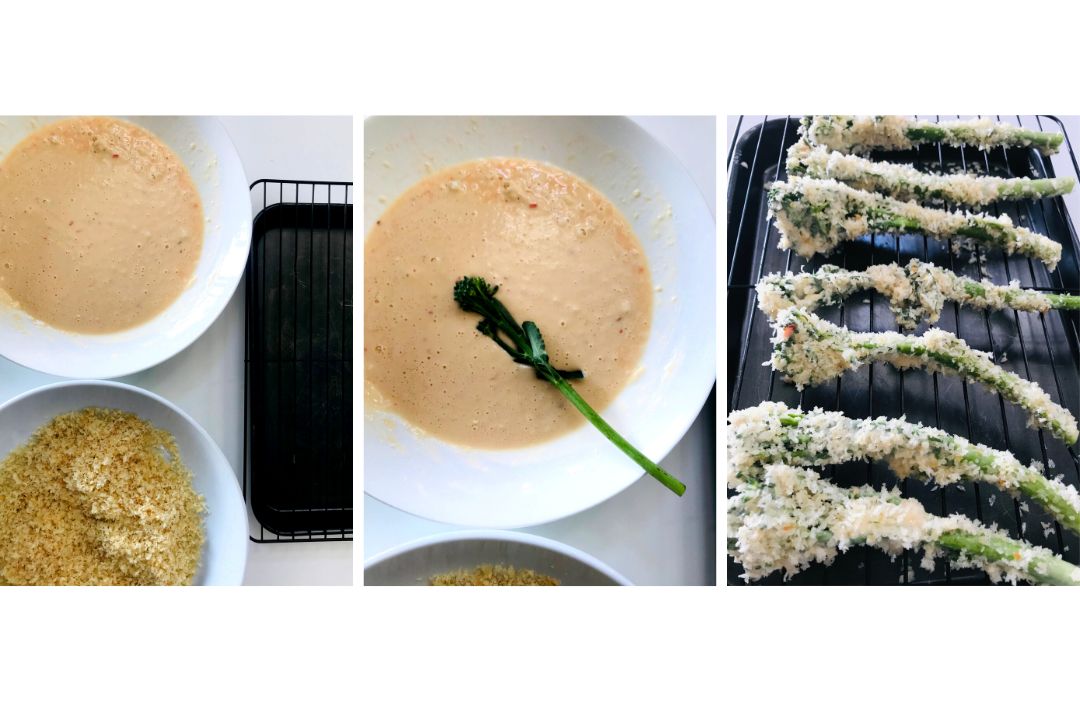 Step 3: Air fry your broccolini.
Air fry  for 5 minutes at 180 degrees Celsius and turn halfway through and cook for another 5 minutes.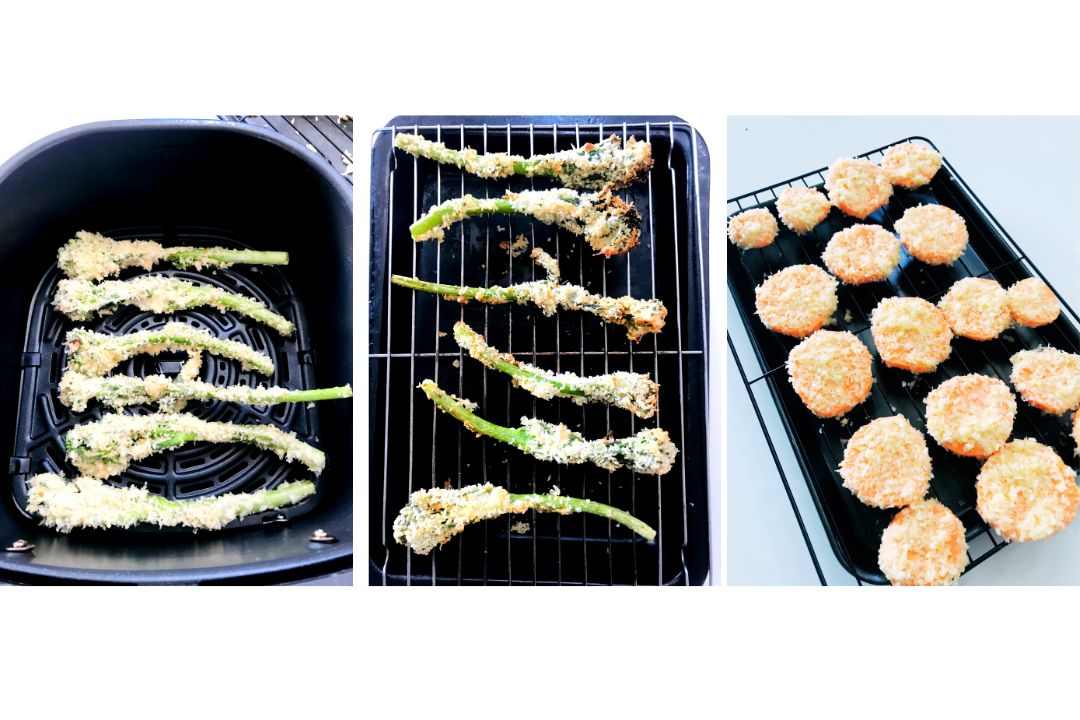 Remove from the air fryer basket and allow to cool on the wire rack and keep going with your sweet potato.
What Dipping Sauces to Serve With Your Air Fryer Tempura Vegetables
There's oodles of different types of tempura dipping sauces that can be made at home or simply purchased in a jar from the store.
Some popular sauces that you might love are:
Soy sauce – simple and easy for dipping. Tamari is a great gluten free option to.
Mirin  – Mirin is a type of Japanese rice wine made from fermented glutinous rice. It has a slightly sweet flavor and is used to add sweetness and shine to Japanese dishes such as tempura Veggies It's a popular ingredient and can be easily found in your local supermarket or Asian grocers.
Teriyaki Sauce – even though Teriyaki is often used as a marinade for chicken, tofu and pork dishes it's often not thought of as an option for a dipping sauce.  A bit thicker in texture and with a little more sweetness too.
Soy sauce and Sesame Oil combo – These two ingredients can really take air fryer tempura broccolini and sweet potato to the next level. The combination of salty soy sauce with the nutty flavour of sesame oil creates a delicious combo to liven things up.
Spicy Mayo or Aioli  – Aioli sauce is a delicious and creamy sauce that adds a nice kick to tempura vegetables.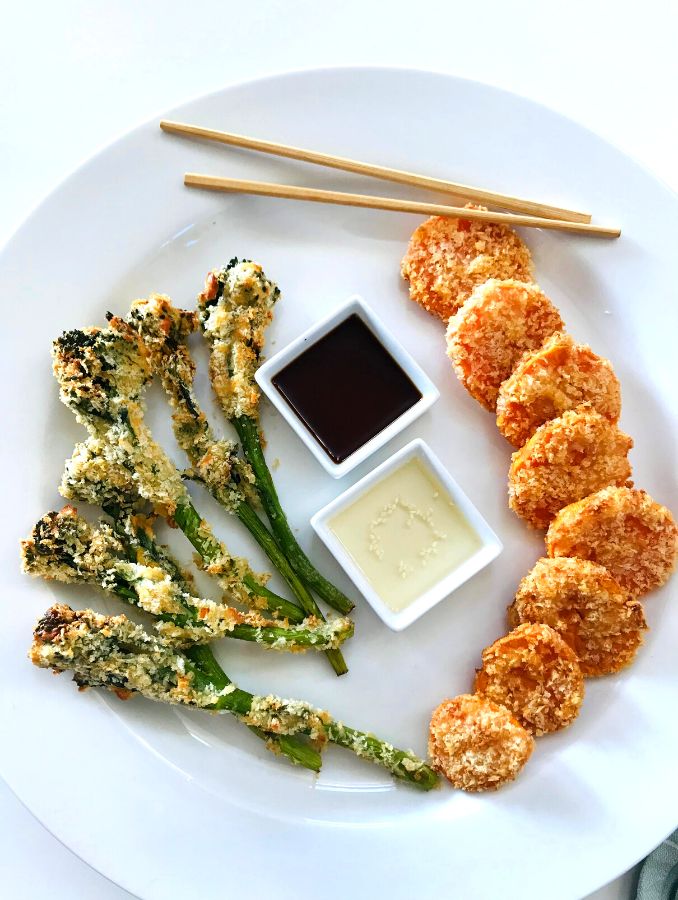 Why You Love Air Fryer Tempura Broccolini and Sweet Potato
Super simple and easy to make.
Looks rather fancy and you'll impress your family and friends
No need for deep frying
A little bit healthier using the Air Fryer
Quick on time
Broccolini and sweet potato are two of the most popular and versatile veggies ever, and cook really well in the air fryer in only a few minutes .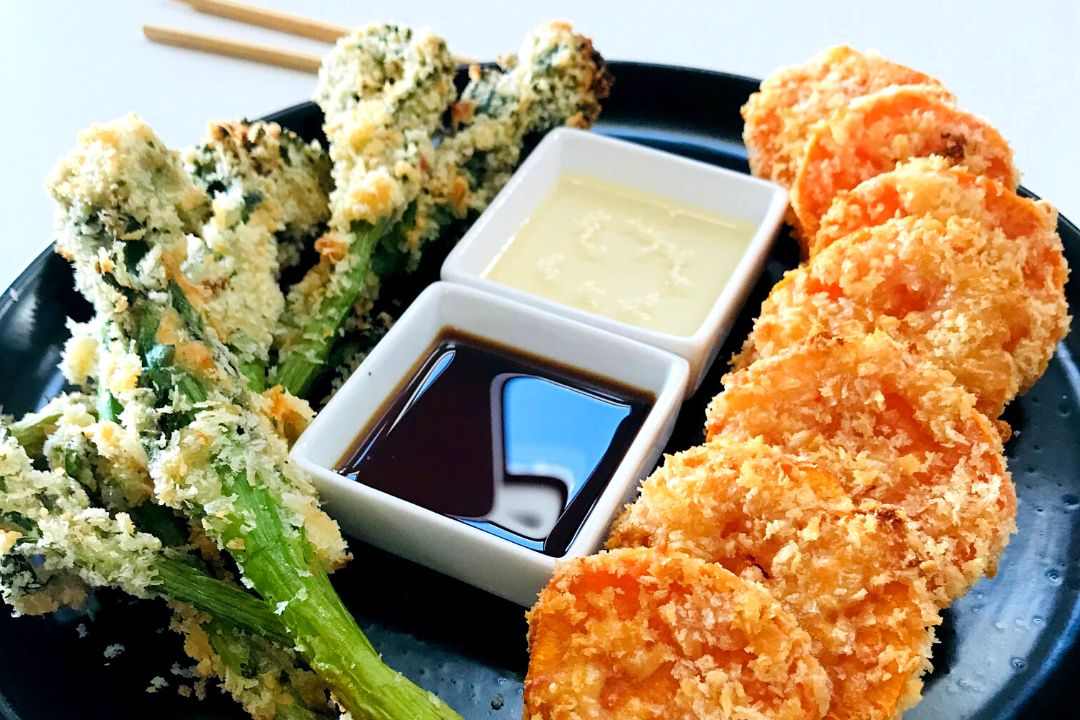 Air Fryer Tempura Broccolini and Sweet Potato
If you love the crispy texture of tempura then look no further than your air fryer and some simple vegetables.
Ingredients
INGREDIENTS
1

bunch

broccolini

1

sweet red potato

smallish

⅔

cup

Self Raising Flour

½

tsp

salt

1

egg

1

tbsp

sweet chili sauce

¾

cup

sparkling water

chilled

2

cups

panko bread crumbs

80

mls

olive oil
Instructions
INSTRUCTIONS
Trim the ends of the broccolini. Peel and slice the sweet potato into even slices around 3mm.

Mix the flour and salt together in a largish bowl. Then mix the wet ingredients - water , egg and sweet chili sauce in another bowl and then combine the wet and dry ingredients together to make your batter.

Add the panko crumbs into another bowl and mix with the olive oil till thoroughly combined.

Set yourself up in a production line - chopped veggies, bowl of batter and panko crumbs. Have a wire tray ready to pop the dipped and coated broccolini and sweet potato's on.

Pop your broccolini into the air fryer basket and cook for 5 minutes for 180 degrees Celsius then turn and cook for another 5 mins.

Then repeat with the remaining sweet potatoes. *note

Serve with your favourite dipping sauce or aioli.
Recipe Notes
Cooking time may vary depending on the thickness of your vegetables.  Cook for another 2 minutes if needed.
Nutrition Facts
Air Fryer Tempura Broccolini and Sweet Potato
Amount Per Serving (4 g)
Calories 426
Calories from Fat 189
% Daily Value*
Fat 21g32%
Cholesterol 41mg14%
Sodium 603mg26%
Potassium 250mg7%
Carbohydrates 49g16%
Protein 10g20%
Vitamin A 7056IU141%
Vitamin C 45mg55%
Calcium 109mg11%
Iron 3mg17%
* Percent Daily Values are based on a 2000 calorie diet.
What Other Vegetables Can Be Used With Tempura Batter?
Tempura batter is great for coating many types of vegetables. Some classic veggies that work well in tempura batter include:
Potatoes, sweet potatoes,
Broccoli florets
Carrot sticks
Mushrooms
Onion rings
Capsicums
Green beans and asparagus spears
Zucchini
Coat some cauliflower or even green beans for a crunchy side dish.
What to Serve With Air Fryer Veggies
We love eating Air Fryer Tempura Veggies with pan fried salmon, chicken or just as a snack too. You might like to try our super fun and yum Teriyaki Chicken Nori Rolls recipe.