This easy Vegan Lemon and Berry Cheesecake is so creamy in texture you wouldn't' even know it's dairy free.
It's a double nut recipe – almonds for the crust and cashews combined with gorgeous coconut cream for that super creamy filling which help make this cheesecake so moorish. And who can resist the jewel in the crown with a red topping of bright red berries and a little maple syrup.
I just loooove this  super simple cheesecake because all you need to do is prep and pop into the freezer. No baking required. Plus it's gluten free too.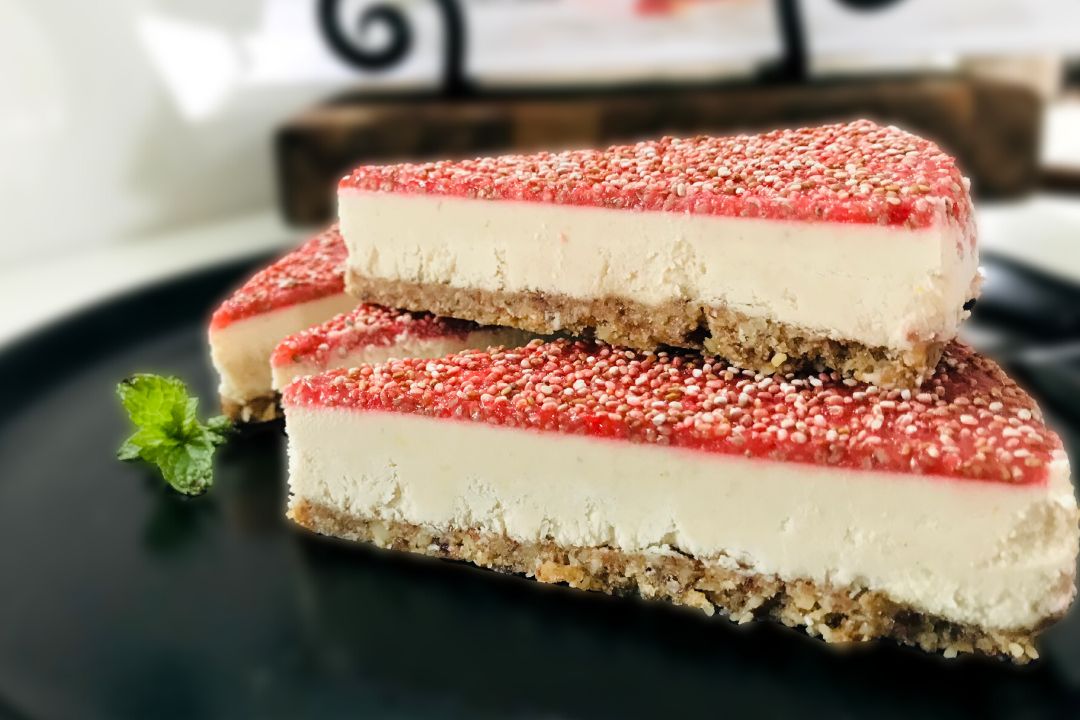 So what Ingredients will you need to make this delectable triple layered Vegan Lemon and Berry Cheesecake?
FOR THE BASE
Almonds: for the base
Dates: Medjool date create the right amount of sticky-ness and holds the base together perfectly.
Coconut Oil: For the base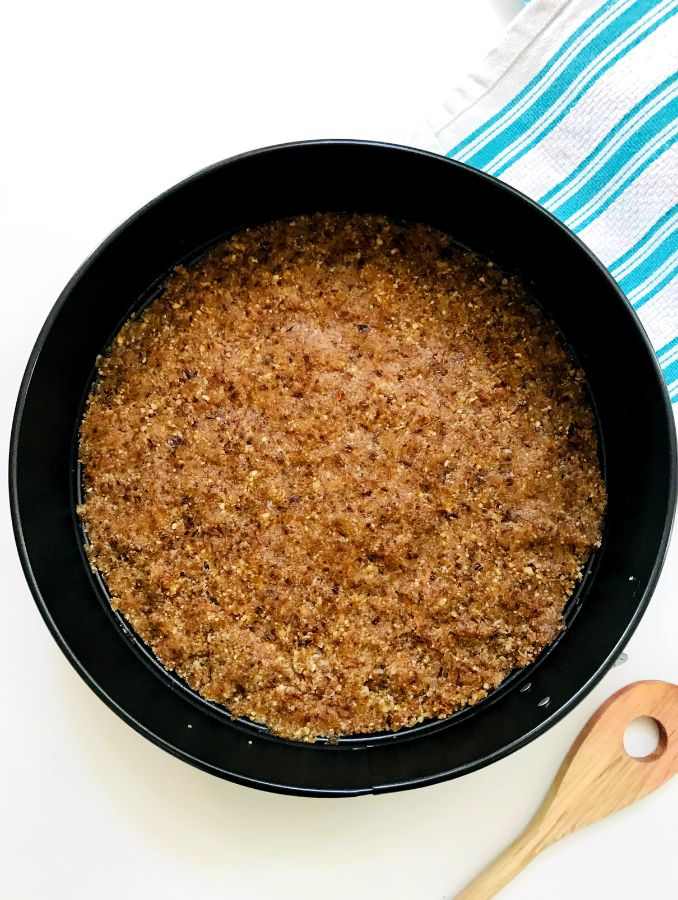 MIDDLE LAYER
Cashews: soaked overnight or quick soak.  More on soaking cashes below.
Coconut Cream: dairy free full of flavour
Lemon Juice: Just the right amount for a tiny bit of zing and to help setting agent for this cheesecake
Maple syrup: Sweetens everything up without using a refined sugar
Lemon Zest: zest of one lemon
Salt: just a pinch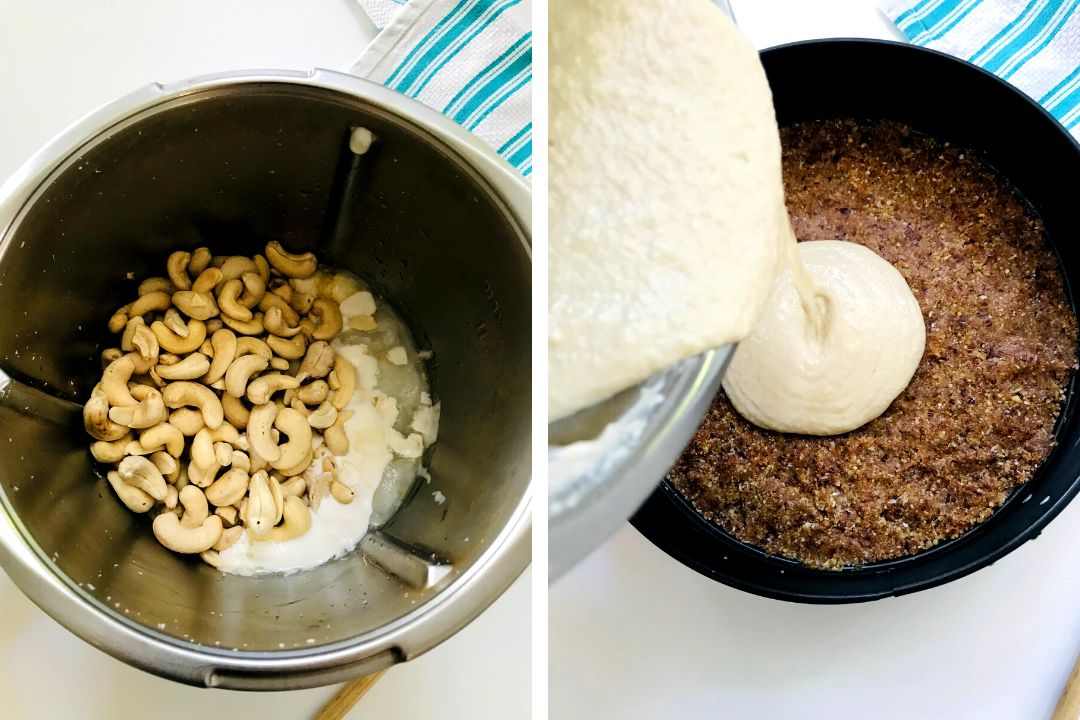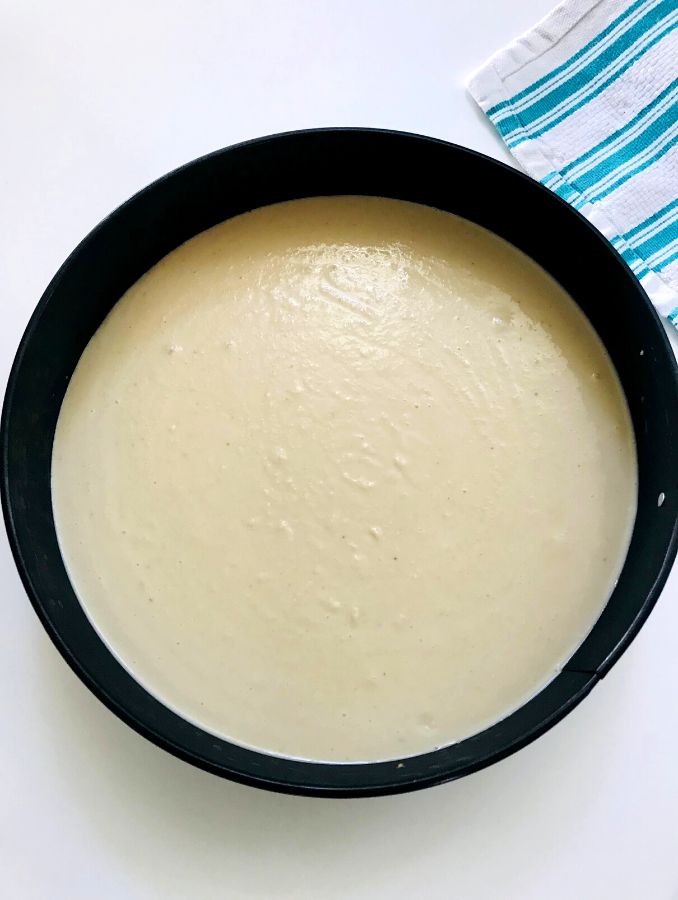 TOP LAYER
Frozen Berries: We used red strawberries but any frozen berry would be fine.
Chia Seeds: super food ingredient and acts as a setting agent and texture to the top layer.
Maple Syrup: makes everything even more delish
Lemon Juice: a tangy and lovely natural setting agent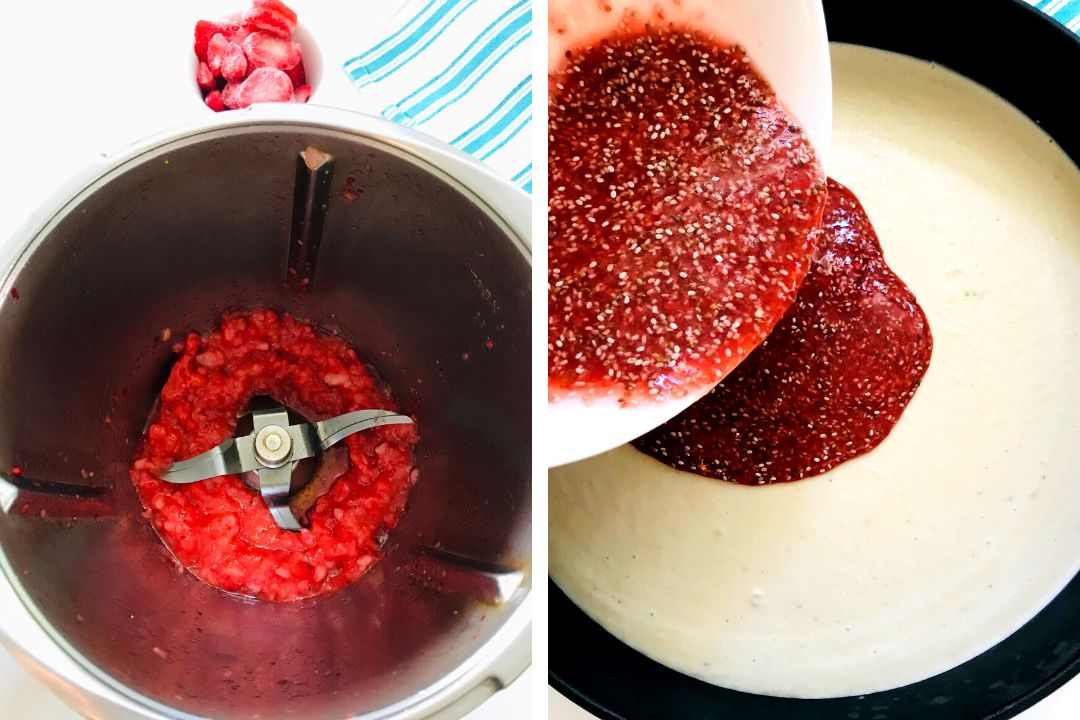 How to Soak Cashews
If you've never soaked cashews before it's pretty simple There's three ways of doing this. The overnight soak method, the hot soak method and boiling them.
The overnight method
Pop your cashews into a bowl and cover with water. Pop the container into the fridge and allow to soak overnight. In the morning drain your cashews and allow to dry thoroughly or towel or paper dry them off.(its not necessary to place into the fridge but it's up to you). 
Hot water soak
Place your cashews into a heatproof container and pour boiling water onto them.  Allow to sit for 45 minutes to an hour.
Boiling
Bring a pot to the boil and place your cashew into it. Allow to cook for around 15 minutes.  This is the quickest method by far.
How To Make Vegan Lemon and Berry Cheesecake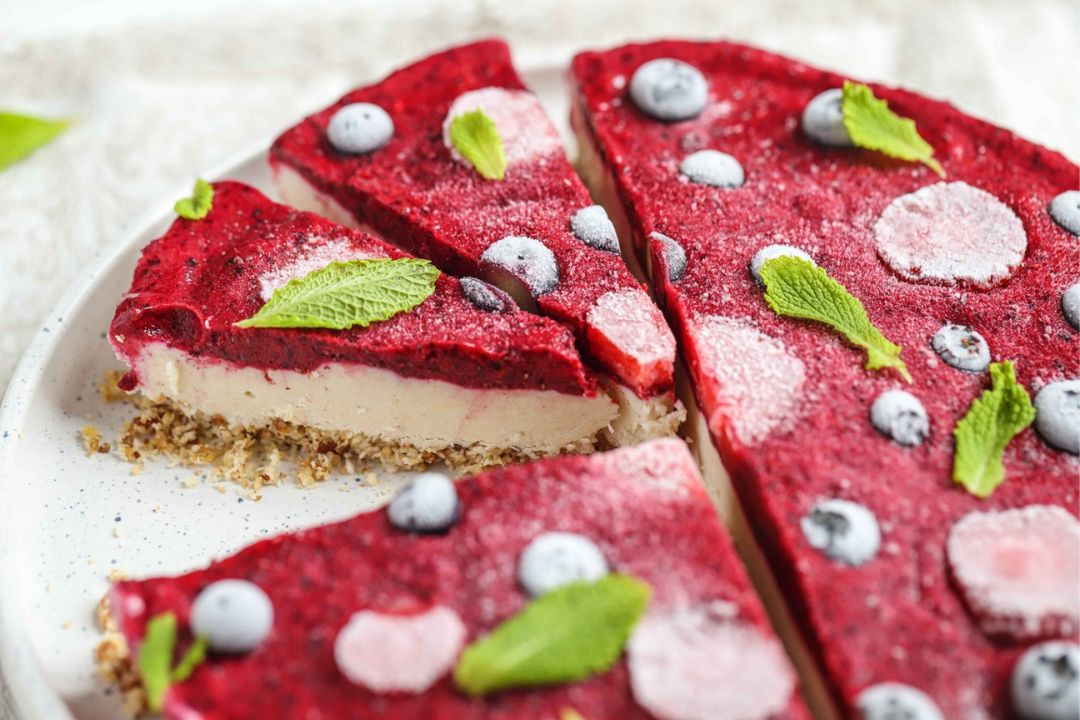 Vegan Lemon and Berry Cheesecake
This vegan cheesecake is a Summer delight and eye catching addition to any dinner party.
Cuisine:
American, Australian
Keyword:
dairy free cheesecake, Lemon berry cheesecake, vegan cheesecake
Ingredients
BASE INGREDIENTS
½

cup

desiccated coconut

1

cup

walnuts

chopped

12

medjool dates

pinch of salt
LEMON LAYER
2

cups

raw cashews

230 gm soaked for 4 hours or overnight

1

cup

coconut cream

4

tbs

coconut oil

soft

½

cup

maple syrup

120 ml

zest of 1 lemon

juice of 1 lemon

pinch of salt
BERRY LAYER
1

cup

frozen red berries

2

tbs

chia seeds

2

tbs

lemon juice

2

tbs

maple syrup
Instructions
Place all the crust ingredients into a food processor and blitz until a sticky like paste form.

Transfer the crust into a springform cake tin and press evenly to form the bottom layer. Pop into the freezer while you make the other layers.

Drain the cashews and pat dry with a kitchen towel. Place all the lemon layer ingredients in a food processor and puree until smooth. Spread over the crust and return to the freezer.

Prepare the last berry layer by popping all the ingredients into the food processor and puree until smooth. Spread over the top of the cheesecake only when the lemon layer has set completely.

Garnish with additional berries if you like and return to the freezer until set.

To serve remove the cheesecake from the freezer about 20 minutes before serving.
Vegan Cheesecake Recipe Variations
Change up the fruit and use frozen blueberries or strawberries if you rather for the final topping.
Change up the maple syrup for honey.
Instead of using a ring spring form cake pan you can make this recipe into smaller individual muffin sized cheesecakes. For other vegan desser recipes you might like our Easy Dairy Free Mini blueberry Cheesecakes.
How To Store Vegan Lemon and Berry Cheesecake
Store your vegan cheesecake in the freezer.  To serve place on the kitchen bench for 20 minutes prior to serving to allow for the cake to soften and become lovely and creamy.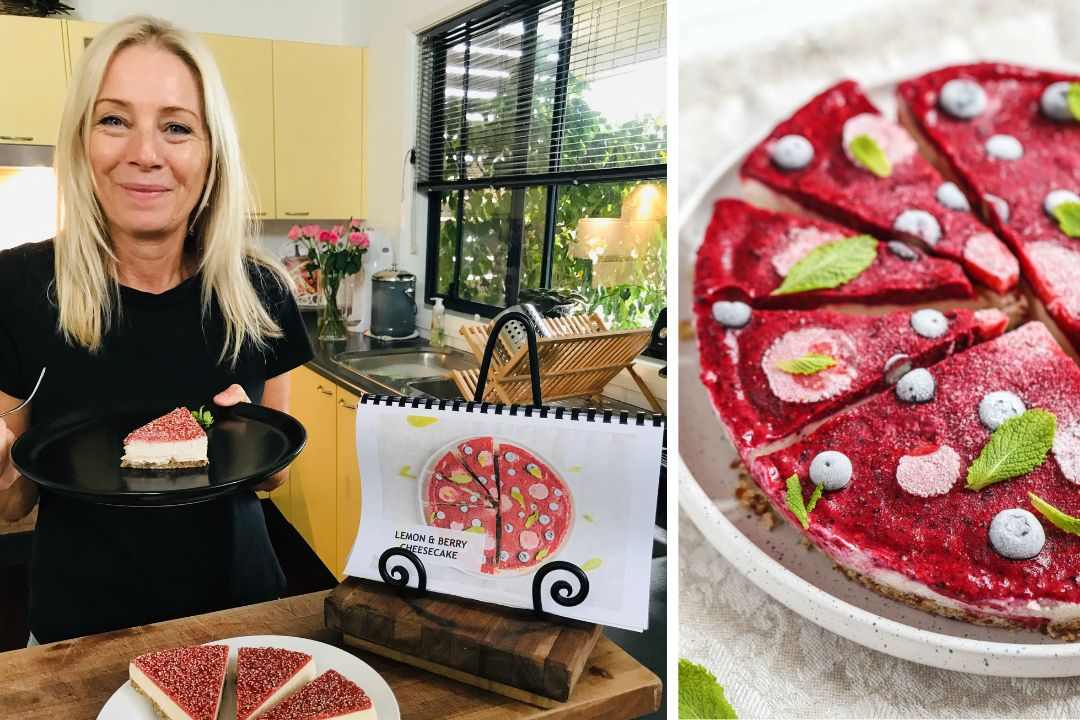 Love to Have More Vegan Recipes?
Grab our Free 40 Free Vegan Recipe Book and download now. Great ideas for lunches, dinners, breakfasts and of course snacks.