Introducing the ultimate game-changer for boring salads – the green goddess pasta salad recipe!
Brace yourself for a tangy burst of flavor, a hint of sweetness, and a delightful crunch combined with your fave pasta, all enveloped in a refreshing creaminess of a Green Goddess Salad dressing that will leave you craving for more.
We think you're going to be dazzled by this slightly different take on the usual pasta salad.
Plus with it's a unique gorgeous green colour that no one will be able to resist to popping a spoonful onto their plate at your next BBQ.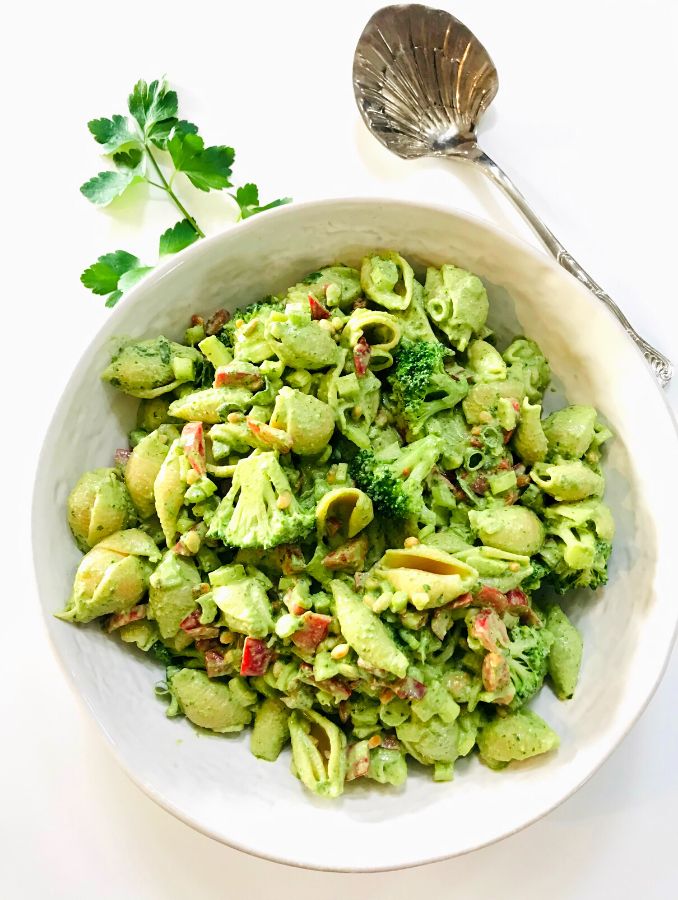 What's in Green Goddess Pasta Salad?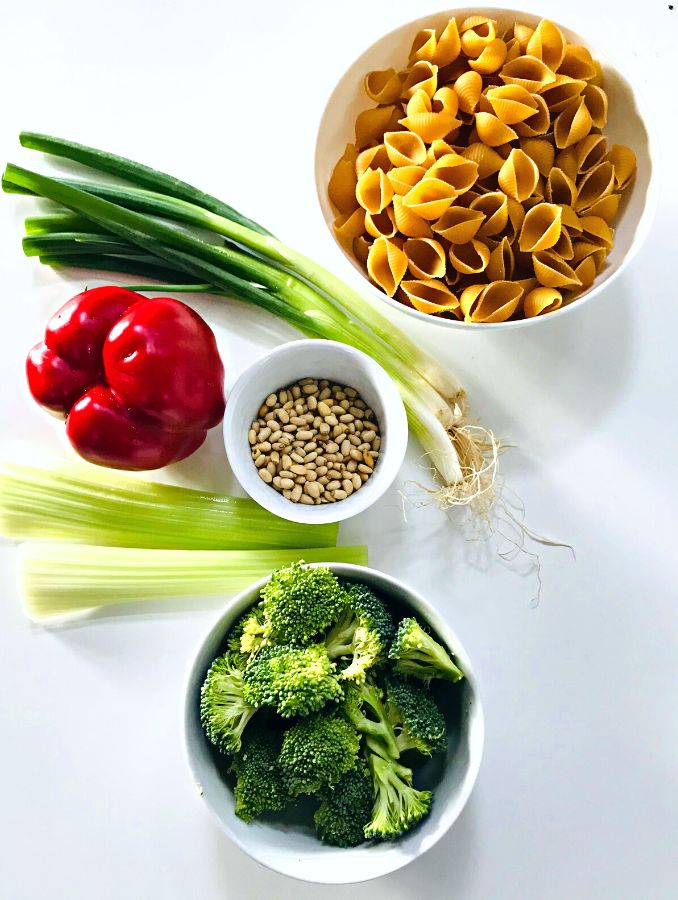 Pasta – Shells were used for this recipe but smaller ones work better than long noodle types.
Celery – adds that crunchy element to give this salad nice texture.
Red capsicum – vibrant colour and of course crunch too. Yellow capsicum will work just fine.
Broccoli – tiny florets of vibrant green broccoli give this salad texture while hiding them from the kids as well.
Shallots – nice zingy-ness without the sharpness and of course they're green as well!
Pine nuts – toasted lightly add that little nuttiness' and crunch.
What Type of Pasta Can I Use For This Salad?
Ok…. well in pasta styles and shapes the list is endless.  This recipe we used shells which were lovely in scooping up all that delicious Green Goddess Dressing, though think the Fusilli, the delightful corkscrew pasta, is an awesome choice.
Also the Cavatappi which is a hollow spiral noodle would be fine too along with the elbows and of course Penne.  Not sure on pasta names and use
What is Green Goddess Dressing Made of?
This is a variation on the original (and viral) Green Goddess recipe from Baked By Melissa but we've just tweaked it a little by adding the Greek yoghurt. Her dressing is divine and nice and tangy.  By adding the yoghurt it tones the tanginess down.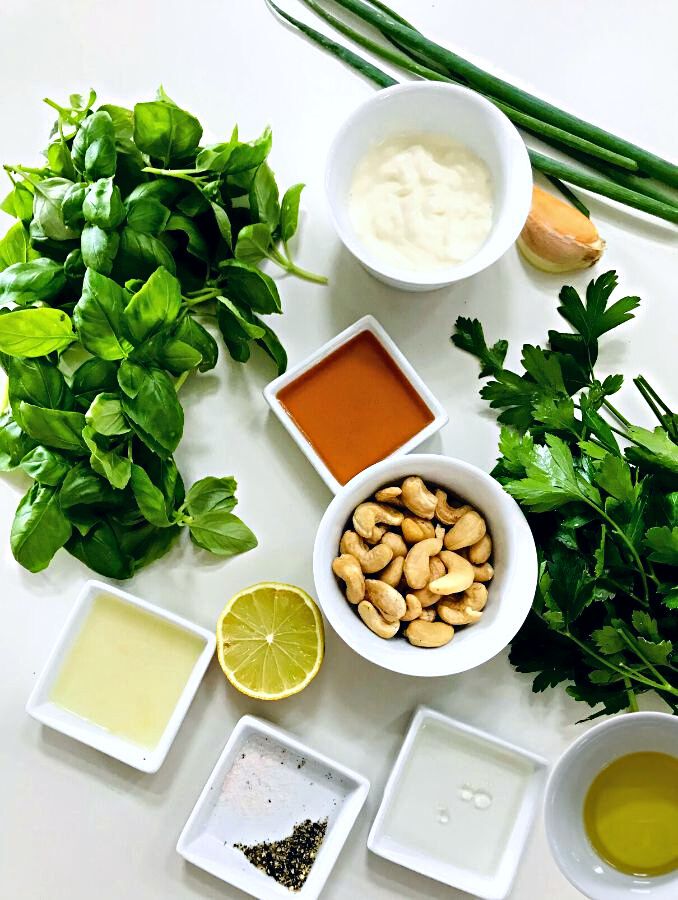 Liquid Ingredients – add these first into the blender to ensure they get mixed really well.
Lime Juice – Nice and zesty.
Honey – this is our addition to give it just the right amount of sweetness
Olive Oil – We used the lighter version of olive oil but feel free to use grapeseed or normal extra virgin olive oil.
Greek Yoghurt – Add a creamy element to the dressing but without taking over.
Rice Wine Vinegar – light but with just the right amount of zing for a salad.
Add the rest of the ingredients on top of the liquid ingredients.
Basil Leaves – we picked ours straight from the garden but feel free to use a bunch from the supermarket. Or try baby spinach leaves if you have them on hand.
Parsley Leaves – Yet another green element that makes this salad so vibrant.
Cashews – These blitz up lovely in the blender but can be optional if you prefer
Garlic – fresh clove though it's optional if your prefer not to.
Salt and Pepper – just a pinch of each to season
What Does Green Goddess Dressing Taste Like?
Green goddess dressing is bursting with flavor! It's a party in your mouth with zesty lemon juice, fresh herbs, freshy Greek yoghurt, a handful of cashews blitzed into a vibrant creamy and green dressing. We've used this on our other Green Goddess Salad recipe here and works so well with the cabbage, cucumber shallots and chives too.
How to Make Green Goddess Pasta Salad
Pop your pasta into salted boiling water and cook as per instructions on the packet.
Blanch the broccoli florets for 5 minutes in boiling water and then place into iced water for 5 minutes. (this keeps them nice and green).
Toast the pine nuts for a few minutes till golden brown.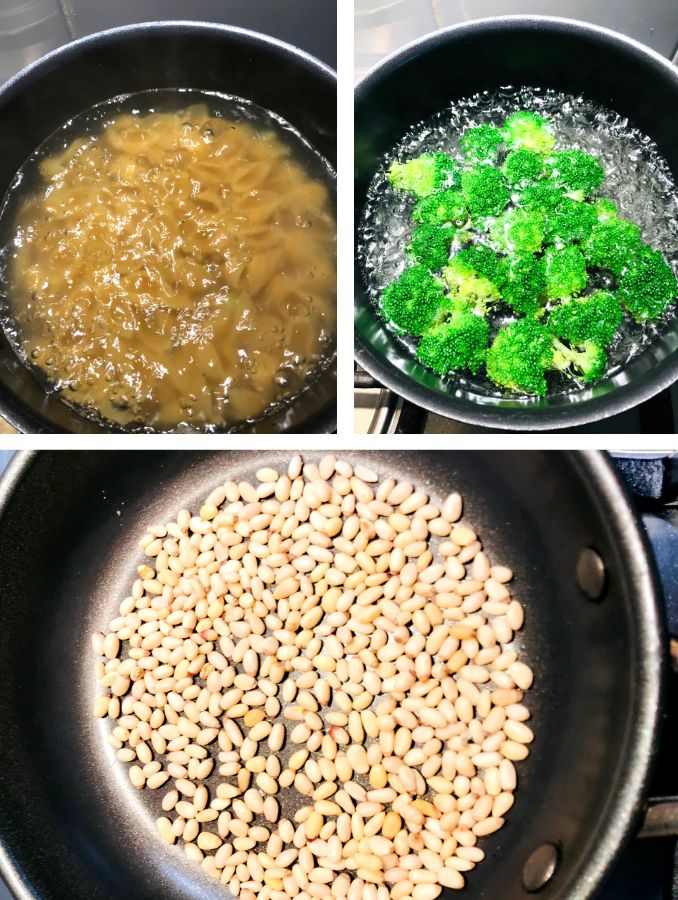 4. Finely dice the spring onions, red capsicum and celery  and combine them in a large bowl along with the cooled pasta, pine nuts and broccoli.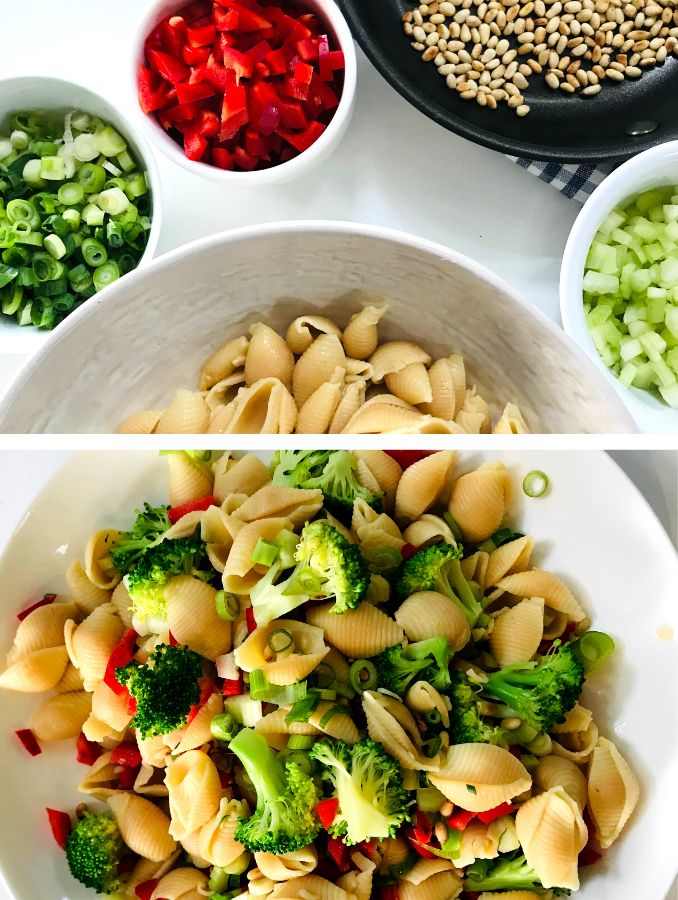 How To Make Your Green Goddess Dressing
Place all the liquid ingredients into the blender first.
Then top with the remaining ingredients and blitz till combined, runny and creamy. It will be a gorgeously green in colour.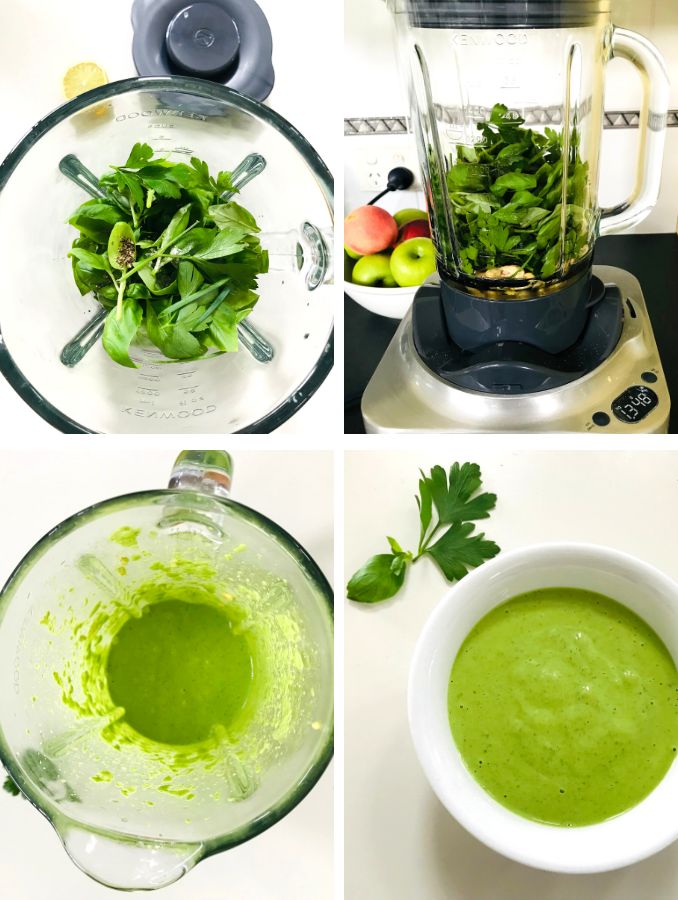 Green Goddess Salad Recipe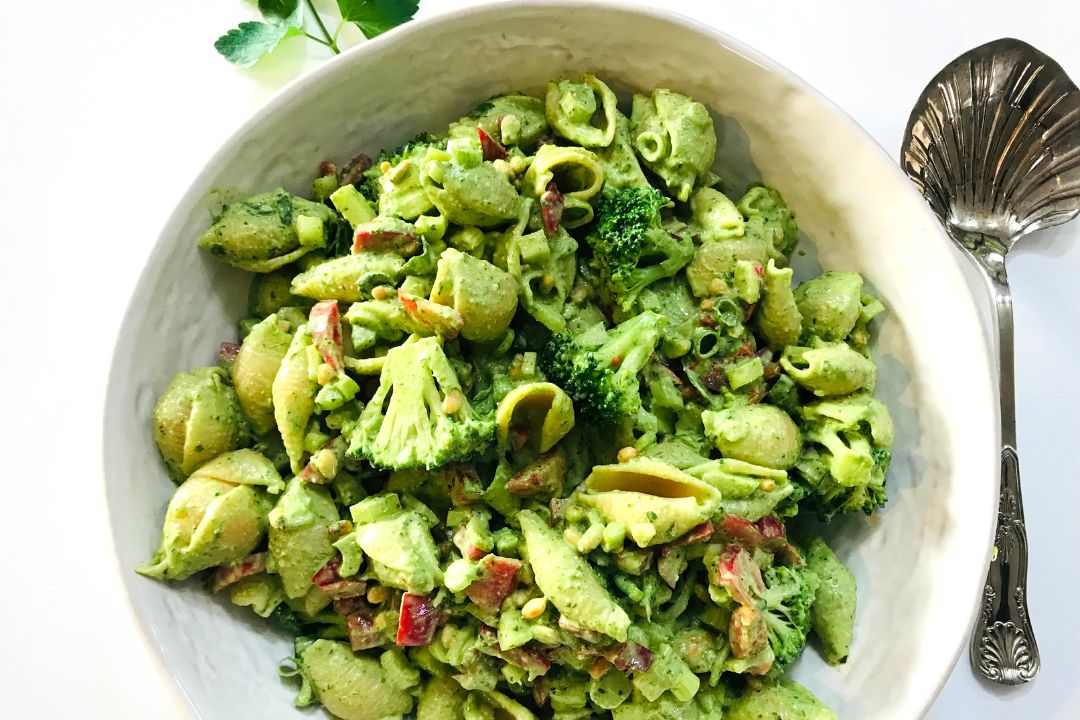 Green Goddess Pasta Salad
Brace yourself for a tangy burst of flavor, a hint of sweetness, and a delightful crunch combined with your fave pasta, all enveloped in a refreshing creaminess of a Green Goddess Salad dressing that will leave you craving for more.
Keyword:
easy pasta salad, Green Goddess Pasta Salad, Pasta Salad Recipe
Ingredients
Ingredients for the Salad
250

gm

dry pasta

1

red capsicum

2

stalks of celery

¼

cup

pine nuts

1

head of broccoli

4

green shallots
Green Goddess Dressing Ingredients
1

cup

basil leaves

1

cup

parsley leaves

2

tabs

lime juice

¼

cup

olive oil

½

cup

Greek yoghurt

plain

1

tab

honey

1

tab

rice wine vingar

¼

cup

cashews

raw

1

clove of garlic

½

tsp

salt

½

tsp

fresh black pepper

water to thin if necessary
Instructions
Place the pasta into salted boiling water and cook per instructions on the packet. When cooked, drain and rinse with cold water and allow to drain completely.

Cut the broccoli into florets and blanch in hot water for 5 minutes till firm but tender or microwave them if you prefer. Pop into iced water after cooking for 5 minutes, drain to remove all the water.

Dice the celery, red capsicum and finely chop the shallots.

Toast the pine nuts till just golden brown. (be careful they burn really quickly)

Pop all the ingredients into a large bowl and make the dressing.
How to make the dressing
Into your blender pop all the liquid ingredients, olive oil, yoghurt, vinegar, honey and lime juice.

Then pop all the other ingredients on top and blitz till combined and looks creamy.

Pour over the bowl of salad ingredients and mix till the green dressing coats everything. Serve and eat asap.
Recipe Notes
The salad is lovely served straight away.  After it goes into the fridge the dressing tends to soak into the salad and it may become stiff.  Add a little olive oil if you like to loosen it up or leave out of the fridge for 20 minutes.
Nutrition Facts
Green Goddess Pasta Salad
Amount Per Serving (6 g)
Calories 376
Calories from Fat 144
% Daily Value*
Fat 16g25%
Cholesterol 1mg0%
Sodium 246mg11%
Potassium 638mg18%
Carbohydrates 48g16%
Protein 12g24%
Vitamin A 2393IU48%
Vitamin C 132mg160%
Calcium 90mg9%
Iron 3mg17%
* Percent Daily Values are based on a 2000 calorie diet.
Why You'll Love This Salad
Honestly is simple, you can swap out the salad ingredients for what you prefer or have on hand at home. After boiling the pasta all you need to do is chop up the other ingredients (if using broccoli just a blanching is fine) and throw the dressing ingredients into a blender or whiz and voila you're done!
There are no hard and fast rules to this salad.
Can I Whip up this Green Goddess Pasta Salad ahead of time!
Absolutely! Prepare this delicious pasta salad ahead of time and it will be fine in the fridge for up to 2 days!  Or keep all the salad ingredients separate to the dressing and mix just before serving to keep it ultra fresh and yummy.
Store the Green Goddess Dressing in the fridge for up to 1 week.

Love Pasta Salads?
Then we think you might also love our Mexican Pasta Salad with Lime Vinaigrette Dressing.
Substitutions or Additions For This Pasta Salad
The substitutions for this salad are many.
Corn kernels, chives, peas, green beans, asparagus, snow peas and sugar snap peas.
Crispy bacon pieces will give this an added va va voom!
Change the pasta for Gluten Free Pasta.
Dressing substitutions
For the dressing you can use baby spinach instead of the basil or parsley leaves.
Swap out the Greek yoghurt for sour cream.
Lemon or lime juice but be careful to test as the lemon juice can often be a little tangier.
Leave out the cashews if you prefer a nut free dressing.